CMJ Clenches Its Indie Grip On the City for Four Nights of Music and Movies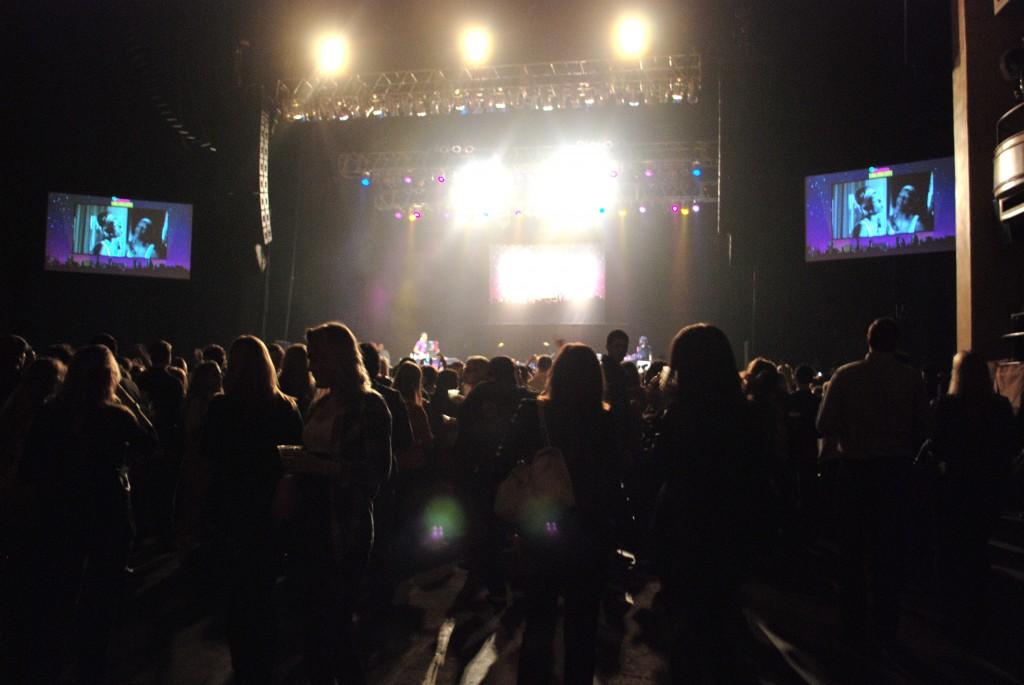 It was only 4:30 p.m. at the Ace Hotel on West 29th Street in Midtown Manhattan, but Bradford Cox, also known as the sound textured acoustic chameleon Atlas Sound, looked like he just rolled out of having breakfast in bed: classic pinstripe, two-piece pajamas, uncombed bed head and eyes that looked as if he hadn't quite rubbed the gunk from them yet.
The Deerhunter front man performed a 30-minute set on the third day of New York City's four day CMJ Music Marathon to a packed crowd of over 200 people in the lobby of the new age hotel, with fans lining out the door waiting for their chance to get in and find an opening and opportunity to witness Cox firsthand.
Paired with only his signature sunburst Gibson acoustic and a dizzying array of vocal and guitar effects, Cox performed songs from his upcoming Atlas Sound album, "Parallax." The album, which will be released on Nov. 8, has already been garnering some critical acclaim thanks in part to Cox's gradual releases of songs such as "Terra Incognita" and "Te Amo."
Before diving into "Parallax" track "Flagstaff," Cox thanked the hotel for holing him up in one of their rooms of where he wrote several songs for the album when he admitted to the audience he had run out of studio time. Also present were the numerous guests in neighboring rooms, such as the large Indian family, in which he thanked them as well for "being able to play really loud."
Over at Union Square, The Puma Store hosted part Auckland, New Zealand, part Portland psych group, Unknown Mortal Orchestra where they crammed themselves into the back of the store playing songs off of their impressive self-titled debut album. Looking from the outside in, passerby's easily missed one of the tighter shows of the festival that unfortunately lasted for only 30-minutes.
However, those 30-minutes were enough to quench the thirst of numerous UMO fans present, from the twangy, fuzzed out harmony of guitarist Ruban Nielson in their song "Ffunny Ffrends" to the rhythmic landslide of sound in "Boy Witch."
Oddly enough, the Puma Store, known more for hosting European tourists looking to score some cheaper neon blue and green high tops was actually one of the more underrated venues. Hyper pop group Army Navy brought their infectious sugar coated guitar hooks and frantic drumming to audience members while the '70s soul ache of Gary Clark Jr. sang about "waking up in New York City lying on the floor just outside of Macy's West 54th," and singing that you would "know his name by the end of the night."
Down on Ludlow Street, Memphis rapper Gavin Mays aka Cities Aviv took to the stage at Pianos sounding like the little brother of a Wu-tang member who wasn't yet old enough  to play with the big boys. Although he may look like he comes from Williamsburg, Mays is nothing of the sort; his attitude is brash, his flow dripping with smooth syncopation. However, it is his meshing of samples from '80s unknowns, his occasional synth-heavy hooks which can be mistakenly considered chillwave and his affection, according to Pitchfork, for an "8-bit world" where he considers himself "Bowser."
But whereas Cities Aviv may not act like he just emerged from under the Williamsburg Bridge, Denver experimentalists Gauntlet Hair do, sound and all. The Denver duo, which performed at Mercury Lounge on Friday night, brought their high-holstered guitars with them as well as a plethora of pedals and other effects which may have looked like a bit much. Yet this wasn't the case. Their contemporaries Yeasayer would be impressed, if not enamored, of their use of musical pedal prowess. Their sound is funky and encompassing; a more textured, whole piece than some of Yeasayer's later works. But CMJ isn't a competition; it is rather a larger outlet for musical appreciation for a soundscaped abyss that is unexplored territory for the musically curious.