Sophomores Convocation Prepares Students for the Future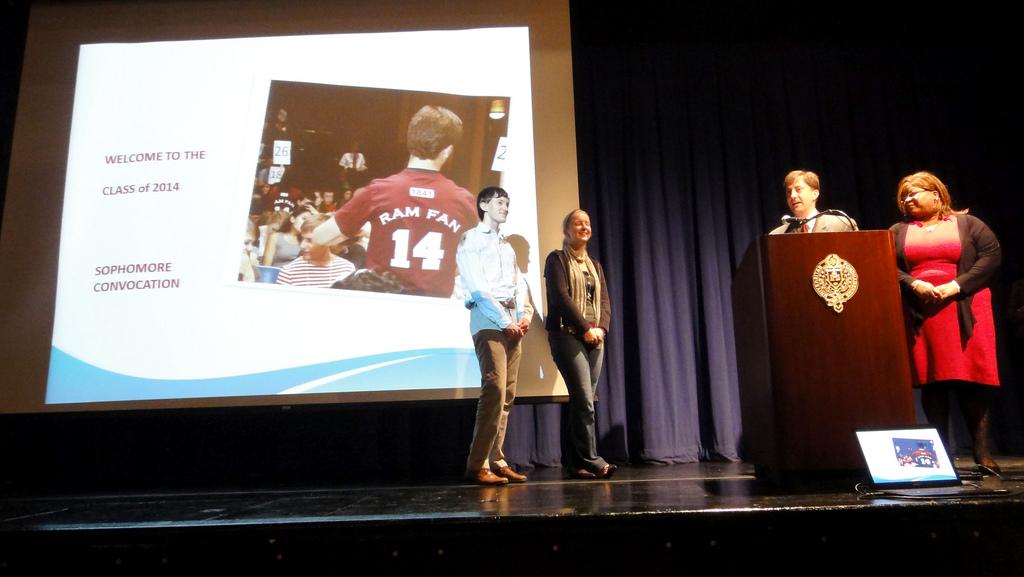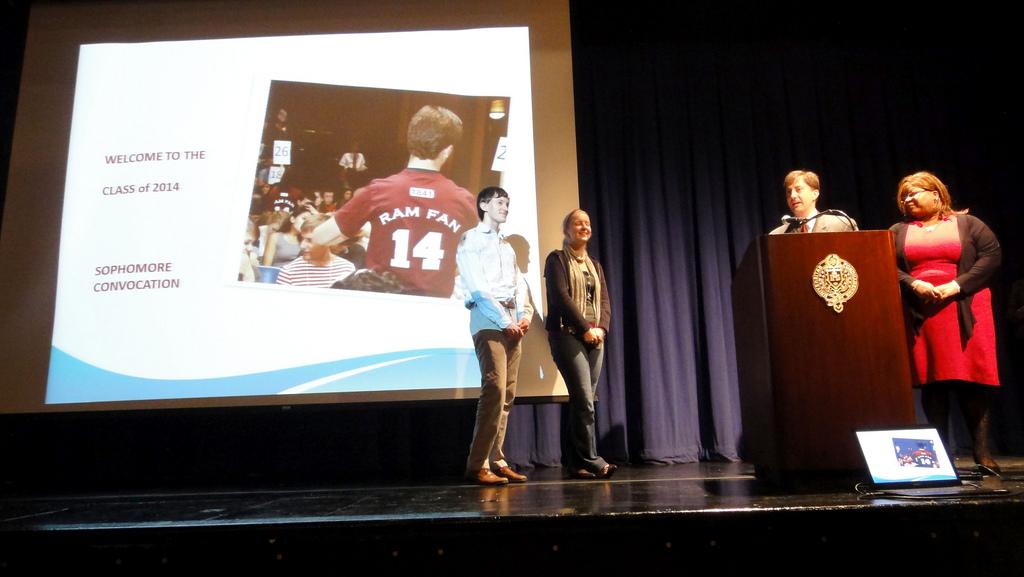 Fordham College at Lincoln Center held the annual sophomore convocation event for the class of 2014 on Oct. 20 in Pope Auditorium. Approximately 150 students were in attendance at the hour long presentation that emphasized the extracurricular activities and opportunities available for the rising sophomores.
The program opened with an invocation by Rev. Vincent DeCola, S.J., assistant dean for first year students at Fordham College at Lincoln Center (FCLC). He stressed the value of patience and how essential it is to take advantage of the resources at hand.
DeCola said, "It is my great hope and prayer for each of you that even through what you are learning here at Fordham and through the love of your family and the friends you are making, you are forming yourselves and allowing yourselves to be formed on a path of greater purpose for you, for our community and for the world."
In addition, DeCola advised not to rush this journey and said, "Relish the process itself. Take time along the path to be aware of all the wonders that life is presenting you."
Rev. Robert R. Grimes, S.J., dean of Fordham College at Lincoln Center (FCLC) was the next speaker at the event and he commented on the accomplishments of the sophomores over the past year.
Grimes said that a lot has "transpired" since the last formal meeting in freshmen year. "You have read and discussed the ideas of Socrates and Plato, almost 2400 years old, but still fresh and relevant to the problems of today. You have trained in languages other than English," Grimes said. "You have delved into the relationship and the question between faith and reason and through all of this I hope and pray that your mind has grown."
Grimes also stressed the importance of building relationships- getting to know faculty members on a personal level and developing deep and lasting friendships.
The convocation featured several other speakers who advised the sophomores about obtaining internships, applying for fellowships, preparing for graduate school and studying abroad. Another speaker talked about participating in community service programs such as Global Outreach or service learning programs, available through the Dorothy Day Center for Service & Justice. The short, five to ten minute presentations also included an introduction of the new humanitarian affairs minor.
Later on, Keith Eldredge, dean of students at FCLC, and Jenifer Campbell, director of residential life at FCLC, presented the student affairs recognition awards to Anna Nyzio, FCLC '14, and Ben Schaub, FCLC '14. Both students were commended for their substantial involvement with multiple clubs and programs on campus.
Nyzio is part of the Fordham University Emerging Leaders (FUEL) Program at FCLC and is also the treasurer of the Campus Activities Board and the Polish Student Organization. Schaub has served as a senator of United Student Government since last year and he is also the president of the Environmental Club.
Gregory Conin, FCLC '14, and Aya Dwidari, FCLC '14, were also honored for their participation in integrated learning activities and a handful of other sophomores received academic achievement awards.
Dwidari, said that the convocation was helpful because she left the event better informed about the requirements for study abroad. She also had some advice for current freshman.
"I definitely think the most important thing is to make time to get involved at Fordham," said Dwidari. "I've met so many people, so many doors have been opened for me and I've developed and matured as person from being involved on campus and creating these networks around me."
Loreal Lingad, FCLC '14 said, "The convocation definitely motivated me about certain things like possibly studying abroad in London, global outreach, and the new minor sounded really interesting."
The convocation concluded with a dance performance by Alvin Ailey/Fordham BFA dancers and t-shirts were distributed to those who attended.
Overall, the Sophomore Convocation the speakers had a recurring message for sophomores and that was to explore the resources offered at FCLC. This will ensure personal, academic and career growth, and take advantage of opportunities, both on campus and off campus.