Word of Mouth: On Tonight's Menu, Tentacles and Suction Cups
It's a dark and quiet night in the New York City borough of Queens. With not a soul in sight, this somber scene is something one wouldn't expect in the "city that never sleeps." The rumble of an overhead 7 train pierces the silence as it makes its way toward the bright lights of Manhattan. A group of friends have just exited the train, heading toward the Korean restaurant called Sik Gaek. Edging closer to the restaurant, the group mentally prepares themselves for their upcoming cultural challenge: dark, black eyes surrounded by eight tentacles lined with hundreds of little suction cups. They must eat the live octopus.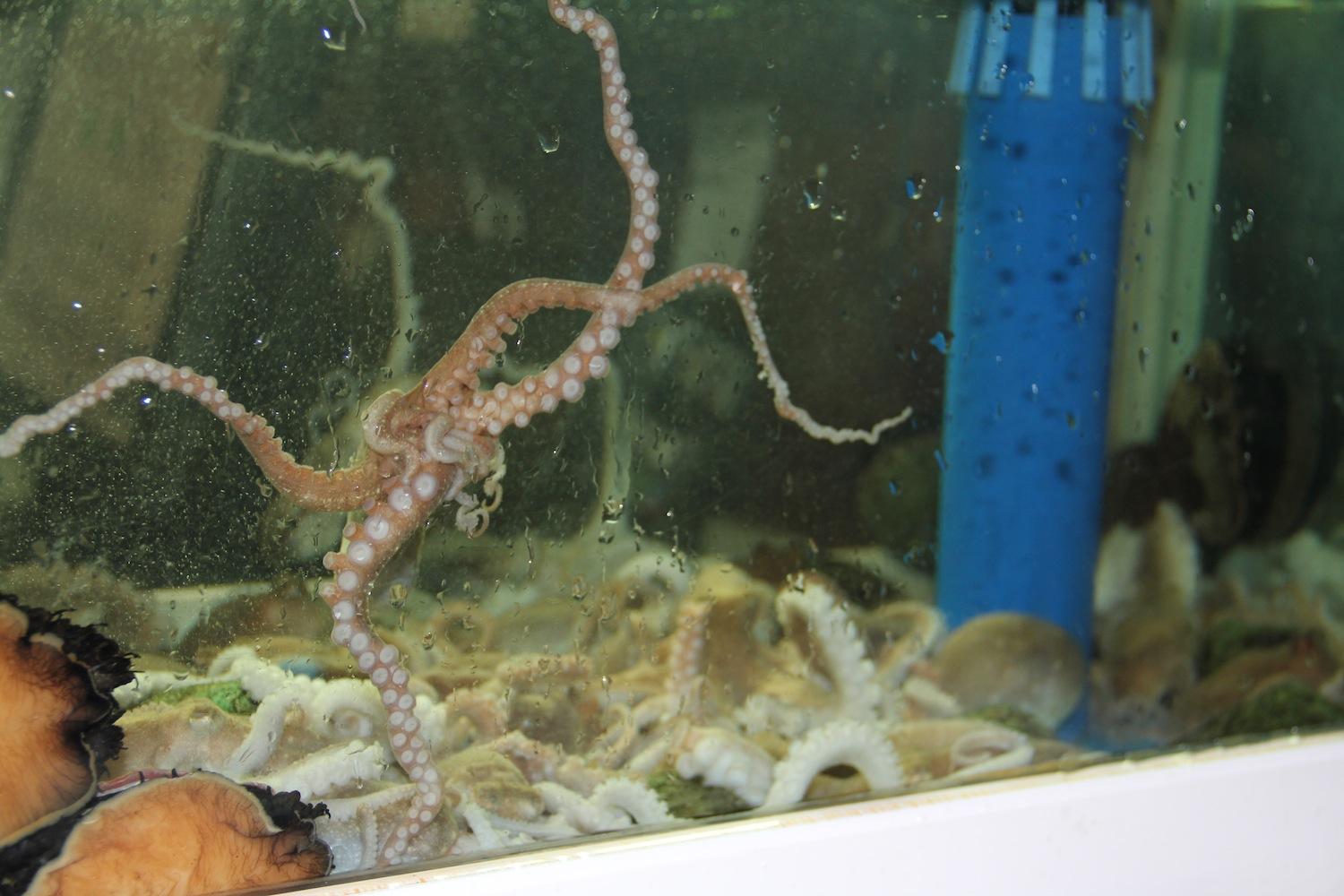 My friend planned the excursion to Sik Gaek a few weeks ago. Normally, Korean restaurants are known for barbecue, but Sik Gaek is known for its seafood and hot pots. I couldn't resist the offer. My friend suggested that we get a large group so we could order a hot pot.
Upon arriving, I was surprised by the amount of knick-knacks on the restaurant walls. The Soju (Korean alcoholic drink) cap bottles, Korean pop star posters and Christmas lights reminded me more of a festive bar than an actual restaurant.
After we sat down, we were soon joined by a tall Korean man. He introduced himself as Captain Kevin, fired up the stove situated in the middle of our table and started making us some fried eggs. Now in most places, I would have expected complimentary breadsticks or peanuts, but at Sik Gaek it was a complimentary fried egg. Noticing the confused looks on our faces, Kevin quickly explained that the protein in the eggs were used to make sure the spicy Korean dishes wouldn't damage our stomachs when we ate them.
We wanted to try the infamous baby octopus, so Kevin suggested we sample the octopus chopped in pieces. Normally eaten whole in Korea, Kevin said smaller pieces were the beginner's way of getting used to the dish. Eventually, we all settled on ordering one baby octopus accompanied with a short rib/seafood hotpot. Watching our soon-to-be dinner being fished out of the tank, I could only imagine how it would feel to eat something that was still moving.
As we waited for our main dishes, Kevin brought us a mixture of Korean appetites ranging from fresh bean sprouts to spicy Korean rice cakes. Just as I was getting full, I noticed a small plate heading towards our table; on top of it was, without a doubt, the octopus.
Squirming and slithering away, the chopped-up tentacles of the octopus freaked me out when I first saw them. Since they looked like a bunch of worms on a plate, it took me a while to muster up the courage to try it. After finally catching a small tentacle with my chopsticks, I quickly dipped it in the spicy sauce and sesame oil.
Chewing vigorously to avoid the uncomfortable feeling of moving food, I was shocked when a piece of its suction cup got caught on the roof of my mouth. Terrified at the thought of choking on a tentacle, I used my tongue to quickly pry it loose. Similarly, some of my friends were also turned off by the suction cups of the octopus, but still continued chewing. Impressed by our adventurous nature, Kevin came over and reassured us that there was nothing to fear when eating octopus. He said that in Korea octopus was a good home remedy in recovering from an illness, and that by eating octopus we were doing our bodies a favor.
Aside from interacting with my mouth, the tentacle had an interesting flavor. On its own, the tentacle was very bland, but with the addition of sesame oil and spicy sauce, its flavor was enhanced. The texture was rubbery at first, but after a while, I got used to it.
Shortly after the octopus, our short rib/seafood hot pot came. Packed with noodles, short ribs, shells, shrimp, clams and even a live abalone (sea snail), this gigantic hot pot could have easily fed 10 people. Supported by a spicy kimchi broth, it was like the food treasures of the ocean were captured in one pot.
To top our seafood feast off, Kevin gave us cucumber juice to help with digestion. It seemed like every single Korean dish had a way of bettering our bodies: the egg for our stomachs, the octopus for our illnesses and now the cucumber juice for our digestion. Stuffed and happy with our "food babies," we decided to call it a night and go home.
Although the meal did cost us a bit (it was $90) we all agreed that it was worth the amount of food we got.
Sik Gaek is a perfect place for a big group of adventurous college students. One hot pot is more than enough for any big group (we were five people and we only finished a third of the hot pot). More importantly Sik Gaek presents the chance to eat foods you never thought you'd try. (Despite having problems with the octopus in the beginning, it was the only dish we finished when we went to Sik Gaek.) If you're feeling up for the challenge, head over to Woodside, Queens and see if you have what it takes to eat a live octopus.
Sik Gaek
3 out of 5 stars
$$$ out of $$$$$
Where: 49-11 Roosevelt Ave, Woodside, NY, 11377
Darryl's Recommendation: Short Rib Hotpot (Live Octopus for the brave)