Undergrad Gender Gap: Fordham Community Reflects on Male to Female Ratio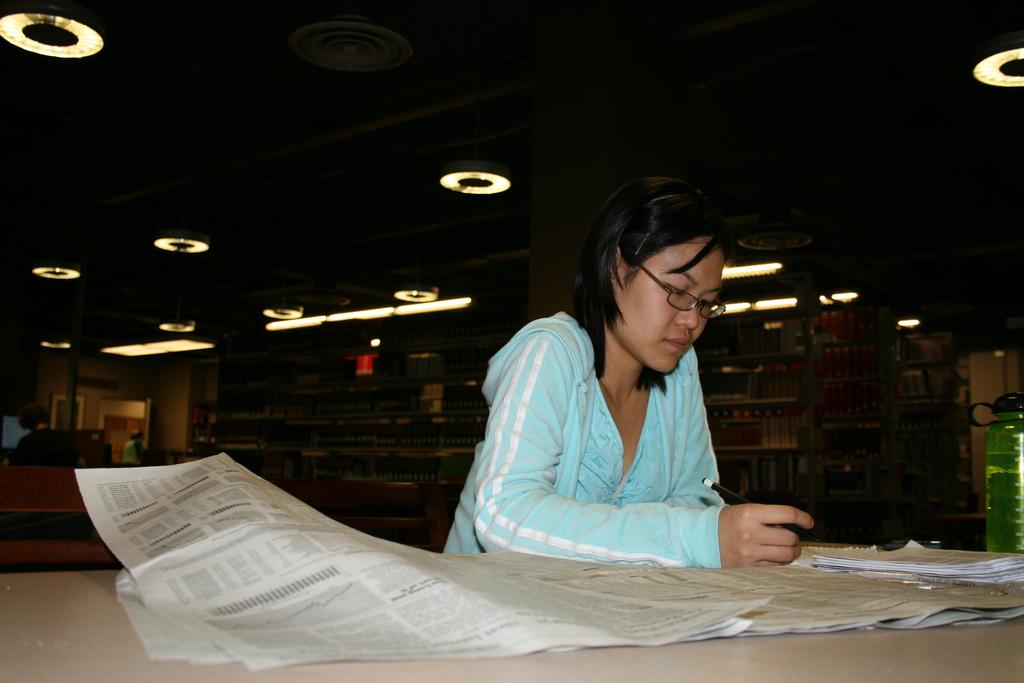 Published: October 25, 2007
FCLC—"There were lots of things about Fordham that made me want to come here, but the prevalence of hot, straight guys was definitely not one of them," said Cassie Foote, FCLC '10. Statistics support Foote's judgment, indicating that Fordham College at Lincoln Center (FCLC) has become increasingly male-deficient: females constitute 58.8 percent of the student population.
This trend, however, doesn't end with FCLC. By 2010, 60 percent of all college students nationwide will also be female. In response to this, a number of universities, fearing that an unbalanced gender ratio could reduce applicants, have lowered standards of admission for males, according to The Chronicle of Higher Education.
This trend has gone so far that college counselors "have begun advising boys to emphasize their maleness," reported the U.S. News & World Report. This includes recommending that boys send in pictures of themselves and tout their athletic achievements.
U.S. News & World Report included Fordham in its feature "Girls Need Not Apply", a list of 18 schools, including The College of William & Mary, Boston College, and the University of Richmond, where the "difference between the male and female admit rate has been especially pronounced," presumably to even out the disparate on-campus gender ratio. According to this report, four percent more males are admitted to Fordham than are females.
Fordham's administration, however, said the admissions office chooses students based on academic merit, not gender. "Don't [admission practices favoring males] strike you as unfair?" asked the Rev. Robert R. Grimes, S.J., dean of FCLC. "I wouldn't want to bring in more men just to help with the gender gap," he continued.
Statistics provided by Donald Gillespie, associate vice president for Institutional Research, show that approximately 40 percent of the males who applied for a place in the FCLC class of 2011 were accepted, versus 36.8 percent of females.
"The [difference] in acceptance rates across gender is modest and could vary from cycle to cycle for any number of reasons," said Patricia Peek, associate director of admissions at FCLC.
Peek continued, "[FCLC] seeks to recruit, admit, and enroll the most talented and interesting class possible. Throughout this process, we monitor a variety of factors, including gender balance, in shaping the final makeup of those offered admission. Gender, ultimately, is only one factor among many that are weighed in our review."
Peek said the admissions office is "pleased that a larger group of men are represented in the class of 2011." FCLC's class of 2006 was 32.9 percent male, whereas this year's class is 37 percent male.
"[Equalizing the gender ratio] is not something that really concerns me," Grimes stated. Grimes also said that he does not find the unbalanced gender ratio surprising. "It is a result of the nature of the college—there are no athletics…no business or engineering programs," he said.  "Historically, those things attract more men than women." Grimes also said the university's well-known dance and theater programs are typically bigger draws for women than for men.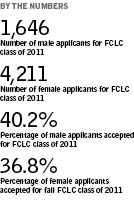 Eva Patton, theater faculty and theater program manager, said approximately 38 percent of the students in the theater program are men. Patton said the theater program also does not admit less-qualified males for the sake of equalizing the gender ratio.
Some experts believe that a highly unbalanced gender gap could negatively affect an institution, according to the National Center for Public Policy and Higher Education. A university with a 60 to 40 gender gap could lose its attractiveness to both males and females, stated one official.
Francis Pastorelle, FCLC '10, said he believes that fewer guys are interested in FCLC because it isn't the traditional college experience.
"When guys think about college, they want the complete experience. They want to go to frat parties, get drunk, and hook up with lots of girls," he said. "A guy will see that FCLC doesn't have that 'Animal House' feel and get turned off," he continued.
Sam Hubler, FCLC '10, also cited the lack of the typical "stupid macho crap" at FCLC that characterizes the atmosphere at most colleges.
In the opinion of Samantha Kumar, FCLC '10, not much can be done to attract more males to FCLC. She said, "I feel like you would have to fundamentally change FCLC to make it more appealing to your average 18-year-old guy."
"The office of admissions does not have any gender-specific recruitment/admission campaigns," Peek said.
Grimes said he does not foresee the FCLC gender gap closing anytime soon. "It has been this way for the 11 years that I have been here," he said.  "Unless something radically changed, like we suddenly became the country's greatest men's football team, I think it is an impossibility."