Argo Tea Employees Infuse Fordham With Energy
Ginger and Rosemarie shared their immigration stories to the United States and their experiences serving the university community at the Lincoln Center campus
Nestled in the garden-level lounge of the 140 West 62nd Street Building, Argo Tea has become a popular destination for students and faculty alike. The tea shop is known for its wide selection of drinks and the cozy atmosphere it provides. Beyond the caffeine boost, customers are also met with two of the lively employees who keep the cafe running — Ginger Tomala and Rosemarie, who asked that her last name not be shared due to privacy concerns. 
Tomala and Rosemarie are known for their positive relationships and conversational approach with patrons of Argo Tea, but their stories go beyond the service that they provide; they are stories of resilience, inspiration and family.
Family Histories and Future Aspirations
Rosemarie immigrated to the United States from Jamaica when her mother was able to receive a permanent green card and validate her stay. Rosemarie noted that her mother was the first in the family to travel outside of the country, adding that she worked hard to provide her children with opportunities she did not have. 
"She was breaking ground, and she wanted her kids to be better than her," Rosemarie said. 
Tomala shared a similar experience to Rosemarie about her family's move from Ecuador to the United States in the 1980s; Tomala spoke about the sacrifices her mother made and the determination she had to provide her five children with the best opportunities possible. 
"It's important that you always feel wowed and happy after coming." Ginger Tomala, barista at Argo Tea
Both Rosemarie and Tomala noted that their mothers' perseverance to provide a better life for their families continues to inspire them today. They added that they want to extend that care and ensure their own children have even more opportunities than they did.
Tomala noted that both she and Rosemarie attended New York City Technical College in Brooklyn from 1994 to 1995 but ultimately did not continue pursuing their education, which motivated them to work harder in order to provide better opportunities for their families. 
The staff's dedication to customer service and relationships with patrons has earned them recognition among students, who praise Rosemarie and Tomala's attitudes toward the Fordham community.
"We only made it to the second year," Tomala said. "We did our best to push our families to finish college." 
Reflecting on their own experiences, Rosemarie and Tomala emphasized their efforts to give their best to their families and inspire the students who frequent Argo Tea to do the same. Rosemarie noted that her daughter is currently a doctoral candidate, and Tomala shared that one of her daughters works in accounting and registration at Mater Academy Davenport in Davenport, Florida, and her other daughter is a social worker.
Apart from their dedication to their families, Rosemarie and Tomala shared that they have several hobbies in which they enjoy partaking during their free time. Rosemarie mentioned that she enjoys shopping as well as people-watching, and Tomala loves to dance.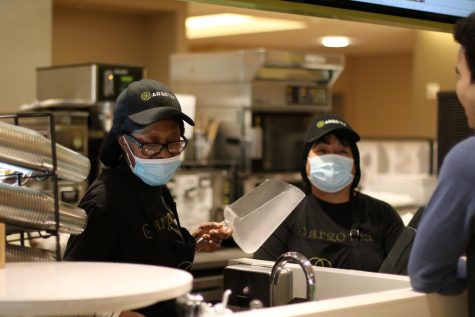 Experiences Working at Fordham and Student Interactions
Throughout their time at Fordham's Lincoln Center campus, Rosemarie and Tomala noted that they aimed to establish positive relationships and connections with members of the university.
"I try to do my best for you guys," Tomala said. "It's important that you always feel wowed and happy after coming."
Students who frequent Argo Tea noted that the driving force behind their decision to stop by the cafe is their interactions with Rosemarie and Tomala. Some students shared that it is specifically their conversations with the two ladies that influence their patronage as opposed to the bakery items and drinks themselves.
"I love everything about them. What's not to love?" Claire Fortier, Fordham College at Lincoln Center (FCLC) '26, said. "I probably come here more for them than the coffee."
Another student, Vivian Picciotti, FCLC '24, added that after experiencing her first academic year at Fordham through an online-only teaching modality, being able to build connections with the Argo staff helped her acclimate to "feeling like my campus was more than a Zoom meeting."
Rosemarie and Tomala noted that although working at Argo Tea allows them to interact with members of the student body and develop those connections, they are often faced with a fair share of challenges. They provided examples of having to handle items selling out and navigating the logistics of keeping the shop running smoothly during peak hours, when it is not an unusual sight to see lines of students snaking around the garden-level lounge.
The staff's dedication to customer service and relationships with patrons has earned them recognition among students, who praise Rosemarie and Tomala's attitudes toward the Fordham community.
"You guys show us a side of you that you should show to the rest of the world." Rosemarie, barista at Argo Tea
"The Argo Tea ladies are always so welcoming and kind," Miguel Pereira, FCLC '25, said. "There have been several times where the line is backed up because we're so involved in conversation." 
At the Women's Herstory Month Kickoff Luncheon on March 3, the Office of Multicultural Affairs honored Rosemarie and presented her with a Certificate of Appreciation that acknowledged the impact she has made on the lives of the students and community members she serves. 
"It was my first award in school," Rosemarie said. "I didn't expect it, and for it to come from the students, I was blown away."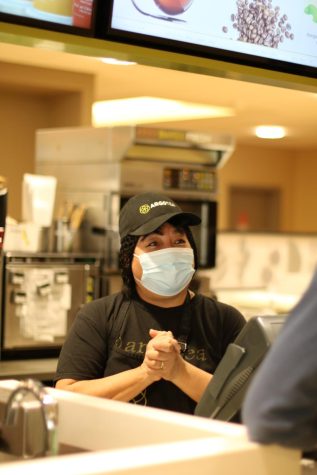 Having been a part of the Fordham community for 13 years, Tomala and Rosemarie shared that they continue to work hard to achieve their dreams and noted that they both own properties and are proud of their accomplishments. The two encouraged students to carry their positive energy with them into the wider world.
"You guys continue to be the greatest that you are," Rosemarie said. "You guys show us a side of you that you should show to the rest of the world."