Why Every Fordham Student Should GO!
What I Love Most About Global Outreach and the Memories and Friendships It Gave Me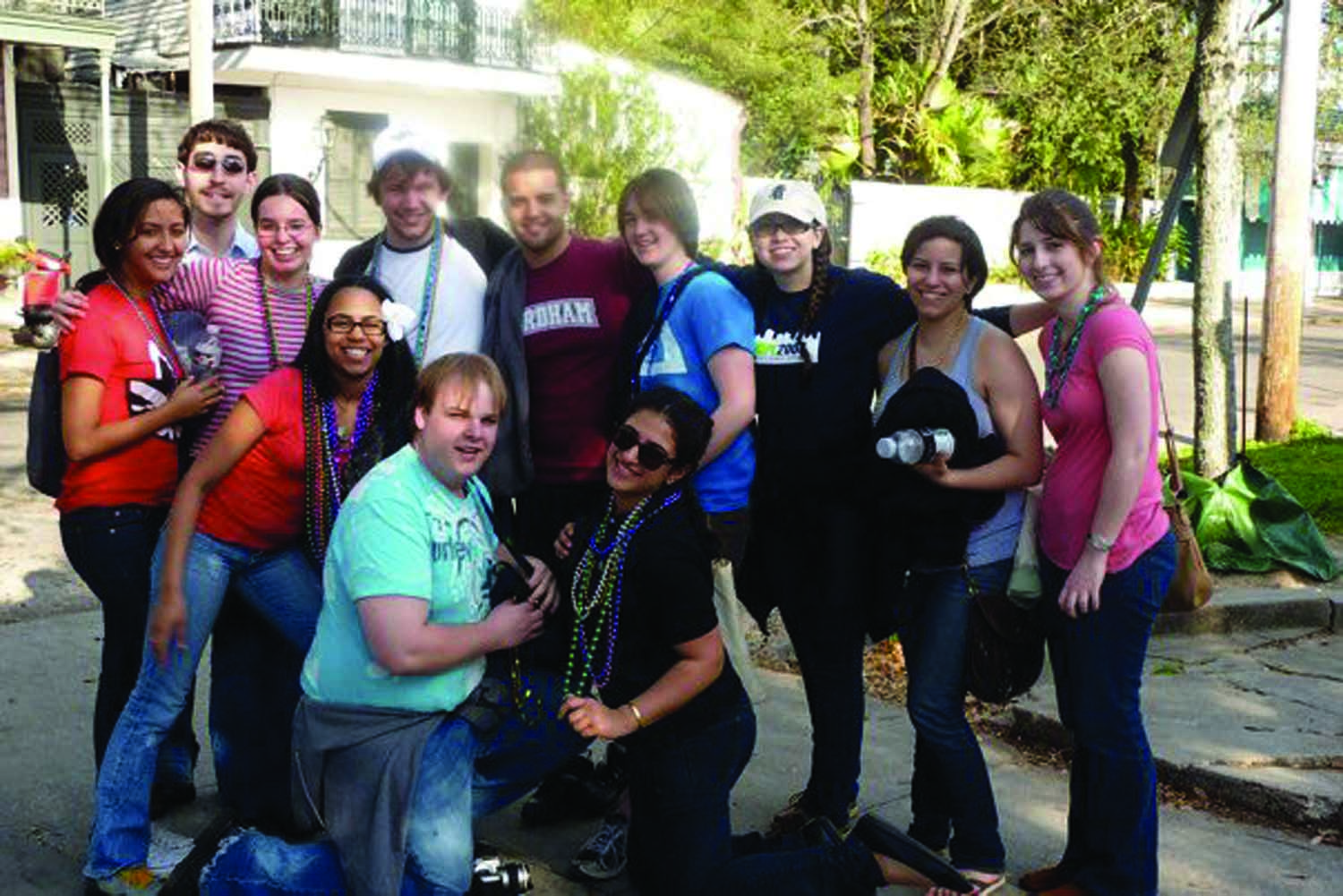 I'd like to tell you about the single best program at Fordham that every student should participate in before he or she graduates: Global Outreach (GO!).
GO! is an unforgettable experience that allows you to travel the country and world, become close friends with 11 other people and serve out the Jesuit command to go forth and set the world on fire.  I am leading a GO! project this year to New Orleans, but no matter where you go, I promise that you will always remember your experience as one of the highlights of your Fordham experience.
Global Outreach is a service and immersion program that sends a group of students to various locations around the United States and the world to serve and work in a community for one to three weeks and become immersed in the local culture.
Both Lincoln Center and Rose Hill run projects, contributing to a grand total of 33 trips. Students fundraise for months leading up to the trip, which is a great way to bond with your team members. You end up having a pretty good time selling baked goods, waffles, grilled cheese or anything and everything to raise money.
Many people argue that GO! is simply an extension of church programs, but that is not the case.  Spirituality may be one of the program's pillars, but only because your team leader urges you to engage social justice issues on a deep, emotional level and struggle with why injustice occurs and why we should stand in solidarity with others' unjust circumstances.  Faith is a strong part of many people's GO! experiences—it was for me—but it is not for everyone.
For those who do connect their faith to Global Outreach, that connection could derive from any faith—Muslim, Jewish, Christian, Buddhist, agnostic or secular humanist.  We absolutely must confront issues of social injustice, be bothered by them and dare to change them.  Global Outreach provides an avenue for students to do just that by engaging them on a spiritual plane.
One of the most powerful pillars for me is community.  My team consisted of 12 people, including a student leader and a chaperone.  Luckily by the time we reached our destination, we essentially felt like family.  By spending around three months prior to the project meeting, fundraising, reflecting and going on a retreat, it was easy to develop strong bonds with each other.
I particularly enjoyed my team's reflections. They challenged us to consider the meaning of service and how injustices like racism or sexism plague our society today.  They also showed how different yet similar we all were. Often in college we are separated in classes by majors or separated by our student life involvements.  GO! brings together 11 students just because they share a passion for the trip.  To this day, I know that I can go to 10 other people and talk to them about anything in my life because we spent hours, days, weeks  and months getting to know each other and becoming a family unit.
I guarantee you will always remember your GO! family.  I know for me personally I can still remember the van sing-a-longs, trips to Sonic, alligator visits and bowling adventures with my team that defined my trip to New Orleans my sophomore year.
I also formed a community with the people living in the place where I worked.  I will never forget the man whose house I renovated with my team on Lowerline Road.  After working for a week on his house, tiling a bathroom, painting and installing drywall, we went to get ice cream, and he insisted on paying for our ice cream just to show how thankful he was.  I couldn't believe what a generous and positive spirit he had; he had been kicked out of his home by a hurricane and was not able to return for almost five years, yet he was still so thankful.  The people you meet on your project will remain in your heart always.
At Lincoln Center alone there are ten projects annually, which means that roughly 100 people every year experience Global Outreach. As more and more people join the GO! family, they bring their experiences back to campus and become part of a Fordham-wide community that remains engaged in social justice issues and committed to serving others.
Few universities in general, or Jesuit ones, have such a developed program as we do.  Global Outreach truly marks Fordham and its students as soldiers of social justice who have set the world on fire and do so every day.  Convinced yet?  Then GO!