Farm to Fordham to Reopen in October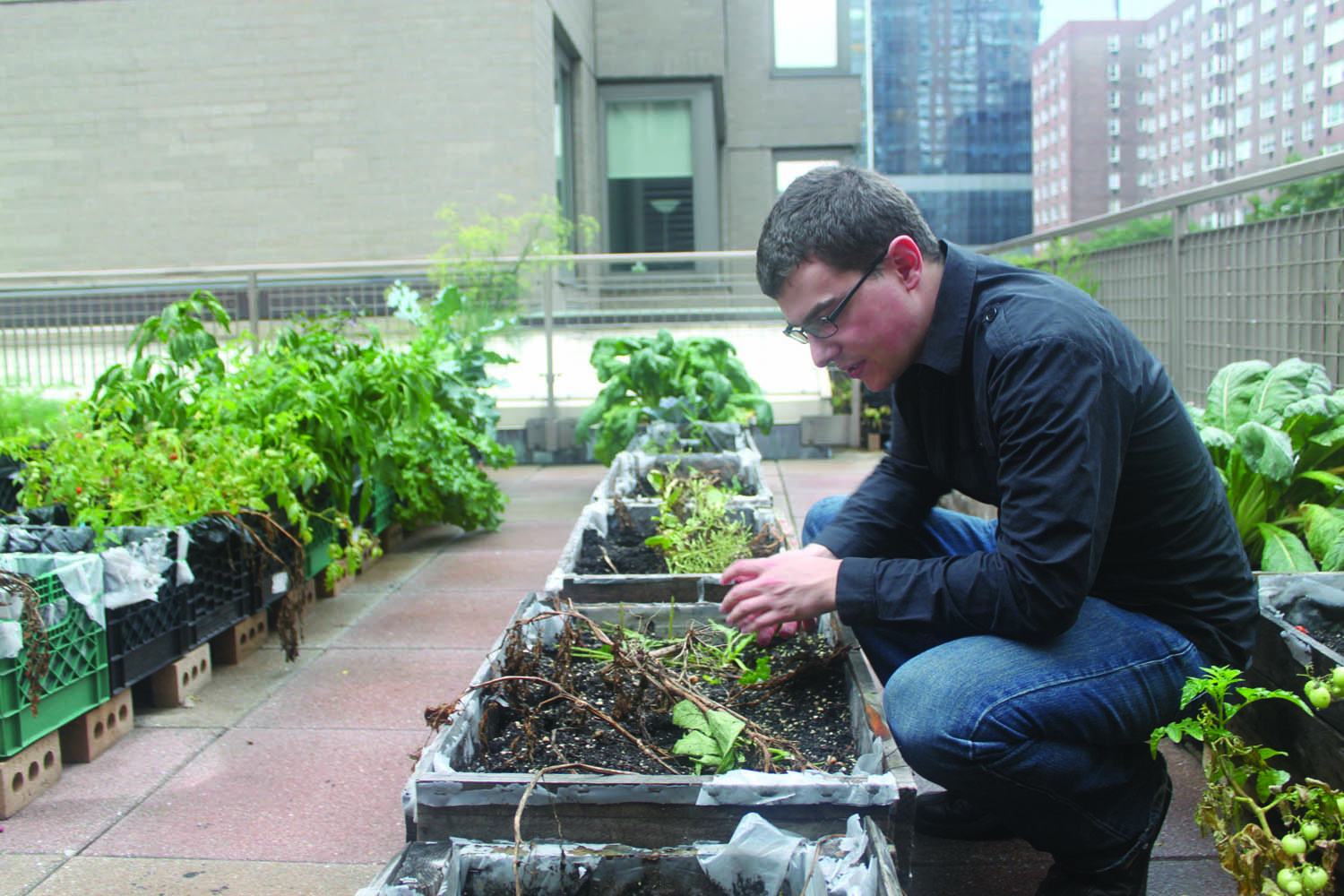 After the publication of a New York Times article on Sept. 14 about Fordham University's decision to terminate Farm to Fordham, renegotiations were set up from school representatives for the program to restart as early as Oct. 12. "I am very pleased and very surprised," said Michael Zimmerman, a third-year Fordham Law student.
Zimmerman founded this Community Supported Agriculture (CSA) program. It is a food program that purchases produce from Norwich Meadows Farm in upstate New York, made available for students and law school staff to pick up. They then donate an unclaimed portion to a local soup kitchen. The CSA also grows and manages organic vegetables on a rooftop garden above the Church of St. Paul the Apostle.
Zimmerman received an email in early September from the university's legal counsel that read, "Fordham cannot be placed in a position to break the law."
The New York Times reported that the university requested a specific catering permit from Farm to Fordham in order for food to be delivered. However, the controversy arose because Farm to Fordham was not a catering business, but rather an agriculture network. The university decided to end the program because both the State Department of Agriculture and Markets and New York City's health department did not issue or require permits for agriculture networks such as Zimmerman's CSA.
The article also quoted Bob Howe, director of communications at Fordham University. Howe said that the food delivery issues went beyond getting a permit and also factor in a possible infestation, dishonoring the university's food service contracts and the possible interference with law school construction on campus. These were issues that Zimmerman believed were invalid reasons for Farm to Fordham's departure.
After the article was published, the publicity caused the university to hold a meeting on Sept. 26 that gathered administrators, the Farm to Fordham board and Sodexo representatives. They discussed the possibility of continuing the program. Zimmerman said that the issues mentioned by Howe were resolved, and said, "All that is left is the insurance policy…I'm feeling good about this."
Zimmerman said that speaking to the New York Times was "an absolute last resort." He said that he had been dealing with this issue since April and he was surprised by how well the community responded to this.
Zimmerman said that he came across one of the other articles he read online that seemed to skew towards blaming Sodexo as the reason for Farm to Fordham's end. "You lose track of the message when you talk to the press about bad news and we really did not want anyone in particular to get [blamed] for this." He said that he was pleased Fordham was willing to "re-engage Farm to Fordham" after the media hype.
Brian Poteat, general manager of Fordham University's hospitality services, said, "I would like to be clear that Sodexo had absolutely nothing to do with the decision to stop the Farm to Fordham program."  Poteat said that Sodexo is about to launch a new program that works closely with New York State farmers and the New York State Department of Agriculture, "making sure we're buying as many of their products as possible."
"We completely support the effort of the Farm to Fordham program and we're happy to lend our expertise and be involved in any capacity whatsoever with this project," Poteat said.
According to Zimmerman, CSAs are farm shares offered by local farmers for the public to purchase. He said it is an "economically efficient" investment where members get together and pay for a capital that covers the harvest and labor of the produce. Trucks then deliver the produce to Fordham Law School where members of the CSA can pick them up.
Susan Pan, FLS '12 and member of Farm to Fordham, said that she was thrilled to hear that the program will be returning, and said, "When I first heard that Fordham would shut them down, I was very disappointed because the program is so unique and so many people seem to benefit from it."
Pan explained that she would provide a check for the CSA and receive vegetables that were not only fresh, but was helping out local farms. "The idea of eating what the earth produces during a given season is great," Pan said. "I would get fresh pumpkins during the fall."
Zimmerman also said that Farm to Fordham could not have been revived without the support of the law school staff.
Hillary Exter, Esq., director of student organizations and publicity at the Fordham Law School, was very supportive in making sure Farm to Fordham would begin running again. She said, "It is thrilling to see the university support and take the public service mission seriously."
Exter said, "The students deserve all the credit for their determination, principle and perseverance. It is the hallmark of public interest lawyering at its best."
Zimmerman included that he has been deeply appreciative of how great and accessible the law school staff and students have been.
"Farm to Fordham is not a one man show," Zimmerman said. "It might be my picture in the paper, but it is a student run group and I'm only a fraction of the effort that we put into this."
Zimmerman said that he wants to work plans out and expand this program to Fordham students at Lincoln Center in the near future.