Renewing Ram Pride: Fordham Cheer and Dance Teams are Putting in the Work
Fordham's school spirit is 'on the come-up' and supported by teams ready for excellence
At Fordham University, football season is in full swing. With every game, swarms of fans are welcomed into the stands of Jack Coffey Field. Students, parents and alumni alike come together at these games, filling the air with connection, excitement and celebration, all encompassed by one important notion: school spirit. At Fordham, the fan experience is brought to life by the Fordham cheer and dance teams.
The Fordham Dance Team: A New Era and Making a Name
Rebecca Chretien, Fordham College at Rose Hill (FCRH) '24, has been a part of the Fordham dance team since her first year. As a lifelong dancer and dedicated high school dance team member, school spirit runs deep for her. In her home state of Texas, football was everything, which Chretien said was distinct from her experience at Fordham, where football is only part of the school experience. 
"The team I was on was in the South, so it was training you for that huge collegiate dance team experience," she said. "So coming to Fordham where the athletic department isn't as big of a deal on campus was different from what I expected. It was smaller than what I had prepared for." 
This has been a blessing in disguise for Chretien, as she describes the experience as "nice and intimate" on both the team and university level. 
Outside of their athletic work, the dance team is incredibly close. They make an active effort to keep their bonds strong in order to function better as a team unit. In Chretien's case, her teammates have become her closest friends, and many of them are her roommates this year. 
"You can't help but get close with people you're spending so much time with," she said.
The schedule for the Fordham dance team is very rigorous, making the closeness important. They have dance practice three times a week and lift weights together twice a week. Long days at football games fill their weekends. For the dance team, game day starts long before the fans arrive, with makeup and hair starting as early as 8 a.m. 
"Game days are definitely a full-day commitment, and definitely exhausting, but they're really fun," Chretien said.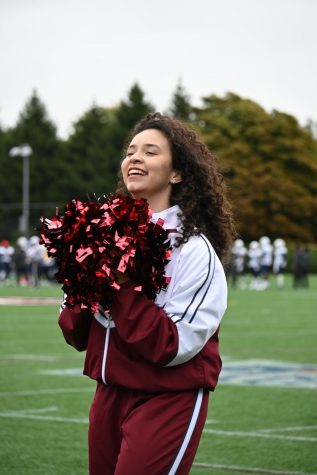 Once fans arrive, it's all game faces and dialed-in routines, with the added pressure of making their work look easy. During family weekend and homecoming games, the dance team is crucial in making sure school spirit is present everywhere on campus. On these days, the team is tasked with making special events come alive. These include the alumni tent, fan interactions and the Ram Run — the annual community 5K race. 
The excited engagement inspired by these activities makes it all worth the while. 
"With the special games, there are always those added things you have to do … but at the same time it's more exciting because more people come to those games," said Chretien. "The more people that are there, the more exciting it gets."
This year is Fordham dance's first year recognized as a part of Fordham Athletics. In the past, they have only held club standing, despite their work alongside collegiate teams. Their new status brings with it the potential for great expansion. This recognition by Fordham has transformed the team members from club participants to acknowledged collegiate athletes. Such a status transformation also brings with it greater funding and travel possibilities. 
"It was very close knit in terms of spirit. We would feed off of fans, they would feed off of us; it was a two way street." Norton, cheerleader
While dance continues to provide constant pep in spite of pressure, there is a lot on the line for the team. They feel there is still a lot to prove; their new athletic department status is just the beginning. 
"We're just trying to prove our legitimacy … to step up to the plate and show that by being on dance, we're also athletes," Chretien said.
Chretien noted that as much as dance works to give Fordham their lifeblood school spirit, the community gives spirit right back. She said that it "makes going to Fordham that much more fun (to be) constantly excited about the school that you go to." The passion in her voice highlights what is special about Fordham dance: their constant excitement about being at Fordham. 
"We're showing up," she added with pride. "Fordham dance is here … we're making a name for ourselves in a positive light."
The Fordham Cheer Team: Innovation Up Ahead
Fordham cheerleader Kyla Norton, Gabelli School of Business at Rose Hill '24, is in her third year on Fordham's cheer team, and her background in cheer is different from the traditional experience. Norton attended an all-girls school that didn't send cheerleaders out to an associated all-boys school. Instead, she cheered for the female sports teams, in an environment she describes as very "women-supporting-women." This factor, combined with her school's small size, made her more familiar with Fordham athletics' small and intimate experience. 
"It was very close knit in terms of spirit. We would feed off of fans, they would feed off of us; it was a two way street," she said.
Now, as a member of Fordham's 18-member cheer team, she has joined a team with a newfound "big sister feeling." For a while, though, friendships within the cheer team were harshly divided by year and was neither unified nor intimate, according to Norton. She attributed this to the COVID-19 pandemic, but believes that the team has emerged stronger than before. 
"Now, we spend so much time with one another that it's really more of a sisterhood," Norton said.
That time together, as Norton noted, comes in the form of daily practices, packed to the brim with routine reviews, collegiate pyramids, partner stunts, lifting and tumbling. As a capstone to these packed weeks, game day wakes the cheer team up nice and early on weekends.
On game day, cheer has a plethora of responsibilities, all of which aim to give Fordham spectators the best possible experience. The work is more expansive and technical than what meets a fan's eye. Their game days consist of warmups, content creation for a variety of Fordham social media platforms, cheering at the donor and alumni tents, rallying fans at the parking lot tailgate, and being back fully polished in time for kickoff. Then, cheer stays active throughout the whole game, and after, with their rallying efforts and smiling faces. 
The energy put into these football games does not go unnoticed, as Fordham fans continue to be uplifted by the cheer team's efforts. 
"Whether you're watching it at home or coming to the games, or even just walking around campus, you can feel the energy of Fordham football," Norton said. As fans continue to bask in this spirit, Fordham cheer's mission appears successful. 
However, Norton said there is still a lot of room for cheer to grow. For cheer in particular, this growth looks like a complete revamping of materials, stunts, routines and the like. Under the guidance of coach Erin Fidaleo, former Fordham cheerleader and FCRH '12, they are taking special care to make sure that cheer is showing up to game day with new and better entertainment each season.
Altogether, the teams that support Fordham athletics are headed in an innovative and refreshing direction, and they are bound to change what school spirit looks like in the seasons to come. Fans and athletes alike will continue to be met with smiling faces and impressive routines, but with the addition of new material and closer bonds, the Fordham spirit experience is bound for growth. 
This sense of optimism is perhaps best summed up by Norton: "We're absolutely on the come-up," she said.