Don't Be Afraid To Move to the City
Transitioning to college life and to living in the city is stressful, but you can tackle the discomfort with confidence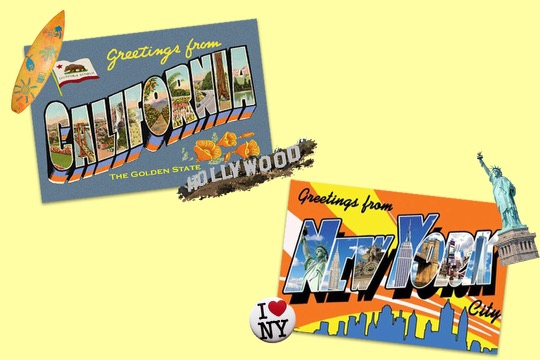 I underwent a significant change of scenery when I began my first year at Fordham. In 2021, I left the comfort of home in Northern California and embraced the unfamiliarity of New York with equal parts fear and excitement. 
For many Fordham Lincoln Center students, adjusting to Manhattan, one of the most densely populated regions of the United States, can be overwhelming. For incoming students from outside of the city, acclimating to New York will be a demanding, yet rewarding, experience. Although the first few weeks of your first year can be challenging, I hope my experiences can help ease your college transition. 
Leaving Home
On move-in day, saying goodbye to my parents was stressful. If I wanted to go home, I faced a six-hour commercial flight with little-to-no leg room. In comparison, my roommate lived in New Jersey, only 40 minutes from campus. I was situated across the country and felt completely isolated. I remember second-guessing my decision and wondering if it was too late to take a gap year. Filled with dread, I eventually found comfort in my roommates.   
Two of my three roommates were from Massachusetts, and although closer in proximity, they too shared my dread of uncertainty. On the first night, we told stories of our past and our worries for the future. I realized they were just as apprehensive as me. 
I learned that distance isn't as important a factor when bonding in college — we all share a disruption in comfort and routine when entering a new chapter of our lives, no matter which coast we live closest to. While a greater distance from home does present unique challenges for new students, moving to college is uncomfortable for everyone.
Living in the City
As the year progressed, I quickly found myself adjusting to city life. I lived in McMahon Hall, and unlike my first-year peers in McKeon Hall without a kitchen, I was challenged with the task of being able to cook for myself. For students new to the culinary arts, I can assure you that cooking efficiently and simply will save your life. 
I'd advise only buying groceries for yourself, because although wholesome, group cooking isn't entirely practical. Trader Joe's, located on 72nd Street and 10th Avenue, is a cheap alternative to the convenient yet expensive Whole Foods and Morton Williams. If you're struggling with homesickness, I'd also recommend cooking home recipes to ease the transition.
Learning to cook was not the only adjustment I faced during my first year at Fordham. California has a warmer climate than New York, and my roommates constantly warned me, "You have no idea what real snow is." 
They were right: I did not. 
I found comfort in Central Park, which can offer a peaceful escape from a not-so-peaceful city.
My winter wardrobe had previously consisted of light jackets and knitted sweaters. As the temperatures dropped, I quickly discovered the benefits of a winter coat, something I didn't think I'd need given the sweltering humidity of New York's summer months. If you're not used to New York's climate, be warned: New Yorkers experience all four seasons at their most intense. Prepare for 100-plus degree days at move-in followed by near 30-degree temperatures in the winter. 
During my first year in McMahon, I lived adjacent to the plaza. The open space provided insulation from the noise echoing from nearby streets. I was grateful for the quiet, but at times the view became dull in comparison to the opposing side with a street view. If you're a heavy sleeper, I'd recommend living on the side with street access, as the sight of the skyline is spectacular and will definitely elevate your New York experience. 
The silence from my side of McMahon, however, encouraged studying, which I did during the late nights. For me, balancing work with the endless activities the city had to offer was difficult, but learning to finish your work early, before procrastination sets in, will allow you to enjoy those recreations to the fullest extent. 
Managing Homesickness
Homesickness is often an inevitable response to living on campus. I grew up in the suburbs surrounded by thick redwoods and winding creeks which made the move to NYC especially daunting. I found comfort in Central Park, which can offer a peaceful escape from a not-so-peaceful city. For many, the park helps sustain a close relationship to nature that isn't always found on the streets. 
Picnics in the park are essential, and you can gather ingredients for a lunch outing from one of the many grocery stores surrounding campus. Central Park is also home to glimmering lakes and grass fields, which are perfect views for a morning jog. I ran cross country in California and have incorporated it into my life as a college student. Creating simple routines that remind you of home can offer stability, since, unlike in high school, classes no longer span the entire day, so you have more freedom to create a schedule that works for you. 
Going Home Again
After my first midterms, I went home for a brief Thanksgiving break. I was grateful to see my family, but I struggled to find complete relaxation given the cost of travel. Many of my friends were unable to go home for Thanksgiving because the length of time didn't justify the expense. 
At home, I noticed a shift had occurred in my personality that didn't feel compatible with my surroundings. I had outgrown the person I was and it felt strange trying to replicate my former self. Even seeing friends felt awkward at first: Our lives had once been inseparable, but now seemed distant. 
This tension eventually went away, but I'll never forget the feelings of disarray that washed over me that first break. From a fresh lens, I saw how insecure I used to be, and only upon returning did I realize how little my insecurities mattered. I now carry a boldness and self-assurance that many people at home weren't accustomed to seeing, and I'm grateful college gave me that confidence.
There are elements of California I realize I overlooked in New York and opportunities in New York that I wish I had in California. Sometimes in the city, I'm overcome with claustrophobia by the skyscrapers that tower over every street. On the other hand, being in California, I'm often bored by the lack of available activities. Only when you leave one place do you realize how much you took the other for granted.
 As the fall semester approaches, I'm excited to return to Fordham. I'll be sad to leave behind the natural landscape of California, but independence and living with my friends is a lifestyle I dearly miss. While starting college will definitely be an uncomfortable experience, I urge you to tackle the discomfort of starting this new phase of your life, and I hope you come to love Fordham and New York as much as I do.