Male Contraceptives Could Soon Be a Reality
Fordham Students Weigh the Options and Consequences
Published: October 25, 2007
When a couple is ready to sleep together for the first time, they will, hopefully, take all necessary precautions to prevent pregnancy and sexually transmitted diseases. Usually, the male partner inquires as to whether or not the female is on birth control, since this responsibility is out of his hands. However, due to new scientific research, there could soon be another question asked by couples before sleeping together— whether or not he is on birth control. According to the Male Contraception Information Project, this idea could be a reality within the next four years.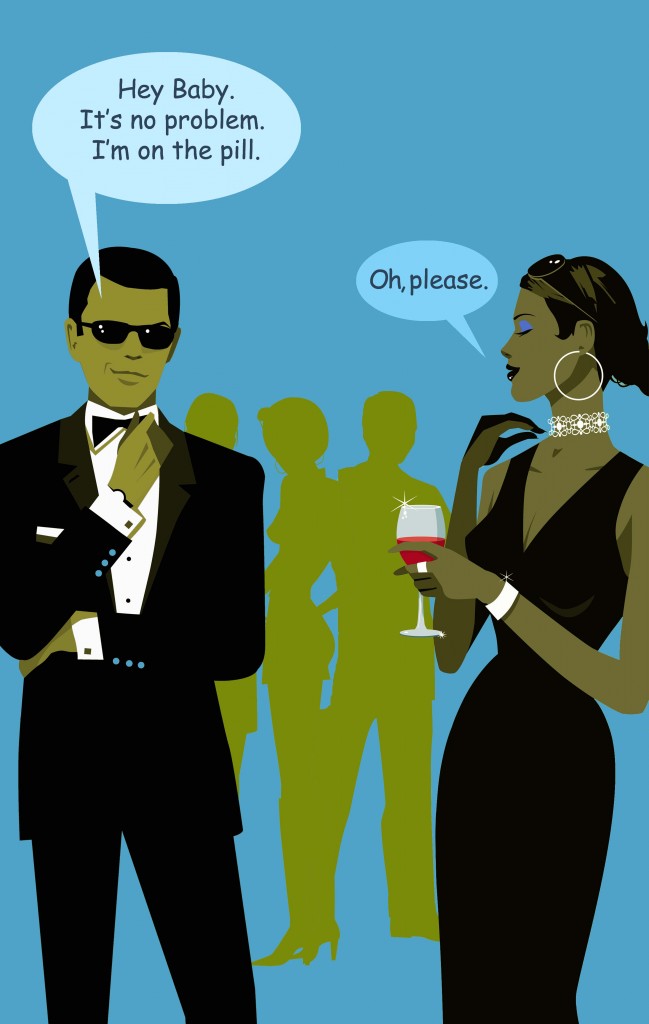 Elaine Lissner, director of the nonprofit Male Contraception Information Project explains three different forms of male birth control.
The first method of male birth control is the Intra Vas Device (IVD) and is the closest to being marketed. Lissner said, with enough funding and focus, it could be available in four years. IVD is a vasectomy alternative in which a set of plugs is inserted into the vas deferens, which is the same tube cut in a vasectomy. The plugs would prevent sperm from swimming through, deeming them harmless to an unfertilized egg.
"The set of plugs can be removed if a man changes his mind, so it is much easier to get sperm flowing again than after vasectomy," Lissner said. Lissner reported that Shepard Medical Company announced the results of their very first U.S. study of the IVD on Sept. 28, which proved that after six months, 92 percent of the 90 men had no sperm or almost no sperm. "The next step will be to find funding for long-term studies of effectiveness and fertility return," Lissner said.
There are also selective androgen receptor modulators (SARMS), which act as testosterone-like pills. Lissner described these pills as "designer testosterone."  Lissner said researchers think SARMS could work as a hormonal contraceptive taken as a pill, because when men are given testosterone they stop producing sperm. Researchers now need to look at how reliably it works in large groups of men.
The third form of contraception is a non-hormonal pill, which was tested in monkeys by the University of Pittsburgh and BIOQUAL Inc. After taking a compound called l-CDB-4022, the monkey's fertility was completely restored after 16 weeks. "The researchers hope this will be a new nonhormonal contraceptive that can be taken as a pill," Lissner said. And safety studies are the next step.
"I give a thumbs down to all three [methods]," Andrew Schayler, FCLC '11, said. "If I was at a point in my life where I did not want a child, I would do the [IVD]."
Josh Pesavento, FCLC '11, said the non-hormonal pill would be his first choice if he had to choose from the current options, but he does not quite see the point in taking any. He said the options sound less safe than using a condom because they could prompt males to not use a condom and transmit STDs. However, "If the condom broke, it's good to have that as a backup," Pesavento said.
Lissner said that at a conference hosted by the International Male Contraception Coalition, this was most men's first choice when asked to choose between the different methods of male contraception. Fordham males agree.
Bijan Djafari, FCLC '11, finds the non-hormonal pill to be the least offensive, although he would not consider any of the male contraceptive options. "It sounds like the purpose is to have unprotected sex." He said that guys are more promiscuous and could get the impression that it's acceptable to not wear a condom since they are covered by one of these contraceptives.
As far as FCLC females are concerned, this new technology is long overdue. "It's about time," Keely Browder, FCLC '11, said. She said she would respect a guy who was using one of the male contraceptives, "but all precautions should be taken," meaning that the male partner should still wear a condom during any sexual activity.
Kara Torsney-Weir, FCLC '09, said she would let the guy she was sleeping with use a contraceptive. "After all, it is his decision what he puts in his body. I think I would prefer it as a contraceptive because it seems like there's less probability of something breaking."
While the idea of male contraceptives is ground breaking, there is still a great deal of speculation among FCLC students in reference to the types of messages this development may emit. The ambivalence mainly comes from a fear of an increase in the spreading STDs if men assume a pill or the IVD is a free pass to avoid wearing a condom. With each new breakthrough come consequences, as this development will surely display as it matures.