Anthony Polcino Gets Heavenly with His New LA-Based Solo Project, Soft Pipes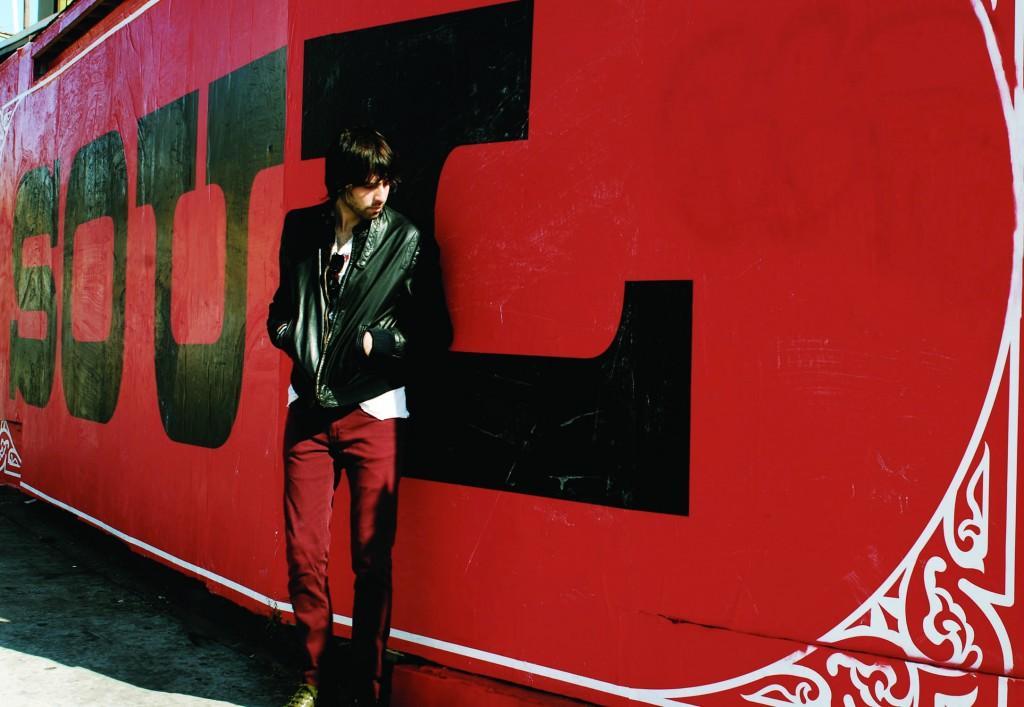 Rolling Stone magazine once regarded Anthony Polcino's ex-band, Low vs. Diamond, as one of six acts that were "redefining rock and pop in 2008." However, things seemed to end quicker before they even began. "It started to become more of push and pull with who was going to get their say in things, what melodies were going to get chosen," said Polcino, who is now paving a new path for himself with his solo project, Soft Pipes—a name inspired by Kurt Vonnegut's "Cat's Cradle" that evokes ethereal guitar songs in the tradition of the subgenres of dream-pop and shoegaze music.
In 2005, Polcino moved out to Los Angeles (LA) from his home state of New Jersey, settling into the legendary music scene that has surrounded LA for decades. Since becoming a transplanted West Coaster and leaving Low vs. Diamond in early 2010, Polcino has been demoing on his own and with the help of close friends within the LA community to create his latest EP, "Stay Pretty," which will be released Sept. to talk to Polcino about his songwriting process, what really happened with Low vs. Diamond, and why he doesn't regard his music as "healing."
Observer: How's the scene in LA?
Anthony Polcino: It's great. There is a plethora of musicians. The scene I'm involved in is the East Side of Los Angeles which is the Downtown Silver Lake area. There is a lot of prominent local venues, great bands. Every week there's an awesome show going on at the local level and all the way to the Hollywood Bowl. It's definitely a heartbeat of the town.
Observer: Would you say that there is a scene of dream pop specifically where you are?
A.P: No, I don't think so. I think that's just kind of my thing at the moment. There are all different kinds of bands in this area, all the way from country-tinge to heavy rock to garage…there's everything going on.
Observer: How would you describe the genre of dream pop shoegaze?
A.p: I feel like there's a little bit of resurgence of it in the last two years or so. Some of the bands that have come out like Beach House; bands that use a lot of reverb and vocal effects [and] dreamy guitars. I don't really think I'm going to be a dream-pop artist. That's just some way to describe your stuff to people who don't know what it is. It just seems to be what I'm naturally drawn to. As far as influences go, I listen to soul, '60s garage, hard rock stuff like the Stooges, Pixies…it just so happens that where I draw my sound from is the guitar realm which gravitates towards the ethereal. As a teenager growing up, I always liked bands like "My Bloody Valentine," "Jesus & Mary Chain," "Smashing Pumpkins" and 'Siamese Dream."
Observer: Do you like the dream-pop moniker that goes with you?
A.P: It's totally fine. I don't know how prominent it is in today's larger number of genres, but I think it's appropriate with what I've initially said to people. They can get a visual of what it is by hearing it. Once they hear it they can say, "Oh yeah that was an appropriate description," so it's not like I'm selling something inappropriately. It gives them a clearer of picture of what it is before they get into it.
Observer: You take the name Soft Pipes from Kurt Vonnegut's "Cat's Cradle." What attracted you to Soft Pipes?
A.P: When I read that book, I was like, "Holy shit, how did I miss this?" When I read that chapter, it just seemed like an actual name. It sounded like a nickname, like how people call vocal chords 'pipes.' I was always kind of considered to have kind of a low, relaxed voice, so I always imagined someone saying it like (in a New York accent), "Soft Pipes! Have a beer!" I was demoing stuff at the time and needed something to call it.
Observer: You were the guitarist in Low vs. Diamond, which was highlighted by Rolling Stone. What happened between you and the band?
A.P: People just started to seem very strange, like having to be together to write—I don't think everyone was on the same page about it. Some people didn't really want to be in the band anymore, some people were married and had lives that they wanted to follow. It just seemed to be falling apart and fizzling out. It started to become more of push and pull with who was going to get their say in things, what melodies were going to get chosen…soon I realized it wasn't going to continue. I had always been writing, doing demo stuff and singing. It was just kind of a small demo project. I always assumed after Low vs. Diamond's success or whenever we had a break, I would make a record. It's always a bummer lose the opportunity (like in Low vs. Diamond), but I was really happy to be doing my own stuff. Soft Pipes has been really fulfilling for me.
Observer: Do you find it easier or harder to be a solo artist now?
A.P: I find it way easier. I really enjoy it; almost every aspect of it. The only drawback I would say is that it's a little bit tougher to get the live shows going than when you have a band. When I play shows, I do play with a full backing band. They're all friends around town who dig music and what I'm doing. But they are also in other bands that work all the time and are busy. But every little aspect of "doing it yourself," I like to sort of be in control of.
Observer: What's the songwriting and recording process like now as a solo artist?
A.P: I have minimal gear, but I have a home studio set up in my apartment. I'll usually demo stuff to the point where it's more a demo but less than a real recording, so kind of in the middle. I'll bring some of those tracks into the studio and usually add whatever I can on that day. I try to record everything along with way. It's usually a mash up of recordings at my apartment and the studio. It's cost effective. I would love to work with some producers out there who could do some amazing stuff with my sound.
Observer: Who are some of the producers you have in mind?
A.P: Chris Cody, who's from Brooklyn. He has done the Beach House records along with Grizzly Bear and TV on the Radio, and Delorean—I like all the bands he works with. I hear all the sounds and nuances and I just hear it and it just sounds like all those decisions he would make I would be on board with. Also Dave Friedman, who has done modern day psychedelic sound like Tame Impala and the Flaming Lips. I'd like to see what he could do.
Observer: Do any of your songs reflect personal experiences you've had?
A.P: A lot of them. Sometimes they're not literal. I sort of indulge for the sake of the song. But whether there was an experience that happened in time or not, everything is sort of coming from my psyche and my little world. With Paul McCartney he writes about a lot of characters and stories. I like to write more on the introspective side.
Observer: On your MySpace page, you describe your music as "healing."
A.P: Oh (laughs). That was sort of a tongue-in-cheek joke.  It was just me playing a joke on my own music. I made that a really long time ago. Maybe I should change that (laughs).