From Busboy to Breakout Music Blogger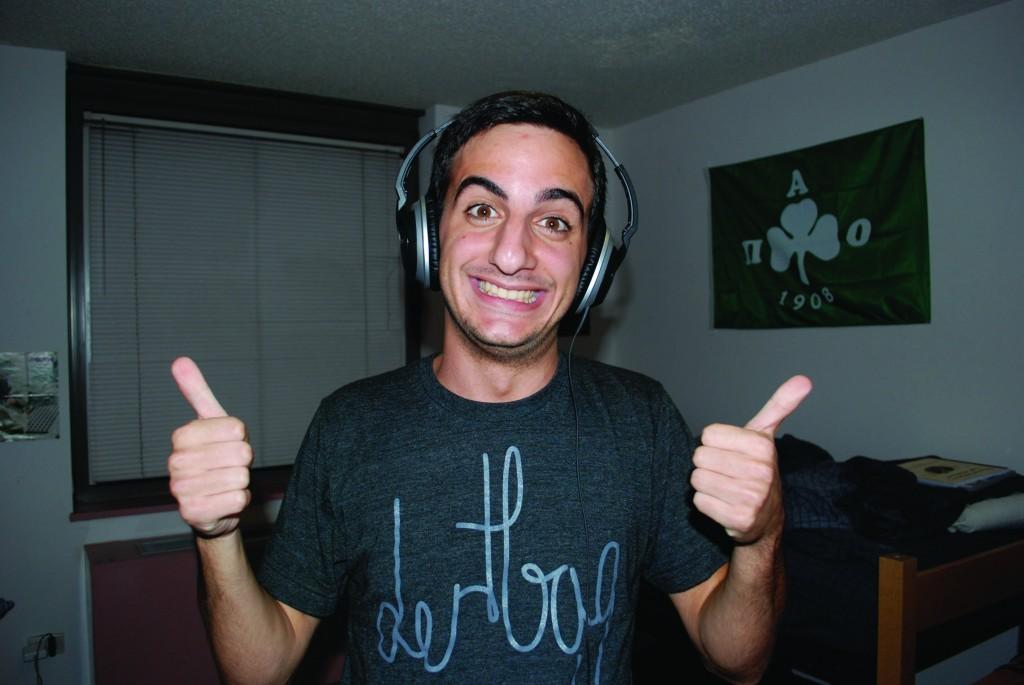 Evan Kaloudis spent his summer clearing plates as a busboy on Long Island. Now he spends his time running one of the biggest up and coming music sites around.
Kaloudis, a sophomore at Fordham College at Lincoln Center (FCLC '14), is CEO, publisher and founder of  music website One Thirty BPM. And while there are millions of wannabe music journalists and hopeful bloggers pining for the chance of musical recognition, Kaloudis isn't one of them—he's already got it.
His site, whose goal is to introduce new music to the public and offer "critical analysis without the elitism that permeates many other sites," gets an average of a half million hits per month. With over 50 contributing writers from across the country, in addition to overseas writers from the U.K., New Zealand, Germany and Australia, it's safe to say that One Thirty BPM is legit—legit enough to have offices in Los Angeles with employees working around the clock to keep the site running and growing with new content and fresh ideas.
The concept started in high school with Kaloudis and his online music friends. They felt there was good music and blogs out there, but nothing that showcased both mainstream and independent artists accurately and uniquely.
"We weren't crazy about blogs covering bands," Kaloudis said. "We thought they were pretentious. We wanted to create a balance and started the site junior year of high school, in 2008."
Although Kaloudis played a little guitar and piano and wrote occasionally, he didn't have the kind of experience most well-established music journalists and site founders had. He did, however, have the ability to network. By using Facebook and Twitter, he was able to generate readership and a following of fans, many who were enthusiastic about contributing to a site that offered honest album reviews, interviews, and well-written analyses.
Colin Joyce, FCLC '15, was one of them.
"I've always been involved with reading music websites and so I emailed Evan in late 2009," Joyce said. A year younger than Kaloudis, Joyce remembers hearing about Fordham in messages from Kaloudis and decided to apply to the university, too.  Now he talks with Kaloudis about story ideas and remains active in contributing album reviews.
Although the two music bloggers were able to meet in person, that can't be said for most of the operation of the site. Kaloudis has yet to meet Rob Hakimian, his company's editor-in-chief who's manning their fort in LA. The team holds conference calls once a week but does most of their work through emails.
Hakimian, a recent graduate of University College of London, saw a message on a music forum about contributing to the site and thought it would be fun. He stuck with it for three years and then moved to the United States after graduation last summer to become a full time employee of One Thirty BPM, taking care of things like story assignments, contacting labels and reading through reviews. He does the majority of the editorial work now so that Kaloudis can focus on getting a degree in computer science.
In LA, Hakimian and managing editor Philip Cosores earn a living by splitting money from online ads 50/50.  One Thirty BPM's sole revenue source is through establishing relationships with online advertisers who pay based on hits.  Living off the musical inclinations of the public can at times be stressful.
"Some days I wake up hating it and thinking this is going nowhere," Hakimian said, "but then on days like today and yesterday when we double the amount of hits, I'm happy to do it."
Readers and avid music lovers are still coming back. The latest accomplishment for the organization was getting on the album-critiquing site Metacritic in March 2011, giving them validity as a reputable site.
The biggest challenge, according to Kaloudis, is to continually engage readers. They make it a point to distinguish themselves by keeping things personal.
"There's a ton of blogs out there that just put out a video or a link," Kaloudis said. "A lot of people keep rehashing the same stuff. We like to try different approaches to content. In our critical analysis we have personality. People want to see what we have to say."