Stone Cold Fox Receives Warm Reception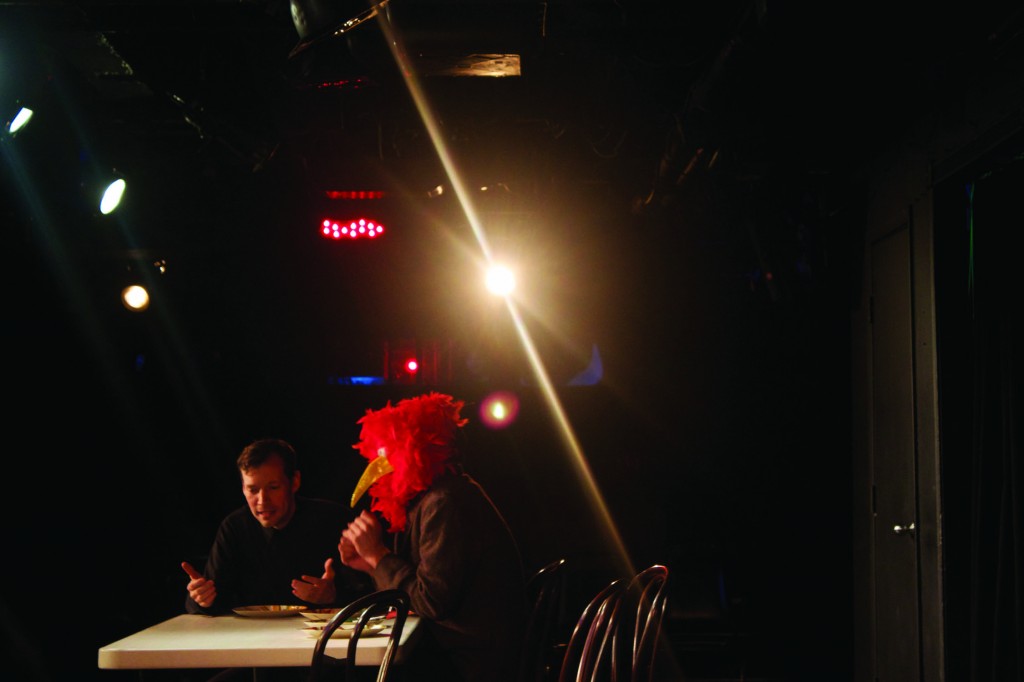 Chelsea's Upright Citizens Brigade Theater is well known as a performance space for some of the best comedy acts in the city; however, Stone Cold Fox tries hard to convince their audience that they are in no way a comedy act. In their new Friday night show, directed by Neil Casey, the cast explains that they are a group dedicated to art, and that comedy is not art. Although they may feign the attitude of an avant-garde theater group, the title of the show, "This is Not Art," gives away the nature of their comedy act.
Expectations aside, what Stone Cold Fox gives the audience is an hour of comedy sketches ranging from more of the dry irony implicit in the title to absurd scenarios of all sorts. While not every sketch is spot on, when they hit the mark they deliver laughs that hit hard.
In some scenes the show takes the form of a performance from the fictional theater group Project Space, located in an old asbestos factory in Brooklyn. In order to fund their ambitious experiments in the realm of theater, Project Space needs money badly. Between their "Important Art Scenes," (what you and I would recognize as a comedy sketch), the members of Project Space explain their project ideas and financial woes in an overly dramatic manner that takes away from the sketch.
Some of the best moments from the show include a sketch about a son returning home after "being drafted by the New York Mets." Were it not for the constant digs at the quality of the Mets' baseball program, the scene could feasibly have been the story of a shell-shocked Vietnam War veteran returning home. It is this absurd reworking of old clichés that give life to the best scenes.
In another laugh-out-loud scene from writer Michael Trapp, a group of girls decide to play truth or dare at their slumber party. The first girl nervously decides to pick truth for her turn. Eagerly, her friends ask, "Are humans inherently good?" After answering this question, the group of pre-teen girls discuss many other perennial questions of philosophy in a manner not unlike a Platonic dialogue.
Unfortunately, it is the recurring segment in which the cast is in character as the Project Space theater group, that the laughs are most sparse. Despite this, the weaker segments actually allow for smooth and interesting transitions between the stronger sketches, so that the show as a whole is not brought down by them.
Stone Cold Fox features an impressive group of cast members including D'Arcy Carden, Johnathan Fernandez and Fran Gillespie and other writers, many of whom have credentials from working on shows such as "The Colbert Report" and "30 Rock," as well as sites such as Funny or Die and The Onion, just to name a few.
IF YOU GO:
Stone Cold Fox
When: Every Friday through November, with the exception of Sept. 23
Where: 307 W. 26th St. between 8th and 9th Ave.
Price: $10 in advance and at the door
More Info:  http://newyork.ucbtheatre.com/shows/view/2811

View Upright Citizens Brigade Theatre in a larger map