Stop and Think Pink on Your Next Shopping Spree
Supporting Breast Cancer Awareness Month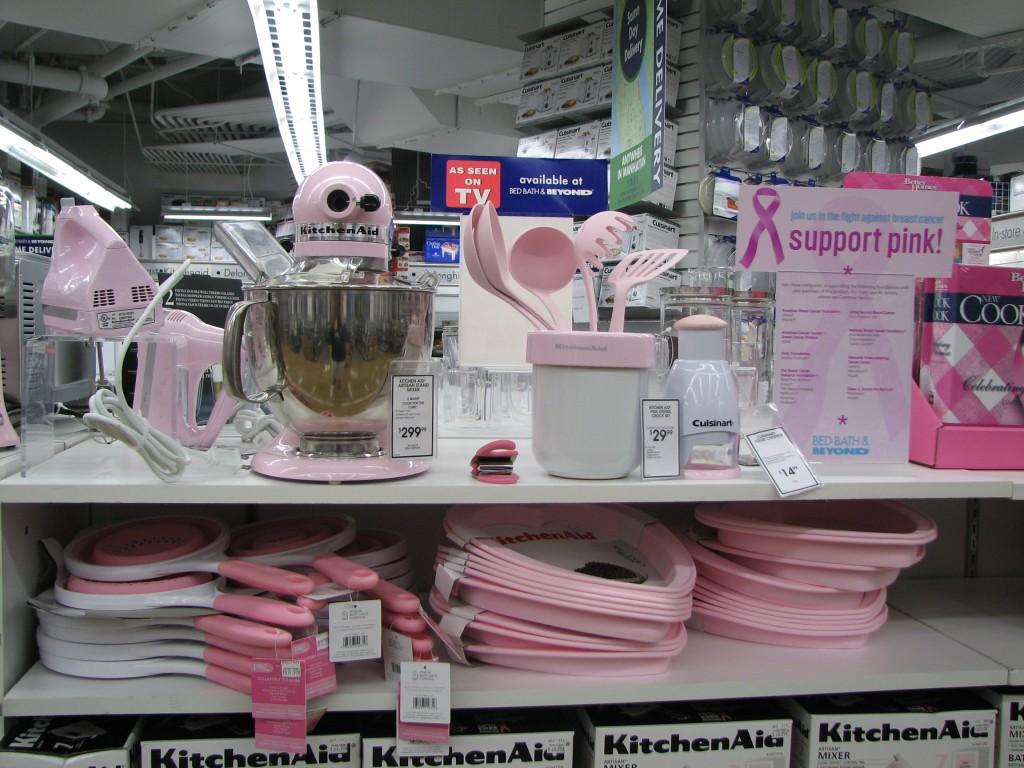 Published: October 25, 2007
October is National Breast Cancer Awareness Month, and these days, one of the easiest ways to support the search for a cure is to shop! Many stores, including our own bookstore, are offering pink-themed items with proceeds that go toward breast cancer research.
Here are just some of the charitable pink goodies you can purchase to show your support this year.
Cook with a Conscience
If you love to cook or know someone who does, consider the Dorothy apron, a sexy kitchen accessory that can make anyone's cooking experience much more fashionable and rewarding. This classic apron by designer Carolyn West in LA is only $38, with cute matching cooking gloves for $18 to complete your outfit. Start cooking in style and order it at www.carolynskitchenonline.com. Fifteen percent of your purchase will be donated to The National Breast Cancer Foundation.
Jump for a Cure
After all that cooking, work out! Everybody knows that working out is healthy for you, but why not help others stay healthy at the same time? JumpSnap is now offering a pink edition of their affordable computerized ropeless jump rope, and will donate $20 of every purchase to Breast Cancer Research Foundation (BCRF). The high-tech rope helps you burn two to three times more calories than running on the treadmill and is available at www.jumpforacure.com for $59.95.
Toast to Health
Thanks to Northland Cranberry Juice, you can make your favorite vodka and cranberry drink, or simply drink it straight up (the cranberry juice, of course) and still feel good about yourself. In your next trip to the supermarket, pick up the brand's cranberry juice ($3.49 in most stores, with $.25 proceeds per bottle to BCRF) and be part of the "Drink to Pink" initiative. This 100 percent pure cranberry juice is 100 percent guilt-free.
Wipe Out Disease
VIVA brand paper towel is also honoring BCRF in October with a collection of limited edition print designs. Purchase these pretty-in-pink paper towels ($4.19 at most stores) this month and the brand will donate up to $200,000 to the foundation to help fight cancer all year long.
Brighten Rainy Days
Need a stylish and sturdy umbrella that will protect you through the harsh weather ahead? Look for Bloomingdale's signature Big Brown Umbrella with a special camouflage pink interior designed by artist Marisa Acocella Marchetto. The umbrella costs $16, and with its sales, Bloomingdale's will donate a minimum of $50,000 to BCRF. Visit their closest location at 59th Street and Lexington Avenue to snag your own chic bumbershoot.
Support on Campus
If you don't want to go too far out of your way, don't worry, because you can walk around the corner to our own Lincoln Center bookstore. Here you will find a cute Breast Cancer Awareness Tee for $12.98, along with other products like notebook pads, pens and tote bags that carry the Pink Ribbon Breast Cancer logo.
There may not be a cure for breast cancer yet, but with a little help from everyone, researchers can continue their hard work towards finding a cure and save the lives of many women along the way.