Mass of Holy Spirit Remembers Sept. 11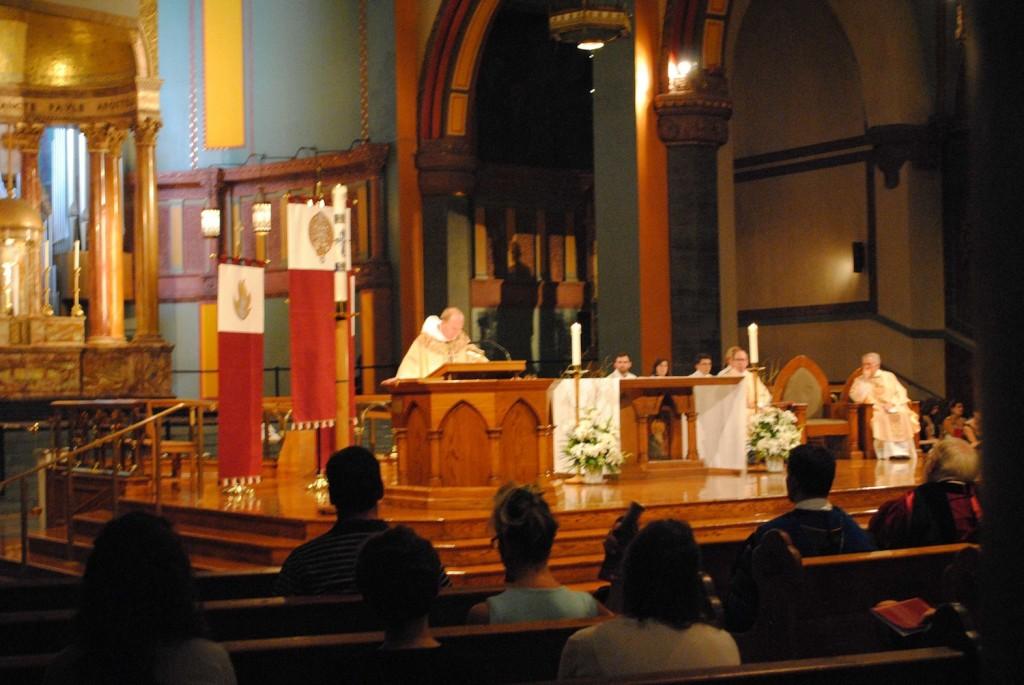 On the evening of Sept. 11, Fordham College at Lincoln Center (FCLC) celebrated its annual Mass of the Holy Spirit at St. Paul the Apostle, followed by an interfaith ceremony held at FCLC's Robert Moses Plaza for the 10th anniversary of the terrorist attack. The Rev. Joseph M. McShane, S.J., president of Fordham University, led the mass remembering Sept. 11, and said, "Living well is the best form of revenge."
The Mass and memorial service were a joint effort between the University and FCLC's campus ministry, organized by McShane and the Rev. John P. McDonagh, director of Campus Ministry at FCLC.
After the Mass, community members migrated to the plaza for an interfaith prayer procession, which included a candlelight ceremony where attendees heard a reading of the names of those lost on Sept. 11. On the plaza, McDonagh revisited McShane's words at the Mass and said, "The Scripture chosen by Father McShane calls us to reach beyond anger and encourages us to be men and women of God."
He said, "While it is hard to forgive when we are hurt, 9/11 challenges us to rise above vengeance."
In addition, attendees listened to several Fordham student and administration speakers, including the story of Cait Hynes and the loss of her father, Walter Hynes, on that fatal day.
According to McDonagh, Hynes is a Fordham College at Rose Hill (FCRH) alumna and a PhD candidate for the Graduate School of Arts and Sciences. She spoke publicly about her father's death for the first time in front of over one hundred members in the audience. Hynes was a captain from Latter 13, Engine 22 of the New York City Fire Department.
"Only when we can tell our story can we be who we really are," McDonagh said.
Another key speaker of the night was Ryan O'Toole, FCLC '12, president of FCLC's United Student Government (USG). "[The evening's events] struck a powerful tone in terms of both remembrance and resilience," O'Toole said. "We reflected the spirit of moving forward, compassion, justice and forgiveness."
The memorial service continued with a recitation of the 39 names of Fordham community members lost on Sept. 11. This service gathered two students representing the Jewish and Muslim faiths in the FCLC community. The speakers included Emilie Amar-Zifkin, FCLC '13 and vice president of Jewish Student Organization (JSO), and Nusrat Jahan, FCLC '13 and president of Muslim Students Association (MSA), who led the audience in a prayer. During the reading of the names, Jahan rang the bell once after each name was called.
"I appreciated the offer [from] Campus Ministry, and am grateful for the opportunity to speak. Being here as one is truly a meaningful thing," Jahan said.
At the conclusion of the evening, attendants placed flowers and lights beside the commemorative memorial stone. Patrick Armstrong, FCLC '15, accompanied music on his bagpipes.
Armstrong also said, "Father McShane did a great job expressing the importance of not only the community, but also the individual when it comes to remembering 9/11. Persons of all faiths could relate to his message, and all elements of the night really came together during the interfaith service."
The Most Rev. Timothy M. Dolan, archbishop of New York, said, "It is my hope that Sept. 11 will be a day when we resolve to continue working on those issues which divide us, and lay the foundation for a new and deeper understanding among us all."