Skelton Making an Impact in Sophomore Season
QB Named Patriot League Offensive Player of the Week Twice This Season
Published: October 25, 2007
After a freshman year in which he started the final six games of the year and became the first freshman quarterback to start since 2000, John Skelton, CBA '10, has taken steps to build on last season's success. In 2007, Skelton has emerged as a team leader, guiding Fordham to a 6-2 record and winning two Patriot League Offensive Player of the Week awards in the process.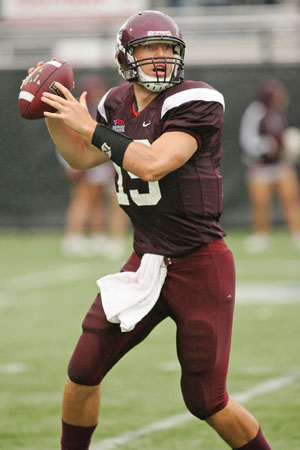 "My goal this year was to make an impact," Skelton said about entering his second year as the starting quarterback.  "I want to eliminate the freshman mistakes from my individual game."
Skelton has steadily improved his game throughout the first half of the season. With Skelton under center, the Rams' offense is ranked second in total offense (388.8 yards per game) and third in passing offense (208.6 yards per game) in the Patriot League.
"His overall game has improved.  He keeps improving week in and week out," Tom Masella, head coach , said.
Through eight games this year, Skelton has thrown for 1,783 yards, with 16 touchdowns and seven interceptions.  In a career game against Lehigh University, Skelton threw for 280 yards and three touchdowns on 26 of 43 passing attempts.  The Patriot League later recognized this career game with an Offensive Player of the Week award.
"He is making great decisions with the ball," Masella said. "We want to see him not turn the ball over."
When the decision was made to start Skelton, Masella and his staff took the young quarterback's talents into consideration.
"We decided to open up the offense more and move to a spread offense to allow Skelton to do what he does best—throw the ball," Masella said.
Leading wide receiver Richard Rayborn, FCRH '09, has noticed the difference in Skelton's approach to the game, as well as a change in his confidence.
"He's a lot more comfortable," Rayborn said. "He's making different reads against defenses and the team is gaining more confidence in him."
Finding comfort miles away from home was difficult for Skelton in his freshman year. It was not easy for Skelton to leave behind family and friends in El Paso, Texas, and to adjust to life in New York City and at Fordham. His second year has already proven to be much more relaxed, both on and off the field, with the presence of his younger brother, tight end Stephen Skelton, CBA '11, now a freshman at Fordham.
Described as a "quiet leader" by Masella, Skelton is doing everything he can to become the cornerstone of the Rams offense in the future by making his presence felt on the practice field and in games.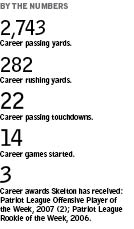 "John's very, very competitive. He goes out and practices hard every day. He is making players better around him," said Masella.
If Skelton's consistent performance and his strong desire to make an impact are an indication of things to come, the Rams' future looks to be bright with him as their leader and quarterback.
"We have three team goals this season," Skelton said. "Win the Liberty Cup, have a wining season and practice on Thanksgiving.  If we practice on Thanksgiving, we will have qualified for the post-season."
Thus far, Skelton and the Rams have beaten Columbia to claim the Liberty Cup and jumped out to a 6-2 mark.  With Skelton consistently improving and the Rams undefeated in the Patriot League, Skelton just may be having turkey dinner on Jack Coffey Field come November.