Pimp My Costume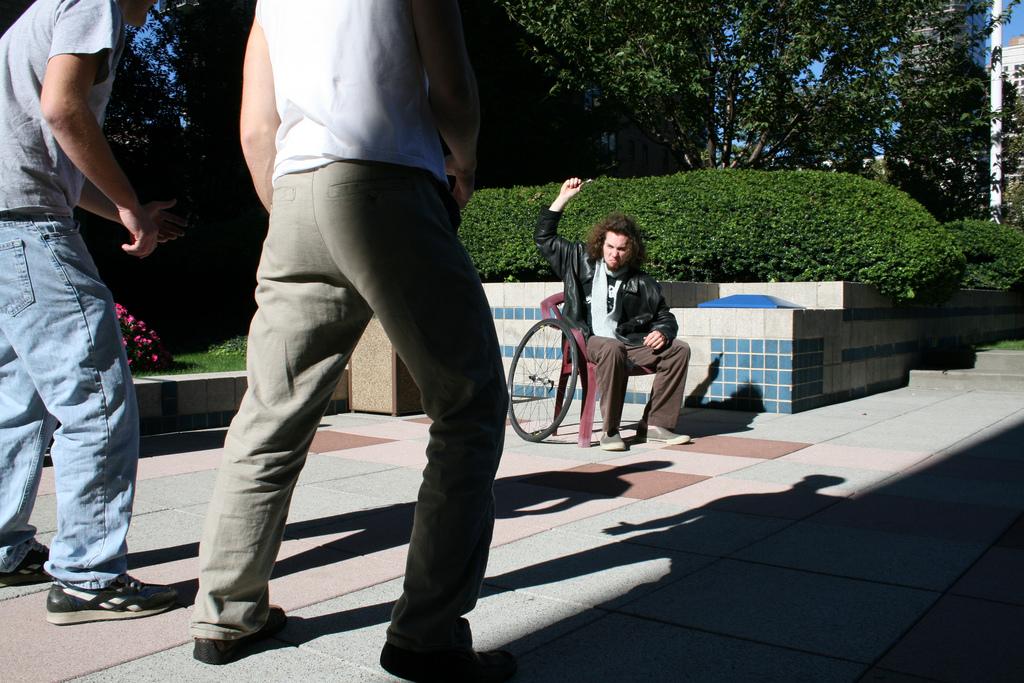 Published: October 25, 2007
New Yorkers take Halloween to a whole new level, so if you want to stand out, you'll need a costume that goes above and beyond the traditional witch's hat and kitty ears.  Any grade school student can dress up as Derek Jeter or Eli Manning, but this is college—it's time to shape up and offend somebody.
Couples:
Gin and Juicers
The couple that plays together stays together, and what better way to form a bond with someone than by injecting illegal substances into his or her behind? Just ask Jose Canseco. San Francisco slugger and all-time homerun record holder Barry Bonds and track and field participant Marion Jones, winner of five Olympic medals in 2000 that have since been stripped away, aren't actually a couple, but their rather specific pastimes are definitely reason enough to bring them together this Halloween. Fellas, all you need is a Bonds jersey, and ladies, some short-shorts and a tank top in U.S. colors will do, but the pièce de résistance for both costumes is the syringe that should be attached to the upper arm.
Sexy and Spice Come at a Price
Fresh on the L.A. scene, David and Victoria "Posh Spice" Beckham are this year's premier power couple.  Ladies, perk up the gals, throw on the shades and douse your locks with some peroxide.  And never let 'em see you smile. Gentlemen, an LA Galaxy jersey, fake tats and a smug smile will more than suffice.
"Blame Canada"
From the gentlemen's clubs of Toronto came this year's salacious Yankees' scandal.  When third baseman Alex Rodriguez was snapped entering his hotel in the wee hours of the morning with a buxom blonde clearly not his wife, the New York tabloids had a field day.  For all of you A-Rod wannabes out there, throw on a muscle-tee, high-waisted pants and a hand-crafted Italian leather belt.  The role of the stripper need not be played by a woman, lest we forget A-Rod's taste for the broad-shouldered ladies.
Guys:
"Who Let the Dogs Out?"
Michael Vick Jersey Purchased off of eBay $80.00
Three Canine Stuffed Animals $34.65
Electrical Chord $19.99
Gat* $450.00
Kiddie Pool $28.99
Vick's Dog Execution Trifecta Priceless
*The Observer does not advocate the purchase of illegal firearms.
"I'm Turning Japanese-a"
For high-impact hilarity with a low-impact budget, grab some tighty-whiteys and head out the door. Naked Cowboy you're not, so don't forget that bun, leaving out a decent number of strands for effect. Welcome to the world of sumo wrestling.
"Do the Hustle"
Charlie Hustle that is. Former Cincinnati Reds star and manager Pete Rose fell prey to the gambling bug that has afflicted many an athlete, including equally successful baseball player, Michael "Air" Jordan. Dressing as your favorite wealthy baseball player is passé, but dressing as your favorite wealthy baseball player who got that way illegally? An inventive twist to a classic costume. Throw on that old-school baseball attire and slap on some monopoly money anywhere you can place it, the more awkward the positioning, the better, because let's face it: in an era before Scott Boras, Rose shat some serious dough.
Gals:
Icing the Competition
The original (and possibly only) gangsta of figure skating, Tonya Harding, shocked the nation by hiring some thug with a metal club to whack American sweetheart Nancy Kerrigan on the knee following a practice session. To pull off the refined look of skating's preeminent trailer-trash cheater, find the most hideous mid-nineties dress, pair it with any blunt weapon and sling a pair of skates over your shoulder. Let's not forget, skating isn't what made her famous.
Game, Set, Stabbed
Victim of what may be the most bizarre fan-athlete interaction in sports history, Monica Seles was stabbed in the back by a knife-wielding Bulgarian during a match in 1993. It's easy, but ambiguous to dress up as a women's tennis player (Sharapova? A Williams sister?), but when you turn around to reveal the handle of a knife emerging from a fake flesh wound, tennis fans will get the joke—and non-tennis fans will think you're advocating murder; either way, this one's a winner.
Group:
"Back on the Chain Gang"
Get a bunch of your friends together to embody the camaraderie of the Cincinnati Bengals, the most arrested team in the National Football League (NFL).  Coordinating orange jumpsuits should be completed with shackles and a prominently featured Bengals logo.  Bonus points for correctly identifying each Bengal and his respective wrongdoing.  Please play the match game below.
"Quack Quack Quack, Mr. Ducksworth"
Relive your childhood dreams by dressing up as Charlie, Adam, Goldberg, Fulton, Averman and Connie.  Be sure to institute the 'Flying V' any time you enter a party.  What makes the Mighty Ducks such a good group costume is that there is a Duck for each of your friends.  The ringleader is Charlie, your portly friend is Goldberg, your angry friend is Fulton, your ginger friend is Averman, and the one female willing to put up with you is Connie.  An optional addition is enlisting one of your friend's fathers to play Coach Bombay.
"Dodge, Duck, Dip, Dive and…Dodge!"
Underdogs unite by dressing up as the Average Joes dodgeball team. Peter le Fleur, Justin the Cheerleader, Gordon, Steve the Pirate, Kate Veatch, and Owen the Nerd team up to take down White and the Globo Gym goons.  Be cautious of ordering the wrong uniform or you might end up looking like a trick-or-treating S&M show.  And in the Village, this could be dangerous.
Ultimate Pick:
"Listen up Crotch-Stain"
If you can dodge a wrench, you will have the best Halloween costume ever.  The World War II bomber jacket is essential, as is the wheelchair, for any aspiring Patches O'Houlihan imitators out there.  If you're looking for some extra luck, don't forget Patches' signature scarf and don't even think about leaving home without a duffle bag full of wrenches, all the better to throw at all your friends all night.  Now, is throwing hand tools at your fellow partygoers really necessary?  Probably not, but neither is drinking one's own urine. And Patches does that anyway, because it's sterile and he likes the taste.