Alvin Ailey's Benefit Unveiled in a New Virtual Format
Guests from around the world gathered to stream this year's Alvin Ailey benefit
This year's Alvin Ailey Dance Benefit Concert offered a whole new experience for both dancers and guests. Faces usually covered in stage makeup were covered in face masks. Group formations were altered to adhere to social distancing requirements. There were no audience members or donors in sight. Luckily, hundreds were able to stream the event for free from the comfort of their own homes.
The benefit is held annually to honor dancers and raise money for the Denise Jefferson Memorial Scholarship, which is a merit scholarship awarded to one junior and one senior in the Ailey/Fordham B.F.A. program each year. Since the benefit was virtual this year, no admission fee was required, and those who attended were instead asked to make a donation if possible.
Sections of the event were prerecorded and streamed via Zoom on May 3. The benefit consisted of one dance from each year of students, as well as a solo performance by this year's newest Denise Jefferson Memorial Scholar, Kayla Thomas, Fordham College at Lincoln Center (FCLC) '22.
Fordham B.F.A. alumni Marcel Wilson Jr., FCLC '18; Elise Drew Lyon, FCLC '07; and Daniel Salas, FCLC '08, spoke at the event about their experience in the program and the connections they made that allowed them the careers they have today. Robert Battle, artistic director of Alvin Ailey American Dance Theater, gave his remarks on the program, as well as FCLC Dean Laura Auricchio.
The night kicked off with a video of "A Day in the Life of Naya Hutchinson." Naya Hutchinson, FCLC '21, received the Denise Jefferson Memorial Scholarship last year and was one of the MCs of the evening alongside Antuan Byers, FCLC '17. The video at the beginning showcased the many new procedures involved with being a dancer during a pandemic, such as wearing a mask all day, dancing inside taped boxes on the floor, performing temperature checks at the door and scanning phones to enter buildings and rooms for contact tracing purposes.
Despite the many rules and regulations in place, this evening showcased the fact that Alvin Ailey dancers in the Fordham B.F.A. program have really given this year their all and made the most of the situation.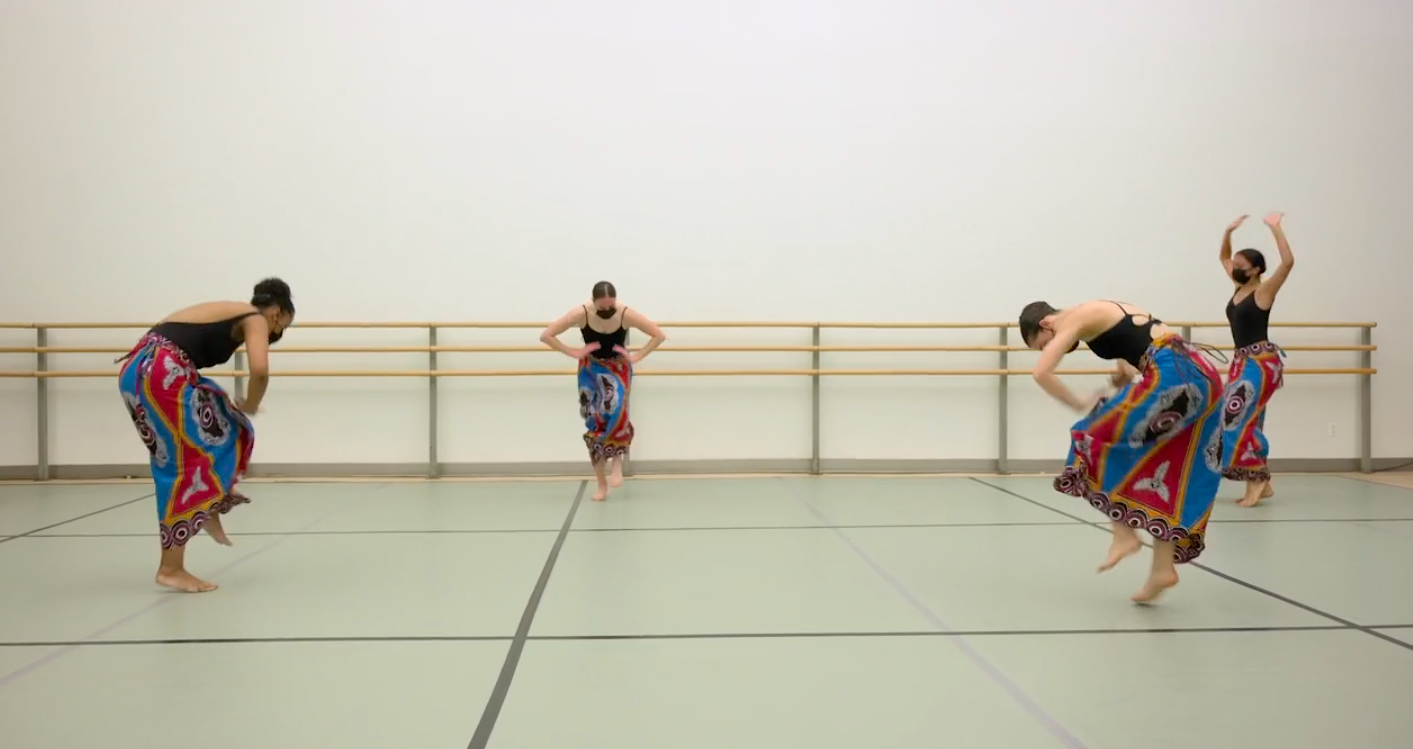 Each class's dance demonstrated exquisite effort and focus to the beat of the music, which was different for every piece. The first-year class danced rhythmically in colorful skirts to the fast beat of live drums in "Kaay Nu Feec" ("Come and Dance"). The sophomore class danced to a piece called "Invite," wearing heels and moving to a slower rhythm that allowed the dancers to showcase their wide range of abilities in leaps, turns and legwork.
The junior class wore red and also danced to slower music in a piece called "Rebound." This contemporary performance featured one dancer at the beginning and then the other dancers gradually running to join her, creating one harmonious embodiment.
Lastly, the senior class dancers performed "Rush Hour," a song also shown for a group performance during senior week. This piece has a very steady beat throughout that the dancers hit spot on with every movement they made. The dancers moved like ninjas in this piece, wearing full-body outfits and dancing at different levels, with up-and-down motions throughout. 
"They sit on their couch, and whether they're watching a movie or a show, they always come back to the arts." Naya Hutchinson, FCLC '21
Hutchinson noted that this has been an especially difficult year and a half due to the pandemic, and some days have been more challenging than others. "It was hard for me personally to get up and actually be motivated to dance," she stated. "And I think that I had to tell myself that that was OK because a lot of people felt that way."
Hutchinson found comfort knowing that dance was something that would always be there. She also felt motivated by the dance community as a way for people to come together and watch something they enjoy. 
"In people's hardest times, what do people come to do?" Hutchinson said. "They sit on their couch, and whether they're watching a movie or a show, they always come back to the arts."
Hutchinson believes it is an artist's job to constantly inspire people even in the midst of their struggles. In her four years at Alvin Ailey and Fordham, she has much to be proud of. What she says everyone should be proud of, though, is making it through such tumultuous times in such a difficult program.
The pandemic has created new norms for society, including receiving a major vaccine and learning the rules of social distancing, but Fordham students are still here and dancing through it. This, Hutchinson believes, is an accomplishment to be proud of.