New Fordham Head Coach Kyle Neptune Marks Turning Point for Men's Basketball
Longtime Villanova assistant hopes to reinvigorate the men's basketball program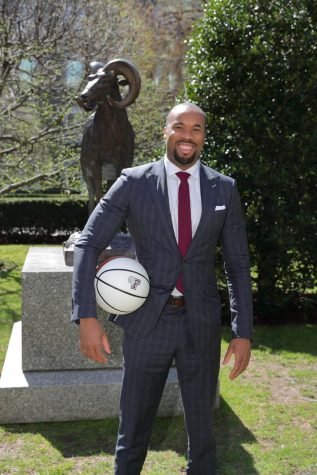 To the sound of Frank Sinatra's "(Theme From) New York, New York," a new era of Fordham men's basketball began in the Rose Hill Gymnasium on Tuesday, March 30, as Fordham introduced its newest head coach, Kyle Neptune.  
Neptune spent the past eight seasons at Villanova University, where he served as the longest-tenured assistant coach under longtime head coach Jay Wright. During Neptune's time with the Wildcats, the team claimed five Big East Conference titles, as well as two NCAA National Championship victories.
Prior to his stint at Villanova, Neptune most notably served as an assistant coach at Niagara University for three years after brief stints at Hofstra University and Villanova, where he originally served as the administrative intern and video coordinator in his first coaching position in 2008.
New York City basketball has been in Neptune's blood his whole life, going back to his early playing days in Brooklyn; he even participated in tournaments at the Rose Hill Gymnasium. His skills earned him a spot in the Lehigh University basketball program where he played for four years, earning a Patriot League title in his first year and serving as team captain for his final season in 2006-07.
Despite his experiences across the East Coast, Neptune still considers New York his home. The time he has spent here has been good to him and helped establish connections that he will look to rely on during his tenure in the Bronx. 
"People in this city have helped me get where I am, and I think I'm going to rely on those people to help me in the future and to help Fordham in the future," Neptune said during his meet and greet event at Rose Hill.
"We wanted someone who knew the New York scene, someone who was a good recruiter, someone who engaged players well, someone who would mentor players better, and we found all of that in Kyle Neptune." Rev. Joseph M. McShane, S.J., university president
These relationships are something the selection committee looked for in the next leader of the Rams basketball program. University President Rev. Joseph M. McShane, S.J., spoke to this as he introduced Neptune.
"We wanted someone who knew the New York scene, someone who was a good recruiter, someone who engaged players well, someone who would mentor players better, and we found all of that in Kyle Neptune," McShane said in a press conference.
New York is nationally recognized as one of the homes of basketball in the United States, and Fordham is a member of the Atlantic 10 conference, currently a top 10 basketball division. For a variety of reasons, though, local players have dismissed Fordham as a viable option. However, Neptune hopes that the basketball environment he creates will draw them in.
More importantly, Neptune hopes the Fordham community's efforts will serve as the deciding factor for some of the nation's rising stars.
"I think it takes a special person to be here at Fordham. It's a special place and you have to have a certain level of character to be here," Neptune said when asked what he looked for in a potential recruit.
Neptune's old home at Villanova University has become one of the marquee basketball universities in the country. With NCAA tournament appearances in each of Neptune's eight seasons with the Wildcats, he has learned the ways of success and has mentored some of the country's best players. Villanova is a well-oiled machine on both sides of the ball, and when asked about what style of the play he would bring to the Rams, Neptune's response was reminiscent of an outstanding offense he was familiar with.
"We want to play fast and exciting style, but also we want to be tough," Neptune said. "We want to be a team that teams come in here and do not want to play against."
This is a new style of play for a team like Fordham which ranked 354th out of 357 teams in offensive efficiency last year, a monstrous drop off from Neptune's old home at Villanova where he helped lead the eighth-ranked offense in the nation based on this statistic. While the disparity is evident, the potential for improvement could never be higher. 

Replacing Jeff Neubauer, a coach who had just a 37% winning percentage during his tenure, will not come with high expectations. However, Fordham students and alumni alike simply hope for a piece of the success Neptune has been able to provide during his basketball career. In a compilation video of famous Fordham alumni including Ryan Ruocco, Jack Curry, and, most notably, Michael Kay, Neptune was welcomed with open arms and hope for a fresh start for a program that has not seen much success under recent coaching regimes.  
Kay's welcome was especially touching, as it echoed the same principles that helped Neptune seek out Fordham: the camaraderie the community builds.  
"I will help you whichever way is possible," Kay said. "If you need me for anything, don't hesitate to call … No pressure, no pressure at all." 
In local Bronx traditions at both the famed Yankee Stadium and the less popular Rose Hill Gymnasium, Sinatra's song is associated with victory and success. Fordham fans and the administration hope these mantras will finally begin to echo through the Rose Hill gymnasium, with Neptune at the helm for years to come.