Uncle Nick's Serves Up a Greek Adventure in Hell's Kitchen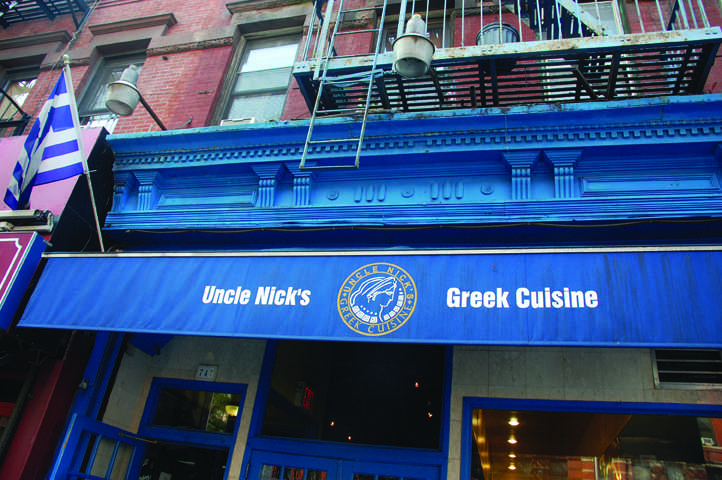 For many Fordham College at Lincoln Center (FCLC) students, a usual outside meal may consist of a cheeseburger at the Flame or some nachos at Burrito Box. However, what many FCLC students don't know is how close they are to one of New York City's food hubs.
Located a few blocks south from the FCLC campus is the Hell's Kitchen district (34th to 50th along 8th Ave.). Filled with restaurants serving cuisines from all over the world this quaint Manhattan district was very different place only 40 years ago.
Hell's Kitchen was once filled with violence in the 1970s between Puerto Rican and Irish Americans gangs. However this improvised neighborhood bloomed into oasis as the crime began to trickle out towards the beginning of the 1980s.
Today Hell's Kitchen is increasingly becoming one of the upscale neighborhoods in New York City and is definitely a place worth exploring for an FCLC "foodie."
As a self-proclaimed food lover, I decided one day to venture from the FCLC campus south along Columbus Avenue to Hell's Kitchen to see what hidden cuisine gems I could uncover. Walking amongst the hustle and bustle of yet another beautiful New York City summer day, I was caught off guard when I suddenly saw a burst of flames from the window of a restaurant.
Originating from a simmering golden plate, the flame looked to have cooked what appeared to be cheese.  Wanting to find out more about what I just saw I decided to venture towards the "flaming cheese restaurant." Uncle Nick's Greek Tapas Bar was the name of the place and it was packed with people! Dazzled by the flaming cheese show, I decided to give it a try.
As I was led to my street side table overlooking the sights and sounds of Columbus Avenue, I  suddenly started to panic.  Never having tried Greek food before, I didn't know what to order!
Recalling a scene in my Big Fat Greek Wedding where the family went crazy with the arrival of the lamb, I decided that something with lamb had to be ordered at this place. I figured that an indicator of a good Greek restaurant was how well their lamb tasted.
Scanning through the menu my eyes caught hold of number of lamb dishes, but none stood out more than Arnisio Kebob. Marinated lamb smothered with onions, tomatoes and peppers, this eye candy of a lamb dish got my stomach's attention.
In addition to the abundance of lamb dishes being ordered at Uncle Nick's, I also noticed the flaming cheese plates I had seen earlier. Surrounding me like fireflies in a forest, these plates of fire released a sweet aroma of tomatoes and cheese. I had to get one of those.
Called Saganaki in Greek, I later learned it was a simple Greek cheese appetizer. When my Saganaki arrived 10 minutes later, it was served on a small searing hot frying pan.
Bubbling away right next to me, the cheese was further aggravated when my waiter decided to ignite the pan. With a quick burst of flames followed shortly with a shout of "opa!" (Greek word mentioned at the start of a celebration) my Saganaki was ready to be eaten. As the first pieces of the Saganaki entered my mouth, I was shocked with the overwhelming taste of the feta cheese.
Instead of being too cheesy, the addition of tomato complemented the Saganaki.
Capped off with an aftertaste of pepper lemons it was a perfect dish for newcomers to Greek food.
Shortly after my Arnisio Kebob arrived. Served on a huge plate with three generous pieces of marinated lamb and a mixture of bell peppers and onions on the side. It was a dish  fit for a king. The fall-off-the-bone good lamb pieces were a delight for my taste buds. Coaxed with herbs and spices, the lamb meat melted in my mouth.
With my belly filled, I was happy to find out that my delicious meal was reasonable. Paying around $20 for some authentic Greek food, Uncle Nick's is definitely a place I'll try again. If you're ever looking for a quick snack or a place for a semi-formal lunch meeting in Hell's Kitchen, Uncle Nick's is the place for you.
IF YOU GO
Where: 747 9th Ave., New York, NY 10019 (Between 50th & 51st)
Darryl's Recommendation: An Arnisio Kebob!