Enrollment Services Begins Makeover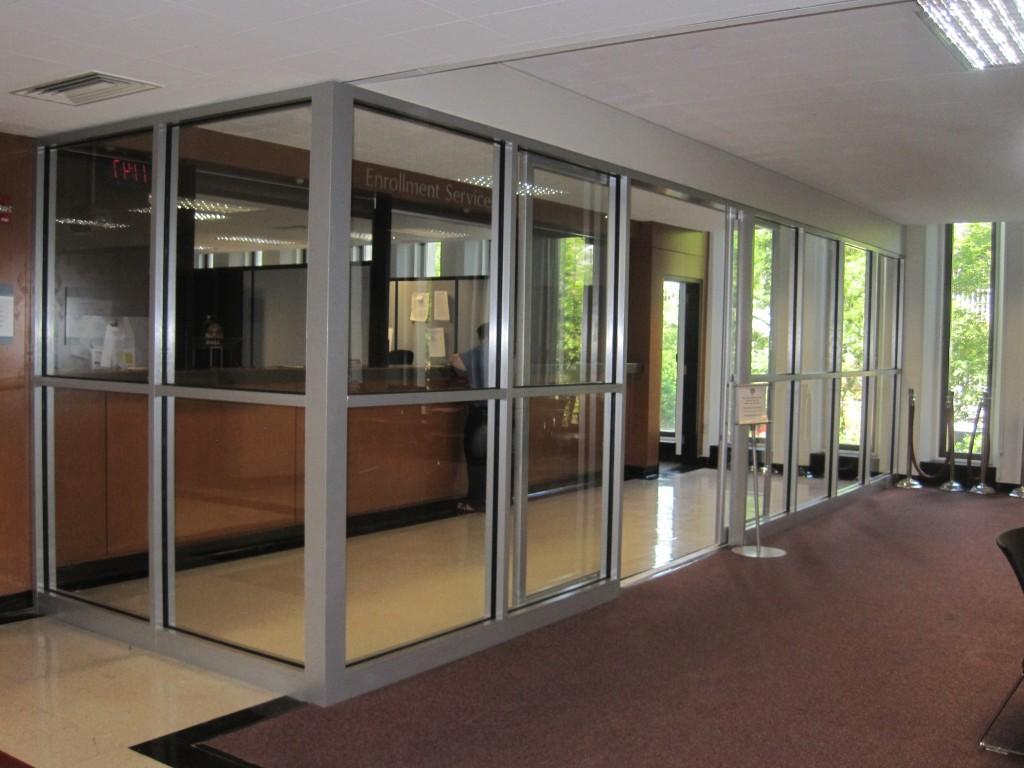 Fordham College at Lincoln Center (FCLC)'s Office of Enrollment and Financial Services began its remodeling the weekend of Aug. 20. A glass encasement was placed outside the bursar office on the second floor of Lowenstein. "The goal is to create open space for students to interact one on one with Enrollment counselors," Dr. Patricia Peek said.
According to Peek, the associate dean of Admission and director of the Lincoln Center Enrollment Group Office of Undergraduate Admission, the encasement is just the beginning of the new configuration of the office and will not be completed until, tentatively, the end of September.
"It feels more professional and gives students a sense of privacy since now they can have personal interaction," Fannie Wu, FCLC '12, said.
Ryan O'Toole, FCLC '12, and president of United Student Government (USG), said, "[The glass walls] make a more comfortable and separate environment. It is welcoming and separate from the second floor lounge."
Peek has been working with FCLC's USG since last year in efforts to mediate Enrollment and Financial Aid Services's relationship with the student body.
This remodeling was prompted by a series of controversial letters that the financial aid office sent to students with outstanding balances last summer. The letter told students that if they did not pay the balances soon, they would not be able to attend classes in the fall 2010 semester. O'Toole said USG stepped in and has been committed to making sure frustrated students and the enrollment office can have more effective and efficient communication.
In spring of 2011, O'Toole surveyed over 500 students at the FCLC campus about their view of the Office of Financial Aid. "All the work done this year has a lot to do with the responses we surveyed last year," O'Toole said. "In efforts to continue improvement, USG will be checking in with the student body again [this school year]."
USG has also worked with Dr. Peter Stace, vice president of Enrollment, who also wants to see these communication improvements.
"The follow-up letters on bills have been timed better [this year] to allow students and families time to respond and the language was reviewed by students for helpfulness and tone to shape final editing," Stace said.
According to Peek, the exterior of the financial aid office will still include two open enrollment services windows available for students to use outside the office. However, there will be a new configuration inside the office that is open for students to walk in and meet with an enrollment services staff member at a reception desk.
Stace said that the new staff member serves to direct students referred from the windows. "Referral flow to financial services counselors will be smoother and easier with the removal of the door that had been in place and introduction of a new reception station inside."
O'Toole said that USG plans to include signs that allow students to know that they can walk in. "We want students to know there is a difference between the window staff and a counselor, so we want there to be clear signs that guide students inside the office."
The addition of the transparent glass walls is one of the many initiatives that the Enrollment and Financial Services office added in efforts to improve customer service. Stace said, "[The glass wall is] the first visible and physical step that Lincoln Center students will notice when classes begin."
Additional work towards Enrollment's new makeover includes more than just glass encasements. A new television monitor, similar to the ones found in the lobby of Lowenstein, will be installed next to the windows when remodeling is completed.
"The monitors will display scrolling information about registration, enrollment and student accounts," Peek said. "Also, there will be a bulletin board of new events and information next to it." In addition, staff members will be given name tags so that students can feel more welcomed.
Stace said that a phone system that uses Automated Call Director (ACD) will also be installed in the office early October. This system will integrate phone response across all three campuses. "An incoming call to any campus can be responded to by a staff member on any campus to minimize waiting time for callers."
Although the Financial Aid staff and O'Toole are excited for the new look of the office, one student is hesitant about the changes.
Aleksandra George, FCLC '13, said "I am not impressed. I would like to think of the financial aid office as a bank where they try to make it as homey as possible with seats outside and I thought that's what the remodeling would have done." George said that she felt the glass encasements did not do much to improve a personal feel.
Regardless of student reactions, O' Toole hopes to have a Student Advisory Board, as part of USG, consisting of students from all parts of Fordham University which will meet with FUEG on a monthly basis. "Ideally I hope it will be twice a month."