Three Summer Movies Everyone's Talking About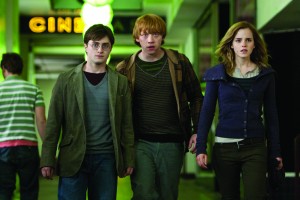 "Harry Potter and the Deathly Hallows Part 2"
It's no surprise that the final Harry Potter movie made it on this list. Not only is it the highest grossing movie in history, but it left most grown  men and women in tears. If you went on Facebook in the days leading up to and the days after July 15, it was obvious that many people considered the final movie an end to the beloved series and to their childhood. Although an overly dramatic sentiment, there is no denying the well-deserved hype and the ridiculous levels of insanity brought on by this movie.
Everyone and their grandmother knows the plot of this movie and the seven before it, but it is evident in the "Deathly Hallows Part 2" that the series has gone on, the movies have not only gotten darker, more gruesome and more frightening, but better. The special effects were spectacular, Ron and Hermione's weird sexual tension was finally addressed and a glimpse into the future lives of Harry, Ginny, Ron and Hermione was a perfect way to end the series. I just wish Dobby was there to see it.
"Crazy, Stupid, Love"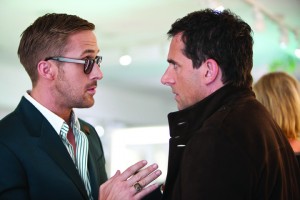 One of these three words adequately describes this movie and I'll give you a hint- it's not crazy or love. I couldn't count the number of times I rolled my eyes over the romantic clichés and sappy lines. This talented cast featuring Julianne Moore, Steve Carell, Emma Stone and Ryan Gosling was squandered by Dan Fogelman's unoriginal script.
After Emily (Moore) tells her husband Cal (Carell) that she wants a divorce he goes right to the bottle and stays there until Jake (Gosling) comes to his rescue, giving him a complete makeover and showing him how to pick up women. The movie mostly revolves around Jake mentoring Cal, also includes several different love side stories like Robbie (Jonah Bobo), Cal's son, confessing his undying love for his babysitter, Jessica, (Analeigh Tipton) and the romance between Gosling and Stone.
This movie is the epitome of a chick flick, which is not always a bad thing. There were several laugh-out-loud moments involving breakout star Tipton and some naked photos along with; a surprising twist towards the end that completely changed the cast dynamic. However, the chemistry between Stone and Gosling's characters was the best part of the movie, or maybe it was just Gosling's abs.
"Bridesmaids"
Not since "Knocked Up" or "Mean Girls" have I laughed so hard at a comedy. This brilliantly witty and silly script written by Kristen Wiig and Annie Mumolo proved to be the best movie of the summer and probably the best comedy of the year. As they try to prepare for a wedding the two main characters, Annie (Kristen Wiig) and Lillian (Maya Rudolph), are the quirky best friends you feel like you have known for years.
The cast as a whole is dysfunctional but in the best possible way. Some stand- out bridesmaids includes the crude future sister-in-law Megan (Melissa McCarthy from "Gilmore Girls,") and the Stepford-esque Helen (Rose Byrne) who is coyly trying to take Annie's place as maid of honor. But Wiig's performance as the pathetic best friend trying to get her act together is consistently hilarious and unmatchable. Tina Fey should watch her back; Wiig may be the new queen of comedy.