'Stonks' After Dark — Stove's Satisfies
FLC's comedy club Stove's kicks off the semester with their first virtual spring show, 'Stonks' After Dark
These days, everyone is getting involved in the stock market. From Reddit users putting it all on GameStop to Fordham's comedy club taking their "stonks" to the moon, the market is open.
On Feb. 12, Stove's Comedy Club held their its virtual livestream of the spring semester, "'Stonks' After Dark," on its YouTube channel. From stand-up to sketch to poetry to improv, the comedy crew brought it all. The "management team," headed by "CEO" and Stove's President Natalie Grammer, Fordham College at Lincoln Center (FCLC) '21, welcomed their "shareholders," i.e., the audience, to an evening of "professional, financial and comedic endeavors." 
In the Zoom-call format that we are all too familiar with these days, the night's guest host and "managing partner" Rhea Subramanian, FCLC '22, started off fiery with a few satirical, not-so-feminist quips about the disappointment of not getting catcalled and her confusion with the "stonk" market. She then introduced a quirky sketch about a Girl Scout, a Mormon and a solicitor walking into a suburb. Written and directed by Julianne Holmquist, FCLC '21 and club vice president, the sketch combined on-location scenes starring Julianne herself with pre-recorded zoom features of her colleagues.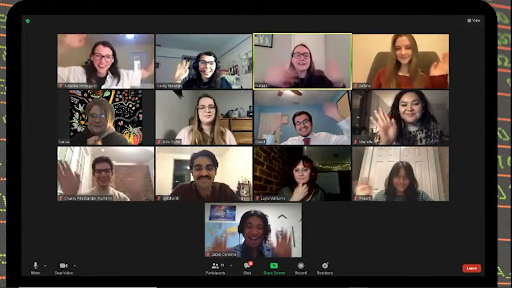 Next up, we got a hard-hitting bit called "white people doing brown people s—" from Sajani Patel, FCLC '21. Patel's act educated the "shareholders" on the proper pronunciation of "basmati" and corrected the misconception that burning sage will somehow cure racism. 
Incorporating audience participation in these kinds of virtual events is always a challenge. Luckily, the Stove's audience was going wild in the chat throughout the performance, with its alumni being especially active. 
For the next section, Stove's asked the audience to submit their initials to be turned into a mock LLC, inspiring improvised corporations such as "Medieval Catering, LLC," "Many Kind People, LLC" and "Surely Overboard, LLC."
Adding poetic relief to the flow of comedy, the Stove's team invited lyrical guest poet Jordan Cerdena, Fordham College at Rose Hill (FCRH) '24, from the Black Sheep Performance Poetry group of Fordham Experimental Theatre, to perform some of his poetry between laughs. In regards to the cathartic intent of his poetry, Cerdena said that to him, "love is a risk, and so is art, and so are people." His first piece, "The Unnamed Moon Poem," hypnotized viewers.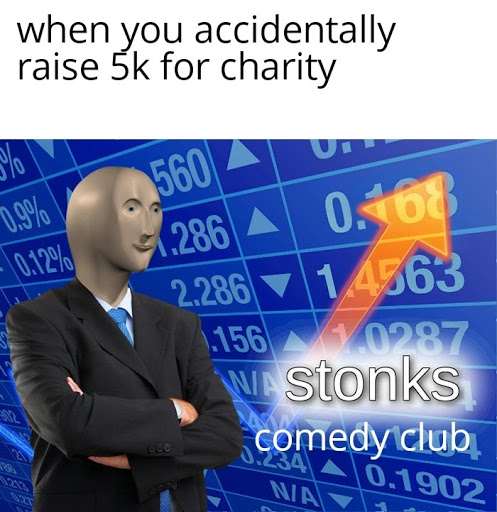 Afterward, Grammer aptly noted that "the moon gets us all in the mood for love," hinting at the theme of the club's planned end-of-semester show scheduled for April 30, "Stove's to the Moon," according to Stove's Treasurer Casey Brennen, FCLC '22.
After taking a short intermission and inviting the audience to enter a gift-card raffle, Layla Williams, FCLC '23, performed a live sketch with Subramanian involving a seagull, a Hudson river needle and a top-notch New York accent. Williams' "Give me back my damn panini, you stinkin' sky rat" and "Hudson gulls reign supreme!" incites a nostalgic yearning for the sounds of New York City streets for those of us who are no longer local. 
My favorite set from the dynamic event was put on by Siddharth Raj, FCLC '22,  sporting a buttoned-up polo, a heavy-duty mustache and a can-do-yet-defeated attitude that screamed cuckold father-figure. With lines like, "Cuckolding is a perfectly natural, perfectly healthy expression of physical love between a husband and his wife … and her personal trainer, Dominick," Raj gives the audience the all-too-real birds and the bees (and the bulls) talk that they were never given, complete with handmade dolls to demonstrate the ins and outs of a cuck. Raj noted, "The benefits of performing this piece virtually rather than in person was that the dolls could be clearly seen on camera" in all their phallic detail.
In regard to adapting material to the virtual format, Grammer noted, "I don't think it'll ever really be comfortable, especially for those of us that know what it was like to perform in person." However, in making this transition, the club has continued to be a pillar of Fordham students' college experience. 
Raj reflected on how meaningful Stove's has been to him in these difficult times, saying, "I am grateful to have a virtual platform and to have audience members that still watch virtual comedy shows because I don't know how I would have gotten through this past year without Stove's."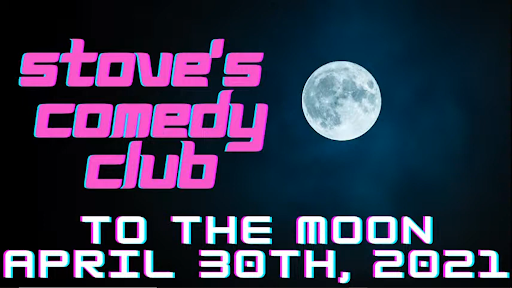 Similarly, Brennan acknowledged how important this club has been to her: "I feel like I lost one of the most important and exciting years of my life … Stove's is the only thing that makes any of this worth it." 
Every performer was phenomenally witty. I can't wait to see some of our fellow Rams on the big screen one day. Be on the lookout for their upcoming shows this semester. Their next virtual show will be held in the same format on March 12, the annual feminist comedy night is scheduled for March 26 and the end of the semester show is scheduled for April 30. You can watch the performance on Stove's YouTube channel.