Fordham Women's Basketball Charges Back to Defeat Rhode Island, 56-53
Rams make up nine-point deficit to secure Coach Gaitley's 200th victory at Fordham
The Fordham women's basketball team came back to defeat the University of Rhode Island (URI) Rams Sunday, Feb. 7, after falling behind nine points early in the third quarter. The Fordham Rams' record in Atlantic 10 (A10) conference play improved to 7-2, placing them third in the standings behind Dayton University and URI.
After a sluggish start, Anna DeWolfe, Fordham College at Rose Hill (FCRH) '23, scored 14 points in the final 16 minutes of play, leading a successful effort to secure Head Coach Stephanie Gaitley's 200th victory at Fordham University.
"This was such a great team win," Gaitley said. "We showed so much toughness and resilience against a very good Rhode Island team!"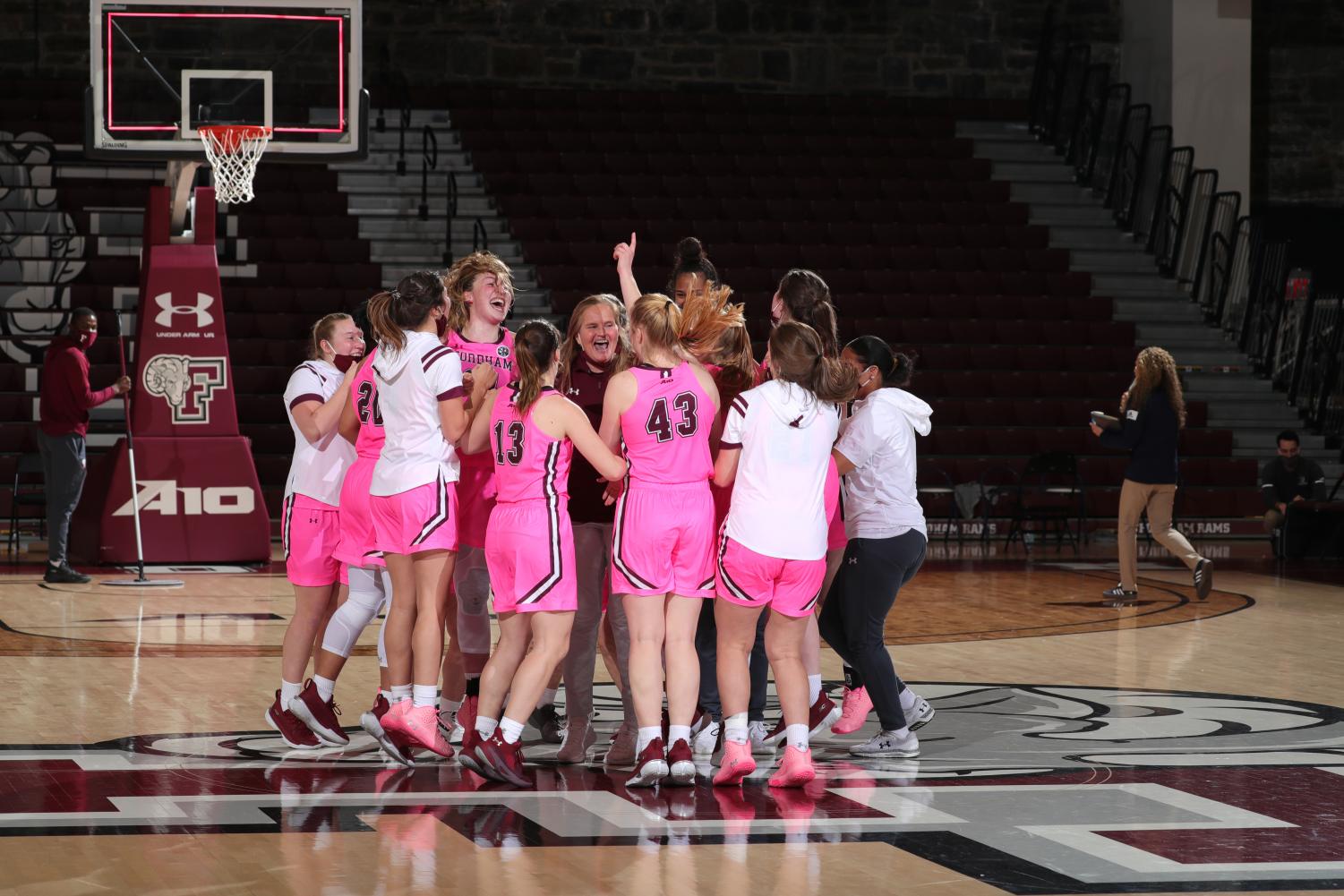 At the beginning of the week, Fordham was slated to play two games, and Rhode Island was not originally one of the scheduled opponents. However, after two postponements and a last-second schedule addition, the Rams had to cancel travel plans and remain home for a rematch with the URI Rams.
Since their last matchup on Jan. 8, which the Fordham Rams won 64-58, both teams thrived in the A10 despite missing multiple games to COVID-19-related incidents. Fordham won three games, lost one and postponed four, while Rhode Island went undefeated in six games while postponing four. 
The rematch had high stakes, as both teams sat in prime positions to challenge the undefeated Dayton University Flyers in the A10 standings. Fordham and Rhode Island were supposed to play Dayton at different points earlier this season, but both games were postponed, preventing the Flyers from taking on two of the A10's strongest teams.
In the first half against one of its most challenging adversaries, Fordham struggled to score against a notoriously stingy Rhode Island defense. The URI Rams scored eight points in the opening minutes and seldom relented thereafter, maintaining their lead over two quarters to pull ahead 28-23 at halftime. 
In the first 20 minutes of play, the Fordham Rams shot 43% from the field and committed nine turnovers. Meanwhile, leading scorer DeWolfe only managed to score four points, a paltry total for a player averaging 23 points per game.
At the beginning of the third quarter, DeWolfe did not appear on the floor, and the URI Rams scored two quick baskets to take a nine-point lead, 34-25. The game was quickly turning into a runaway until DeWolfe subbed back in with 6:48 remaining.
In the final 90 seconds, the Fordham Rams made all six of their free throws, keeping Rhode Island at bay to earn their seventh conference victory of the season.
For the remainder of the quarter, Fordham outscored Rhode Island 16-6 to take a 41-40 lead entering the fourth, with DeWolfe scoring seven on her own. The team's shooting percentage didn't improve, but four different players scored four three-pointers while the defense held the URI Rams to a 37.5% field goal percentage. 
Despite allowing Fordham back into the game, Rhode Island retook control early in the fourth quarter, scoring six unanswered to take a 46-41 lead. However, Fordham responded with a run of its own, as DeWolfe and Kaitlyn Downey, FCRH '22, scored eight points to take the lead back, 49-46.
The result was still in question in the closing minutes as both teams refused to yield. Fordham and Rhode Island found themselves on even terms, tied at 50, with 1:56 remaining. From there, free throw shooting, something Fordham practiced exhaustively, decided the result.
In the final 90 seconds, the Fordham Rams made all six of their free throws, keeping Rhode Island at bay to earn their seventh conference victory of the season, 56-53. After the game, the players crowded around Gaitley as the PA announcer congratulated the head coach for her 200th victory at Fordham University.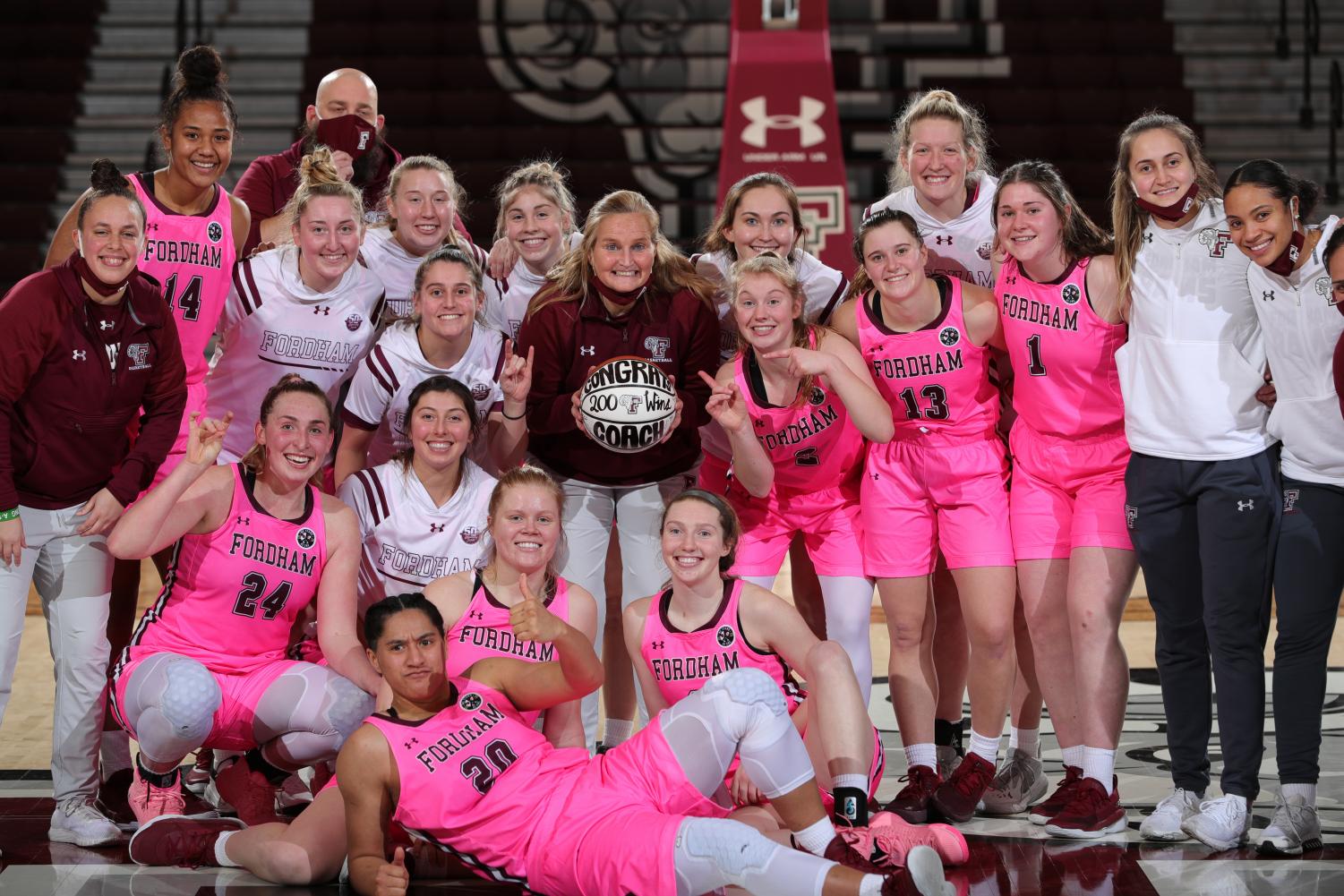 In over nine seasons with the Rams, Gaitley has continued an extremely successful coaching career spanning 35 years. In her time at Fordham, she's led seven teams with a winning record and coached two to the NCAA Tournament.
There is still plenty of time left in the 2020-21 college basketball season, but Fordham is currently poised to make another successful run under Gaitley's leadership. The team is a major contender in the A10 for yet another year, and victories against teams like Rhode Island will become more and more valuable as playoffs approach.
About the Contributor
PATRICK MOQUIN, Sports & Health Editor
Patrick Moquin, FCLC '22, is majoring in journalism and oversees Fordham sports coverage for The Observer. He played baseball in high school and also follows horse racing and motorsports, though he's allergic to horses and doesn't have a driver's license. He most thoroughly enjoys his time at The Observer when he's working with other editors and writers.