Fordham Alumna and Adjunct English Professor Laura Greeney Dies at Age 59
Beloved professor and Broadway devotee dies in Brooklyn home
Fordham alumna Laura Greeney, Fordham College at Lincoln Center (FCLC) '82, died on Tuesday, Jan. 19. Greeney was an adjunct assistant English professor and assistant director for the School of Professional and Continuing Studies' (PCS) College at 60 program at Fordham Lincoln Center. Greeney passed away in her Brooklyn home at the age of 59. The cause of her death is currently unknown.
Greeney was born on July 18, 1961, in Park Slope, Brooklyn, to John and Florence Greeney. She attended Fordham University as an undergraduate, where she majored in English and graduated summa cum laude. She went on to attend New York University and received her master's degree in English in 1985. 
Greeney worked for two decades at Fordham, teaching classes in the undergraduate program, as well as some in the evening and the College at 60 program. She led classes in British and American literature, composition, and research paper writing. 
"She prized good writing and demanded it from her students." Rev. Joseph M. McShane, S.J., university president
"Devoted to her students, Professor Greeney was known as a caring and challenging teacher and mentor," University President Rev. Joseph M. McShane, S.J., said in an email to the Fordham community announcing Greeney's death. "She prized good writing and demanded it from her students."
Outside of classes at Fordham, Greeney was an accomplished editorial and writing consultant and a development editor for several notable publishing houses such as Paragon House Publications and Panel Publications. She enjoyed writing about student development and campus life from the student perspective. One article she wrote was from the 2015 Civic Research Institute on the rise of interpersonal teaching styles in universities.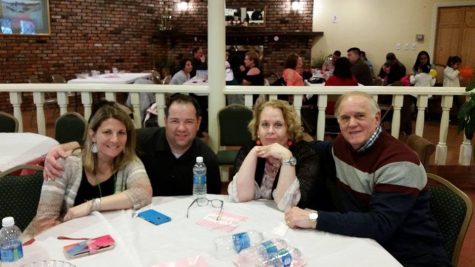 Greeney became a biographee of Marquis Who's Who of American Women in 1997. Marquis Who's Who publishes biographical data about the current leaders in the world. The listees include professionals from many different fields who have worked hard to use their talents. Greeney began teaching at Fordham in 1990. In 1999, she won an award for excellence in part-time teaching from the Adult Student Honor Society at FCLC.
Greeney's fellow staff members at Fordham remembered her fondly and praised her commitment to Fordham's mission of cura personalis. 
"As a Fordham instructor, Laura Greeney devotedly supported our mission of cura personalis, care for the whole person," Mary Bly, chair of Fordham's English department, said. "From her summa cum laude undergraduate degree at Fordham, to the years she gave to dedicated, warm and supportive teaching of our undergraduates at FCLC and PCS, she was the model of a professor who teaches writing with warmth and personal attention."
In an interview with Fordham News, Greeney's niece, Andria Greeney, spoke about Greeney's passion for theater and the arts. Andria Greeney explained that after the pandemic began, Laura Greeney found herself missing the theater most.
"She really missed Broadway and the arts." Andria Greeney, Laura's niece
"Some people are outdoorsy; some people miss traveling. She really missed Broadway and the arts," Andria Greeney said.
Laura Greeney was praised not only by staff for her devotion and kindness but also by students. 
"Professor Greeney was a wonderful educator. To freshmen students at Fordham College at Lincoln Center, she was a welcoming, kind, and generous spirit," Steven Thomas, FCLC '20, said. "Professor Greeney remained invested in the success and well being of her students throughout their time at Fordham. She will always be remembered for her wisdom, passion, and kindness." 
Greeney is survived by three older siblings, Evelyn, Joanne and Richard; three nieces and one nephew; and four great-nieces and one great-nephew. There is no information yet regarding the funeral service; however, there is currently a digital memorial page where memories of Greeney can be posted.