Winter Left You Feeling Lonely? Step Outside for a Spring Fling
From Winter Blues to Green Spring Romance: Where Students Head to Find a Date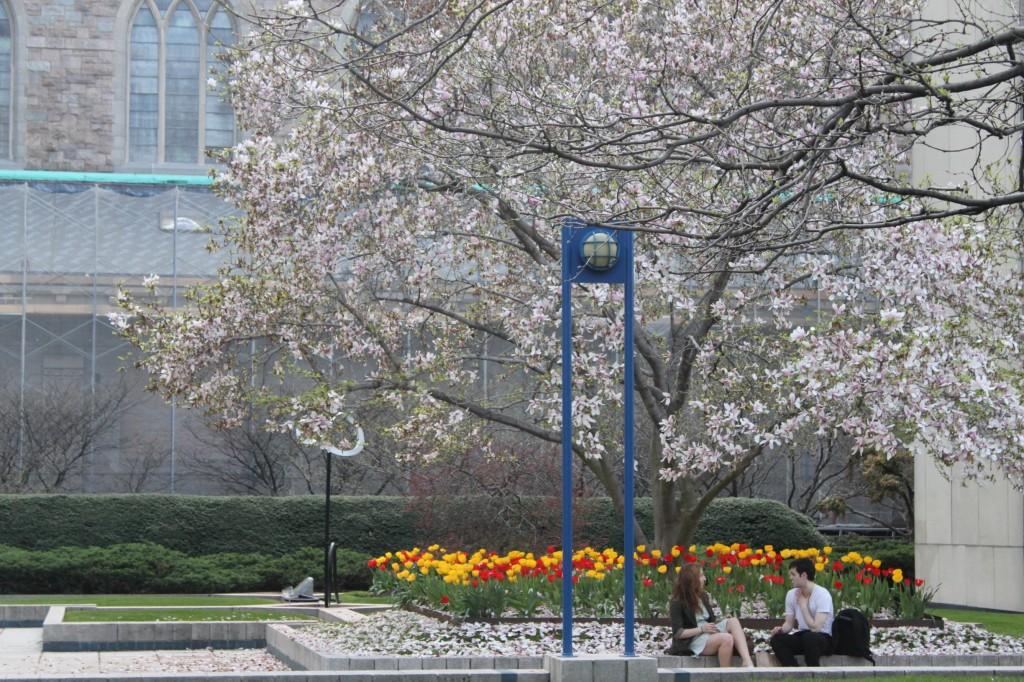 The birds and the bees have found prominence in the conversations of many Fordham College at Lincoln Center (FCLC) students this spring. And while the surge in swollen bee stings and trendy new spring clothes ruined by pigeon droppings have come up in more than a few chats on the outside plaza, students appear much more concerned with that rollercoaster ride called dating.
Many students know that finding a special someone can be as difficult as explaining to your parents why you're slaving away at an unpaid spring internship instead of raking in some pocket money as a sales associate at Urban Outfitters.
"It's hard to meet anyone I'd be interested in dating at school or work," Amnah Almukhtar, FCLC '12, said.
So where have students gone in the hopes of having a spring fling or finding true love?
For some, the lush greens and chirping birds in Central Park can potentially inspire a whirlwind fairytale romance along the lines of Disney's "Enchanted." Those aspiring princes just need to make sure their objects of affection are actually single.
Some of us equate trekking through Central Park with sore feet and being bombarded by men offering dates in exchange for renting a bike. But taking a quick and peaceful walk away from those dreaded rental people/psychics/eyebrow braiders can place you in the path of non-sign-wielding charmers. And you can even break out Fido for some bonus points.
"I'm a dog walking enthusiast," Jaimie Boyd, FCLC '12, said. "I walk friends' dogs all the time. A few days ago, I struck up a conversation with a guy I saw walking a Dalmatian. We were talking about the best spots for pet-walking for a couple of minutes. Then, when there was a pause in our conversation, he asked if I wanted to go for a walk and grab lunch sometime, minus our furry friends."
For those who would prefer a meal as they scope the neighboring tables for a cutie or two, outdoor cafés and restaurants allow them to soak up the sun and quench their appetites, all while remaining on the prowl. After all, no one wants a growling stomach to do the talking.
"I usually go downtown to restaurants with outdoor seating on the weekends with a big group of people," Katie Zhao, FCLC '11, said. "It's great for socializing and scoring a hot date. Last spring, I ordered lunch and a few drinks at this outdoor café in the Village. My friends and I ordered everything on separate checks, and when the waiter handed me mine, I wasn't charged for any of my drinks. Confused, I looked over at him and he winked. I left my phone number on the bill and we went on a few dates."
While a good meal with a side of a sweet potential date might seem like a perfect evening for some, other students prefer to sightsee with a drink in hand.
"With finals coming up, I plan on de-stressing by walking to Lincoln Park," Eli Birgé, FCLC '11, said. "Cute girls and waffle fries under one roof seem like the perfect study break to me."
Though restaurants and bars might provide a host of eligible singles under one roof, a few students would rather meet that lucky guy or girl while spending their time in a more educational pursuit.
"I met the guy I'm currently dating at an art museum," David Wilson, FCLC '11, said. "Because we were looking at the same painting, I had courage to go over to him since I already had a conversation starter. I wasn't expecting him to be interested in me, but our mutual love of art sparked a great talk that led to dinner and drinks."
And for the more daring of us, a thrill-producing hobby can serve as a way to spark a connection, even behind all that protective gear.
"I'm looking for a girl who's into what I like," Charlie Puente, FCLC '12, said. "I spend most weekends paintballing. What better way to get to know a girl than by getting shot at together?"
Whether you'd prefer to explore the great outdoors or sip on a piña colada while you scope out the playing field, there is someone out there hoping to be asked to a romantic dinner or a wild rave.  So what are you waiting for?
This article has been amended to remove an erroneously attributed quote.