Word of Mouth: Get in Touch With Your Mexican Side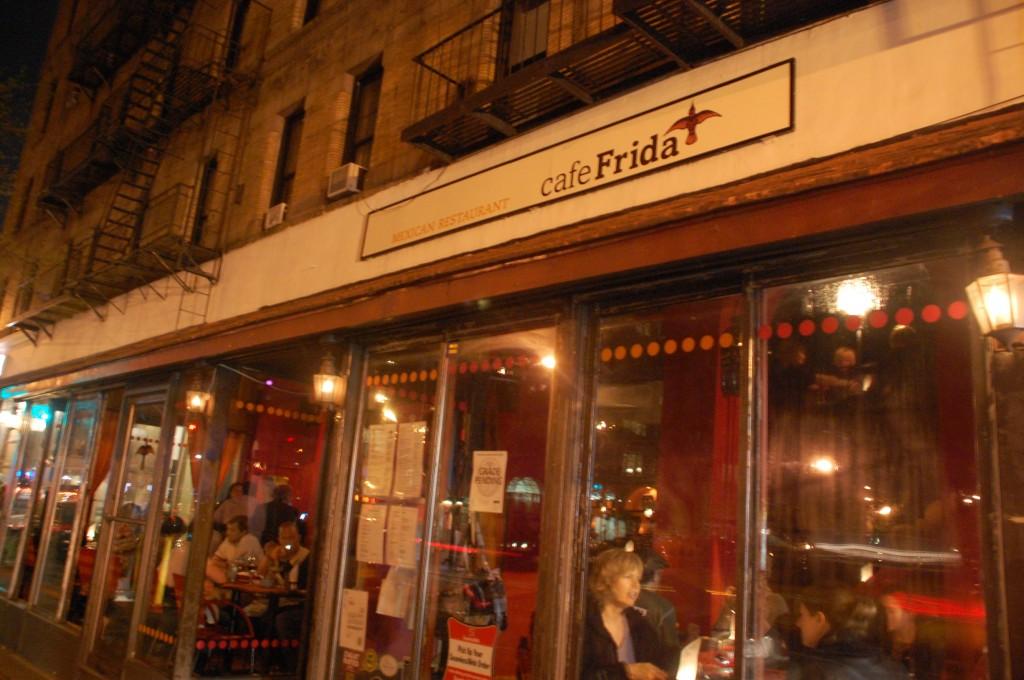 Coming from Hong Kong, I had completely familiarized myself with all forms of Asian cuisine. From Indian food to Chinese food to Mongolian food, I had tasted it all. Still, something was missing, I needed to expand my food pallet. In New York, I discovered Mexican food.
Today, I can't imagine my life without Mexican food. Just the thought of a perfectly-rolled grilled steak burrito or perfectly-made guacamole dip with crunchy chips brings a smile to my face. Burrito Box down the street and Dos Toros near Union Square are just some of my local Mexican hangout spots. However, in honor of this year's Cinco de Mayo, I wanted to try something different from my usual Mexican places. I decided to explore the Upper West Side and see what I could find.
Heading uptown with my friend Sia, we stumbled upon this swanky and hip Mexican restaurant called Cafe Frida.  Stepping through the restaurant's wooden doors, I felt like I was transported to a small Mexican town. Mexican artwork and tapestries covered the walls. The tables were candle-lit and there was the gentle sound of a Mexican guitar coming from the speakers.The smell of fresh pork quesadillas and tequila filled the restaurant, and I was excited to expand my knowledge of Mexican food.
Starting our Mexican culinary journey with drinks, Sia and I decided to order a Mexican mojito. Different from the traditional Cuban mojito (which is just a mixture of white rum, sugar, lime juice, sparkling water and mint), the Mexican mojito added an extra kick or "X factor" to the drink by including tequila instead of the standard Cuban white rum.  It was refreshing to say the least, and I was fascinated that the taste of the cool fresh mint was able to complement the harsh rawness of the tequila.  I would recommend a quick round of Mexican mojitos to gear up your appetite for a Mexican feast.
For our appetizers we decided to order some good old-fashioned guacamole. Presented to us on a volcanic-stone bowl with a side of chips, the guacamole did not disappoint. I soon found myself increasing my intake of the mojito with every bite of a guacamole-drenched chip. This was by far one of the spiciest guacamoles I had ever had.
Then the main course arrived. When I ordered empanadas stuffed with roasted potatoes and spiced chorizo, I thought I had picked the winning empanada combination. I thought wrong. They were visually appealing with their golden crispy outer shell, but they failed to live up to my standards (Empanada Mama on West 50th Street is my standard for really good empanadas). They were dry and tasted very bland. I was promised a good amount of spicy chorizo, but I had trouble locating any of it while eating. Overall, it felt like I was eating mediocre empanadas with dull roasted potatoes stuffed inside. On the other hand, Sia fared better.
She ordered quesadillas filled with a blend of melted Mexican cheeses and wild mushrooms. Her choice was not only healthier than mine, but her portion was a lot larger than my small empanadas. After sampling a bit of her meal, I was amazed at the blend of flavor encased in such a thin piece of a tortilla. The blend of the three Mexican cheeses gave the quesadillas their own feisty personality while the numerous wild mushrooms added volume to the thin quesadilla pieces. Although the portion was small the mixture of the cheese and mushrooms was enough to fill you up.
If you're looking for a place to celebrate Cinco de Mayo, look no further than Cafe Frida. I recommend stopping by for a drink and a small snack. Located a short 15 minute walk uptown, it's a definitely got the ambiance to host an intimate gathering or even provide that private setting to take that special someone. It's a bit more expensive than our local Burrito Box, but definitely worth a try. Viva Mexico!