Swimsuits by Type: Because Every Body Should Have Fun in the Sun
Shop to Suit Your Own Needs and Feel Comfortable on the Beach This Summer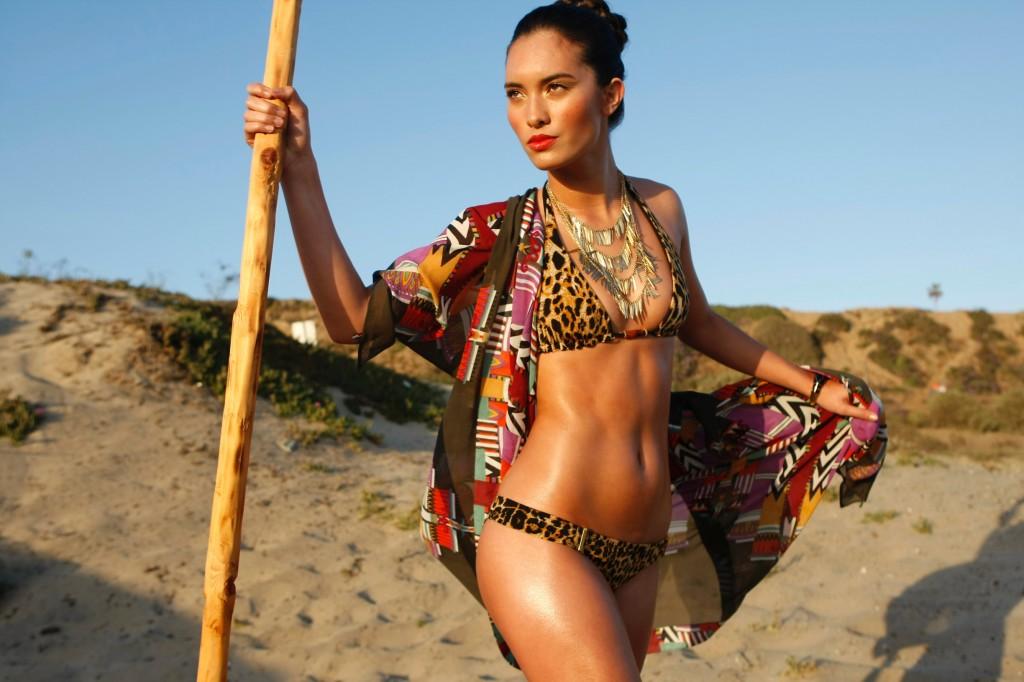 Last spring, I scoured the racks of every department store in the city until I thought I had finally found The One. The little gold bikini seemed like it was crafted in swimsuit heaven especially for me.
I hastily grabbed what I believed would be my summer soul mate off the rack and speed walked to the nearest dressing room. Slipping it on in under 10 seconds, I didn't even think of glancing into the mirror before I excitedly thrust open the door and struck a pose for my best friend, who was waiting right outside.
"Are you sure that's the one?" she asked, her face twisted in a grimace.
Deflated, I took a peek in the nearest mirror and couldn't believe my eyes: what had looked so perfect on the hanger was a fashion disaster on my body. The bandeau top offered absolutely no chest support and looked as though it would drop to my ankles at the first sign of a wave. The bottoms were even worse. They managed to push every ounce of fat into the type of muffin top usually only formed by the tightest of skinny jeans.
A little over a year and hours spent learning Swimwear 101 later, I know to stay away from the suits that skimp on support and reach for flattering halter tops and skirted bottoms.
So if you're fretting over swimsuit shopping with the girls, don't fake sick on every trip until next fall. Finding the right suit for your body is a few simple tips away. Don't you wish dating was this easy?
Hourglass:
If every bikini you try on looks like it was made for you… well, it pretty much was. The two-piece getup highlights your natural curves, which you can also accentuate with lots of eye grabbing color. Just make sure to shop for allover support—your curves are hot, but beach accidents are not.
What to Avoid: Covering your bikini-perfect figure under a one-piece is like dressing a Victoria's Secret model in your great aunt's hand-knit sweaters: it simply shouldn't happen. So don't do it.
Steal: Brigitte Bailey Dasha, Zappos.com, $45
Splurge: Roxy Sweet Tropics Reversible Halter Bikini, Nordstrom, $82
Pear:
While those flashy bikinis might catch your eye when you're searching for the perfect beach tote in the handbag section, don't give in to the sequins and studs. Instead, take the time to get a little creative and change it up. Solid bottoms will draw attention away from your lower half while an embellished top will draw those admiring eyes upward. Triangular cut cups on top work best in making small chests look fuller. Who knew a game of mix and match could produce a work of art?
What to Avoid:Remember that hated kid in grammar school who had to answer the teacher's every question, making every other student look lazy in the process? Attention-mongering bottoms are much like that kid; they will overpower your top half and make your body look disproportional. The rest of you will not be happy.
Steal: Polka Dot Ruffles Bikini, Forever 21, $20.60
Splurge: Betsey Johnson Bow Bandeau Bikini, Urban Outfitters, $99
Top Heavy:
Having a lot on top doesn't mean you have to head down to the Misses section for the same old box- neck one-piece. Instead, mix it up with a dark halter bikini top with thick straps paired with colorful bottoms. A halter will provide coverage and support while flirty, patterned bottoms will balance out your body so that when your crush arrives, they'll notice more than just your girls.
What to Avoid: Triangle and bandeau tops were made to be worn…by women with A cups. If it doesn't provide enough support on top, expect the gawks and chuckles when it gets taken out to sea.
Steal: The Miracle Bra: Full Coverage Halter in Black and Matching Bottoms in Purple/Black Leopard, Victoria's Secret, $66
Splurge: Scalloped Wide-Band Halter Top in Dark Cypress and Calais Floral Bikini Bottom, J Crew, $92
Boyish:
Looking for a bold new look? Swimsuit season is the perfect time to go all out on daring designs, plunging necklines, and side ties and rings. The more girly of us can bask under the sun in a ruffle- or bow-accentuated getup. All-over detail will create the illusion of curves, so say goodbye to your plain old suits and move on to some fierce new duds.
What to Avoid: Though black and stripes might be closet staples, you should permanently ban them from your swimsuit drawer as they are designed to hide curves, not create them.
Steal: Ruffle Front Monokini, Wet Seal, $21.50
Splurge: Gabriella Rocha Luana Bikini, Zappos.com, $79
Curvy All Over:
Why hide behind that baggy cover up when you can flaunt your assets in a flattering new suit? A plunging neckline will draw eyes to your neck and chest while ruching will make any excess oomph less noticeable. While black will never go out of style, you may also opt for a summer suit that matches this vibrant city. From solids to prints, your palette is endless.
What to Avoid: Loose cuts that look two sizes too big might work for grandma, but your swimsuit should be fun, curve-hugging and not donned by the majority of seniors on the sand.
Steal: Beach Escape Monokini, Forever 21, $19.80
Splurge: Kenneth Cole Reaction Halter One Piece Swimdress, Macy's, $92