Students Demonstrate Support for Jena Six
Fordham Students Show Solidarity and Take Part in Nationwide Rally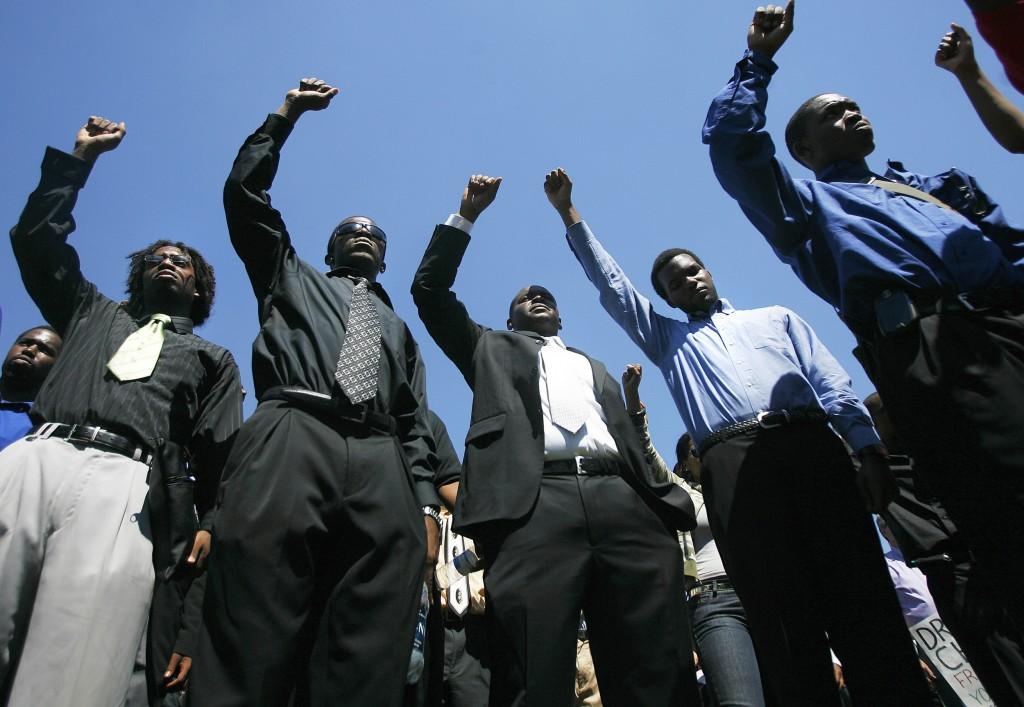 Published: October 11, 2007
FCLC—Students everywhere are rallying against what many are calling "a modern-day lynching." On Sept. 20, ColorOfChange.org organized a National Day of Action to raise awareness about six black teenagers in Jena, La., charged with the beating of a white teenager. Many Fordham students took part in this nationwide rally. Members of Molimo, a student group at Fordham dedicated to enhancing the African- American population, and Students for Solidarity (SFS) promoted the event.
"I didn't participate in a protest, since the protest that occurred [on Sept. 20] was in Louisiana," said Anna Loizeaux, FCLC '10, president of SFS. "However, I did, and encouraged SFS and my friends to, wear black on that day to show our solidarity with those standing with the people in Jena." Members of SFS and Molimo, as well as the Office of Multicultural Affairs, distributed flyers in an effort to "bring the dialogue that the Jena Six have created to Fordham," Loizeaux said.
Last fall, white students at a high school in Jena, La., responded to two black students sitting under a so-called "white" tree on campus by hanging nooses from the branches of the tree. The perpetrators were only gently reprimanded, and when black students protested, the District Attorney, Reed Walters, told the students, "I can take your lives away with the stroke of my pen."
Racial tensions continued to escalate until a white student who was an open supporter of the students who hung the nooses, allegedly called black students "niggers." In December 2006, six black students were charged with attempted murder after the ensuing fist fight at the high school. Mychal Bell, the first of the black students to be tried, was convicted last month and faces up to 22 years in jail.
Many Web sites have sprung up recently, many advocating for the release of the "Jena Six." FreetheJena6.org has full news articles from various established news outlets such as CNN, The Washington Post and more posted on the home page, as well as being a source of information for supporters to take action, to donate and to browse a photo gallery.
Facebook has spread the word for many young people, especially high school and college students around the country. One Facebook group named "FREE JENA 6" has more than 68,000 members and reports updates on the case as it continues to unfold.
College students are taking the initiative to help the cause, through outlets such as Facebook and also within their respective universities, because, as Loizeaux said, they "are so surprised that the racism in our criminal justice system was so apparent in this case. But this is not as much of an 'exception' as people would like to think."
Even across the country, with few ties to the small town of 4,000 people, students stood up to have their voices heard. India Bolds, FCLC '08, and public relations chair for Molimo, said the Jena Six situation exposes "the injustice for African Americans." She went on to say that "there should be no excuse why those kids are still in jail while their families sob over how they will come up with the 'overly exceeded' bail money [to have them released]."
Dave de la Fuente, FCLC '10, president of United Student Government (USG) said, "What really upsets me is that the Jena Six issue occurred a year ago, and only now we're finding out about this." He added, "Events like this remind us that racism is still rampant in parts of our country."