Forget Springing Foward, Fall Back Into Fashion Instead
In roughly one month, we'll place our winter coats in storage and stow our boots beneath the massive piles of laundry under our beds. Meanwhile, the city's many designer-worshipping fashionistas will bring the runway to the streets with their spiked heels and flowing spring skirts.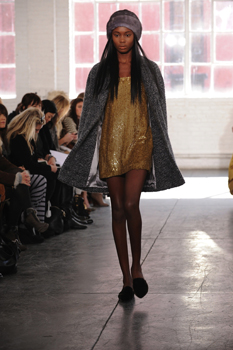 Though I can't wait for spring to start, it's almost impossible not to be curious about what crazy outfits we'll be shopping for next fall. And with Fashion Week calling Lincoln Center home from February 10 to 17, it made prying between classes that much easier. From DKNY to Cynthia Rowley, the names we know and love mingled for a week-long showing of fierce new fashion.
Here are 11 trends our glamorous neighbors will have us strutting through the hallways in next semester:
1. Vivid colors
From fire engine red dresses to clashing neon pink and orange striped sweaters, fall will be about making a bold new statement. These vibrant colors will be enough to take the drab out of those dreaded 8:30 a.m. classes, or at least keep the person behind you awake as you struggle through. (Note: coffee is still highly recommended).
Steal: Banded Dolman Top in Red, Wet Seal, $12.80
Splurge: Diane von Furstenberg Syrah Blouse, Neiman Marcus, $225
2. Black
You might see a few walking rainbows around town, but don't pack up your chic black duds just yet. You'll need them to balance out those bursts of color in your wardrobe.
Steal: Pins and Needles Lace Shoulder Blouse, Urban Outfitters, $54
Splurge: LOVE Moschino Puff Sleeves Tee, Zappos.com, $215
3. Sheer
Delicate, airy fabrics will no longer be confined to the dog days of summer. The light and flirty ensembles of fall will serve as the perfect ode to warm days passed. Just make sure to throw on a cardigan during those chilly fall nights because your roommates won't be your biggest fans if you give the suite a nasty strain of the flu.
Steal: Ditsy Sheer Top, Forever 21, $22.80
Splurge: California Two-Step Top in Sheer, Modcloth.com, $70
4. Long Skirts
While stars like Lindsay Lohan might love to squeeze into minis that show off much too much, we'll be striding to class in long stylish skirts that won't give our fathers heart attacks when they stalk our Facebook pictures.
Steal: Free People Get Down Long Skirt, Shopbop.com, $78
Splurge: Rebecca Taylor Long Pin-Dot Skirt, Bergdorf Goodman, $350
5. Stacked Heels
Tired of the crippling effect of those six-inch stilettos you've been donning to every party? It's time to dump them and upgrade to ultra-comfy stacked heels. Your feet will never look back.
Steal: Suedette Stacked Heels, Forever 21, $24.80
Splurge: Elizabeth and James Stack Peeptoe Booties, Zappos.com, $375
6. Capes
It looks like Little Red Riding Hood inspired a new trend. For the record, I'm ambivalent about this one. We'll just have to wait and see whether we should sport the stuff of fairytales or throw this one to the wolves.
Steal: California Fleece Cape, American Apparel, $65
Splurge: Nanette Lepore St. Maarten Cape, Saks Fifth Avenue, $398
7. Tuxedo Jackets 
Since I own more blazers than an entire class of Catholic school boys combined, this one really works for me. Even the most girly of us can slip on this menswear inspired jacket to tone down those pinks and floral prints. Looking pulled together has never been so easy.
Steal: Steve Madden Tuxedo Jacket, Dillard's, $59
Splurge: BCBG Max Azria Tuxedo Blazer, Bloomingdale's, $218
8. Toggle Coats
Put those old coats into storage and brave the elements in style with an effortlessly fun toggle coat. You won't have to bear the chill when you can layer up with this warm piece.
Steal: Mind Togglingly Cute Coat, Modcloth.com, $95
Splurge: Michael Kors Toggle Duffel Coat, Saks Fifth Avenue, $200
9. Skinny Pants
Most of us have only squeezed into skinny jeans, but the dropping temperatures will signal the dawn of the skinny pants trend. From work wear to club wear, expect the skinny style (and the muffin tops they're famous for) to walk all over your old bootcuts.
Steal: Exact Stretch Skinny Leg Pant, The Limited, $70
Splurge: Ports 1961 Geometric Skinny Trouser, Zappos.com, $495
10. Mixed Plaids
Remember when you and your friends used to wear velour tracksuits everywhere, earning nicknames like blueberry, grape and pear? It's time to leave the supermarket stands behind and mix it up with quirky plaid garb.
Steal: Fab Plaid Shirt in Red and Black, Forever 21, $12.50
Splurge: Juicy Couture Long Sleeve Plaid Blouse, Shopbop.com, $138
11.Skinny Belts
Who knew a shapeless dress could be instantly transformed into a chic statement with the cinch of a sleek skinny belt? This simple accessory will give your old dresses a dose of class, so buckle up and bask in the compliments.
Steal: BDG Classic Skinny Belt, Urban Outfitters, $20
Splurge: Super Skinny Stitch Belt, Rag & Bone, $105