After Promising Career With Rams, Brenton Butler Looks Forward to the Future
Beaten, battered and bruised by the ups and downs of a long season, Brenton Butler, Fordham College at Rose Hill (FCRH) '11, and the Fordham Rams arrived at the Rose Hill Gym on March 5 for their 2010-11 season finale against the University of Massachusetts (UMass). Facing a potential sweep in the Atlantic 10 (A-10) for a second straight season, the Rams, and more notably Butler, wanted to end Fordham's losing ways once and for all.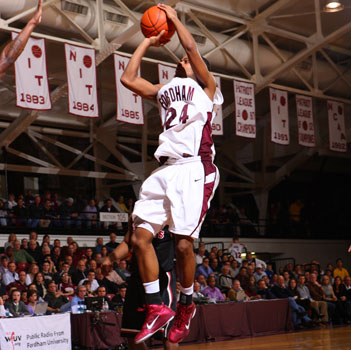 Under the backdrop of a loud and rowdy Fordham crowd eager to snap a 17-game season losing streak and 41-game A-10 losing streak, Butler, a senior guard and second year captain of the Fordham men's basketball team, felt the importance of this final game. As he stepped onto the Rose Hill Gym court for the very last time, Butler knew that this was his moment to shine. It was senior night after all, and Butler wanted give the Rams seniors a night they would never forget.
Arriving at Fordham in the fall of 2006, Butler chose to play at Fordham because he wanted to go someplace different. "I'm from Georgia, and I wanted to come to Fordham to experience a new place," Butler said. "Fordham played in a very competitive conference and it had great academics, so it was a no-brainer for me to make my decision to play for Fordham."
A great addition to an already talented roster, Butler began his career at Fordham playing off-bench in the 2006-07 season. Quickly integrating himself into the Fordham system, Butler instantly made an impact for the Rams' offense. In only his second game as a freshmen, Butler scored 20 points in the Rams' loss to Tennessee. However, the highlight of Butler's first season was his 22-point effort against Rhode Island in the A-10 quarter finals, where Butler connected with all six of his three-pointer attempts. Despite coming up short against Rhode Island in the quarter finals, the Rams finished the 2006-07 season in an impressive 18-12 overall record.
Since then, a lot has changed for Butler. The glory days of his freshmen year are gone and the Rams haven't had a winning year since the 2006-07 season. After finishing the 2009-10 with an abysmal 2-26 record and a winless A-10 campaign, Butler was already planning his basketball future after Fordham. However, he chose to postpone that and came back for a final fifth season with the Rams under new Head Coach Tom Pecora. "I wasn't going to come back, but after I met Coach Pecora and the staff, they sold me on their vision," Butler said. "They said they would love to have me back. They wanted me to be part of a foundation of a new chapter. I was definitely willing to be part of that."
Arriving for his fifth year with the Fordham Rams, Butler led the way. As team captain for the second straight year, he and Rams sophomore forward Chris Gaston, FCRH '13, got the Rams off to a promising 6-4 start. This included a historical win over Fordham rival St. John's University. "Beating St John's was pretty memorable. It's something I would tell my kids," Butler said. "It's something that will be spoken of very highly for Fordham basketball for years to come."
Despite getting off to a fairly promising start this season, Butler and the Rams had yet another difficult season. Shortly after their win against St. John's, the Rams began to falter and before they knew it, they were on a 17-game losing streak and en route to being winless in the A-10 again. Then March 5 arrived. The last game of the season was against A-10 rivals UMass at the Rose Hill Gym.
Determined to snap Fordham's funk, Butler showed in a span of 40 minutes why Pecora asked him to return for a fifth year with the Rams.  In his final game, Butler led the Rams a to decisive 77-73 victory over UMass. Scoring a season-high of 29 points in the victory, Butler didn't only this to bring a victory to delighted Fordham fans, he also ended a 17-game losing streak and notched the Rams' first win in the A-10 in almost two years. "It was good to go out on a good note individually," Butler said. "As for winning the game, it was great. It gave Fordham something to be happy about looking forward into the future."
Finishing his career at Fordham with a sound victory, Butler hopes to continue to play basketball while he's still young. "I'm going to pick an agent and plan to play overseas for a couple years," Butler said. However, Butler knows that he can't play basketball forever and plans in the future to get into the business world. "I'm really big into statistics so I might do some kind of actuary work," Butler said. In the end, Butler is looking forward to his new life after Fordham. "It's been fun, but I'm definitely glad to be closing this chapter in my life and moving forward."