Spitzer Addresses 'Morality and Practicality'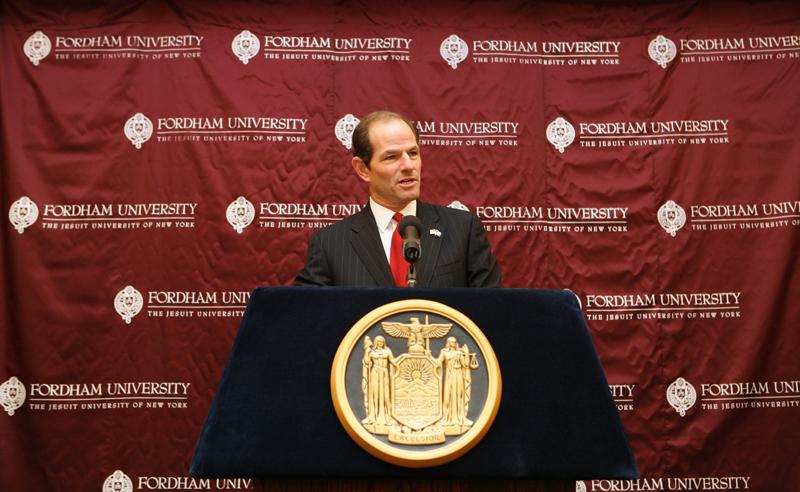 Published: October 11, 2007
FCLC—On Oct. 2, Fordham faculty, administration, and students assembled in Lowenstein's 12th floor lounge to hear New York State Governor Eliot Spitzer speak. A packed room lined with standing latecomers and cameramen listened as Spitzer addressed the need to provide health insurance to all children and driver's licenses to people without social security numbers.
"I think the government has a responsibility to provide health insurance to children," Dave de la Fuente, FCLC '10 and president of United Student Government (USG), said. "I see it as protecting our future."
After being introduced to the crowd by Fordham's senior vice president of academic affairs and chief academic officer, Dr. Stephen Freedman, Spitzer went on to talk about the "ugly politics" that is currently threatening proposals for actions that are "morally and practically correct."
"No amount of fear-mongering will keep us from fighting for health insurance for every child," Spitzer said. He was referring to the White House calling the expansion of children's health insurance a move towards socialism.
"I agree with the governor 100 percent," Mekeda Grant, FCLC '08, who attended the conference with her class, said. Grant added that she knew nothing about the proposal to provide health care for all children before the conference. "What the governor said excited me and gave me hope."
Spitzer announced that New York and seven other states would be taking legal action against the Bush administration for violating provisions of the State Children's Health Insurance Program (SCHIP), which allows families who cannot purchase private health insurance plans to get health coverage for their children.
On Oct. 3, President Bush vetoed the child health insurance bill, as he said he would just weeks earlier. The bill would have expanded SCHIP to cover 10 million children, as opposed to the 6.6 million it covers now.
Bush stated that the bill would move the nation's health care system "in the wrong direction" and that he hopes to produce a bill that "puts poorer children first."
Spitzer quoted Bush as saying, "I mean, people have access to health care in America, they can just go to the emergency room." Spitzer said to deny children health coverage is "not only morally wrong…it is profoundly bad public policy."
Some students still had questions after the governor's speech. TJ Pallas, FCLC '08, said, "Is there anything in place to make sure that insured children remain privately insured adults?"
As for providing driver's licenses to people without social security numbers, Spitzer said that it comes down to the simple fact that increasing licenses would increase security. "It is unlicensed drivers—not immigrants—that are a threat to public safety," Spitzer said.
"The governor said granting driver's licenses to immigrants would take them out of the shadow and make the streets we drive on safer," Grant said.  "And he is right."
Spitzer explained that undocumented immigrants would not get licenses "over-the-counter," but would have to provide six points of identification to a central Document Verification Unit of the Department of Motor Vehicles (DMV). In addition, DMV offices would be equipped with passport scanning and photo comparison technology.
"No amount of scare tactics that equate immigrants with terrorists will keep us from implementing changes to our driver's license system that we know are needed to increase public safety and homeland security," Spitzer said.
"This is probably the touchiest issue, because giving driver's licenses to immigrants, especially illegal immigrants, can be seen as grossly unfair," de la Fuente said. "It's a right reserved for citizens…However, I can see why Governor Spitzer wants to do this—there has to be some way to identify and keep tabs on a person."
"We have to deal with the reality that up to one million undocumented immigrants live in New York," Spitzer said. "And they're not going away simply because they can't get a driver's license, health care or access to emergency medicine like chemotherapy."
When Freedman introduced Spitzer, he said, "We at Fordham welcome the opportunity to work with Governor Spitzer on a variety of programs that benefit the citizens of New York City and New York State."
Amy Aronson, professor of communication and media studies, brought her Writing for Magazines class to the conference. "Governor Spitzer's speech was both informative and provocative, and it was beautifully written," she said.
At the end of his speech, Spitzer invited students and faculty to ask any questions they had. When asked why he gave his address at Fordham, Spitzer joked, "I always wanted to perform at Lincoln Center."