FCLC Ranks Third Behind FCRH and CBA, Freshmen SAT Scores Rise
Students Question the Relevance of the Standardized Test
Published: October 11, 2007
FCLC—In a year when average SAT scores around the nation saw the biggest drop in 31 years, according to the Chronicle of Higher Education, Fordham College at Lincoln Center (FCLC) managed to increase its average SAT scores for incoming freshmen by 10 points. Fordham College at Rose Hill (FCRH) and the College of Business Administration (CBA) raised their SAT scores by 26 points and 50 points, respectively, putting FCLC in third place out of the Fordham undergraduate colleges, said the Rev. Robert R. Grimes, S.J., dean of FCLC.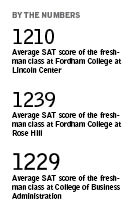 Nicolas Sulicki, FCLC '11, said that he doesn't think the ranking of FCLC among the other colleges at Fordham is a bad thing. "SATs are just a way of seeing what your test scores are," he noted. "Your grade point average is what shows how you interact in a classroom setting and what you are capable of."
Though Grimes agrees, he said, "I think we are proud of the fact that in a year when SAT scores declined, ours rose." The average score of this year's FCLC freshman class is 1210, up from 1200 last year, he noted. CBA went from an average score of 1179 to 1229, and FCRH went from 1213 to 1239, Grimes said.
Grimes said the SAT scores for FCLC students have continued to rise over the years but only in small amounts. He attributed the rapid rise in CBA's scores to the increased publicity they received last year, being named one of the top 50 business schools in America.
Natalie Mauro, FCLC '08, said she was "shocked" to find out that FCLC ranked third among the three undergraduate colleges for SATs. "I just assumed that with a smaller population and with the limited housing [at FCLC], that it is more selective here," she said. Mauro also noted that she only submitted her ACT score, also a standardized test but with a total composite score of 36, according to the Princeton Review.
Grimes said the SATs are not the only factor when evaluating a prospective student. "I'm very proud of the freshman class and I caution anyone against reading too much into SAT scores," he said.
Jason Appelgate, FCLC '11, agreed with Grimes. "There are so many factors," he said. "You couldn't say that the SATs cause any of the schools to be different."
Additionally, Grimes said that when evaluating a student, consideration must be given to the whole person, and "the two most important things for me, are the high school transcript and the essay."
Some students said that FCLC's SAT scores are not reflective of the student body. "We are perceived as the more artistic campus, so SAT scores don't really reflect on all of our abilities," Nikki Balekjian, FCLC '10, said.
Amanda Vardi, FCLC '10, said she was surprised at the news as well. "We have smaller classes here, and I would think that smaller schools are more likely to have higher academic achievements," she explained. SATs aren't a good indicator of our academic achievements as a whole, she said.
Grimes said that he has high hopes for the potential of the incoming classes. "As far as I'm concerned, far more than statistics, it's the personality of the freshman class that stands out," he said. "I hope it continues to be and I hope [future classes] grow like that."