New Semester, New You: Viva La Resolution!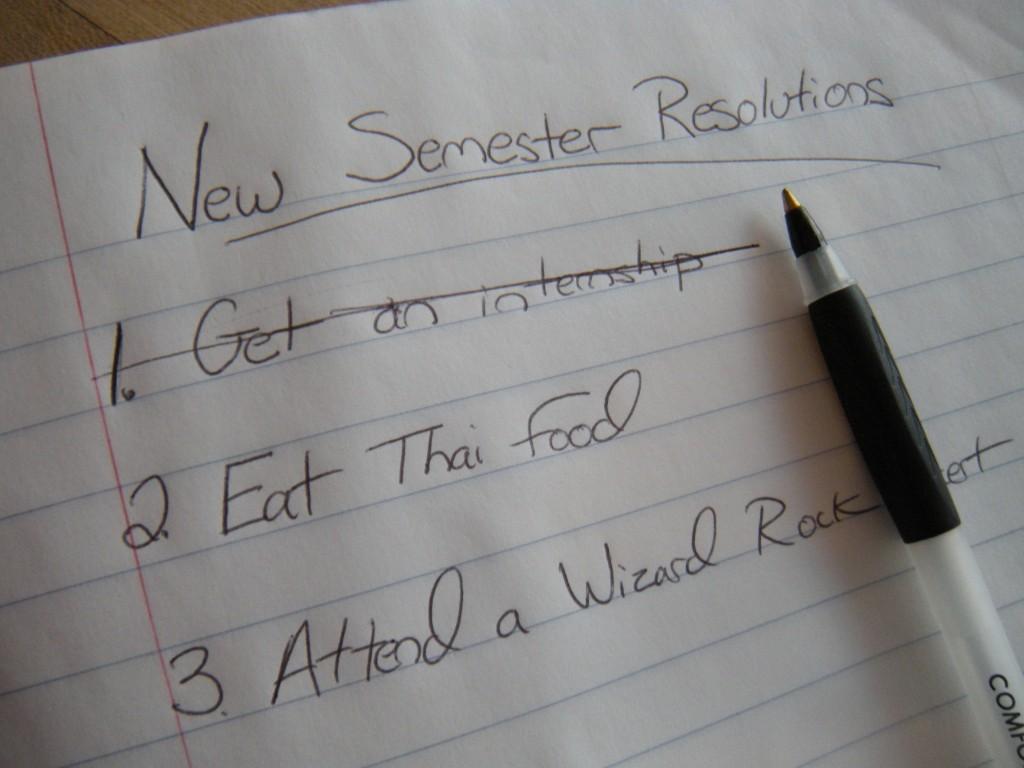 Schedules are finalized, residents are back in the dorms and clubs are prepared for a brand new semester. And along with the new semester come a host of resolutions.
I, for one, decided to begin with a bold change I've always been too terrified to attempt. On the first morning of the semester, I went to a salon and had my stylist cut off over a foot of the hair I'd been growing out for years.
As I heard the scissors snip away the locks of hair, I knew I had made the right decision. Now, I have a chic bob and my long waves of hair are being donated to make wigs for cancer patients. I've never felt better.
And I'm not the only one who wants to change this semester. Students at Fordham College at Lincoln Center (FCLC) are also making a resolution or two, from the academic to the unusual.
For many students, this semester will be a time to focus on schoolwork after a fall semester of slacking off.
"I want to concentrate on my studies this semester," Sophie Stanish, FCLC '12, said. "Last semester, I was involved in so many different things that I felt I didn't do my very best in what really counted."
"I'd really like to get into graduate school," Patricia Kriebel, FCLC '11, said. "I'm a history major now, but I want to get my Masters Degree in Library and Information Science. I'm doing my best right now to avoid trashy tabloids and MTV."
Others try to figure out how their major works with their everyday lives.
"I'm studying costume design," Isabelle Simone, FCLC '12, said. "I'd really like to incorporate some of my designs into my everyday wardrobe. My style is very quirky, and I'd like to create pieces that women could wear on the street."
For those who are already making the grade, the dawn of the new semester means a chance to build up a killer resume.
"This semester, I'm going to gain some experience with an internship," Christina Celona, FCLC '12, said. "Last semester, I wasn't as involved as I could have been, and I want that to change. I'm hoping that this internship will prove my dedication to my major."
For a few, improved grades and internship hunts are secondary to learning how to navigate this vibrant city.
"I just transferred here," Lauren Duzyk, FCLC '12, said. "One goal I have is to try every ethnic restaurant close to campus. I've never eaten Thai food, so I think I'll start with that. I'd also like to master the subway system by the end of the semester. I've only ridden the subway once, and that needs to change."
Even those who have been studying here for years find that there is even more to explore in a city of endless possibilities.
"I'm a huge Harry Potter fan," Annie Labus, FCLC '11, said. "Luckily for me, New York hosts many Wizard Rock concerts based on characters and scenes from the Harry Potter books. Since it's my last semester, I would really love to attend as many of these concerts as possible and make some lasting memories."
Though our city never sleeps, some find that the bill for all their fun is ridiculously steep.
"Going out to eat a few times a week really put a strain on my savings," Jaclyn Bethany, FCLC '12, said. "Combined with shopping trips to SoHo, it can be disastrous. My goal this semester is to keep a list of my expenses so I don't go completely overboard."
And those of us who don't eat out every night find that they would like to cook up a change in diet, whether it be cutting out specific foods or changing high-calorie snacking habits.
"I'm going to attempt to be a vegetarian," Jacqueline Mosteller, FCLC '14, said. "Last semester, I attempted to cut meat out from my diet but failed. This semester, I'm ready to stick to this goal."
"My roommates and I have an amazing but completely unhealthy snack table," Kyela Crow, FCLC '12, said. "From chocolate and cookies to chips and candy, we have it all. This semester, I want to transform the table from a junk food heaven to a healthy haven."
Most students have high hopes for this semester. We'll just have to wait and see who will brag about their success stories in May and who will fall back into their old ways.