Blocking Out the Competition
A-10 Defensive Player of the Week, Randi Ewing Looks to Lead Rams Deep Into the Postseason
Season ending injury: One of the most ominous and devastating phrases that any athlete can be told. However, the physical and mental pain of this ordeal can be all but forgotten, if the athlete performs well in her return, as Fordham volleyball's Randi Ewing, Fordham College at Rose Hill (FCRH) '13, showed this season.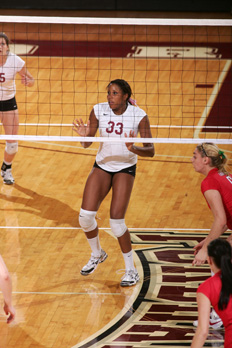 Ewing, a sophomore and middle blocker for the Rams, suffered a shin injury before she ever played her first set for the team. "During preseason, I found out I had anterior compartment syndrome in my shin; this made it really difficult for me to play," Ewing said. "By the time I would have been fully healed most of the season would be over. My coach decided that it would be best if I redshirt and healed completely, so that I could play an additional four years after that."
Saving that year of Ewing's eligibility could prove to be vital for the Rams' future, as the team made great strides this season. The Rams finished 17-18 overall with a 7-8 conference and made it to the Atlantic-10 (A-10) playoffs. This was just one season after the Rams posted a disappointing 13-20 overall record with a 3-12 conference record and missed the playoffs.
"It was definitely a great feeling to play this year," Ewing said. The whole atmosphere from preseason throughout the whole season was a lot different than it was last year. All the girls were really confident. We were all working real hard. Everyone had the same goal, which was just to make it to the A-10's [playoffs]."
The sophomore middle blocker played at a high level this season, leading the team in blocks with 1.04 blocks/set and finishing sixth with 116 points. Ewing's strong play led to her selection as the A-10 Volleyball Defensive Player of the Week on Oct. 26. She finished the week average 1.50 blocks/set with a .361 hitting percentage.
"That was the best experience because it was my first A-10 award ever," Ewing said. "My mom was the one who told me. It was definitely really exciting and I never received an award like that before, so it was incredible."
Despite being an outstanding volleyball player, Ewing was intially not into sport. "In high school two of my best friends were on the volleyball team and they convinced me to try out with them, so we could all be on the same team together," Ewing said. "I ended up trying out and I liked it a lot more than basketball."
Basketball is significant to Ewing's family, as her father is New York Knicks' great center Patrick Ewing and her brother, Patrick Ewing, Jr., played college basketball for four years before being drafted in the second round of the 2008 NBA draft.
"My dad was always supportive of any sport I played," Ewing said. "He never pressured me to play basketball. He just wanted us to stay in shape so it didn't really matter as long as we were happy and our grades were good. He's definitely been one of my greatest supporters. He's always been there for me.
The Rams' performance this season may come as a shock to many outside the team, as they were predicted to finish in ninth place in the conference.
"I am so proud of my team's performance this year," Ewing said. Coming from such a bad season that we had last year, it was really upsetting. We definitely proved a lot of people wrong this year. Other teams had predicted us to finish in ninth place and we ended up finishing in fifth and making it to playoffs. It was definitely rewarding to prove so many people wrong who doubted us from the beginning. It was definitely a memorable experience. It was a lot of fun and I was definitely glad to be a part of it."
The Rams will now look forward to next year in hopes of winning the A-10 championship. "We will be losing six seniors, which unfortunately are a lot of our starters," Ewing said. "But I do think we have a really talented team and even though we have a lot of building to do between now and next year there are so many talented players that are going to be able to step up to the plate and take those starting spots. So I think all that we can do is go up so I'm definitely looking forward to a great year next year."