NYC to Residents: "I'm 'a Freeze Ya Bones"
Announcement from The City That Never Sleeps Leaves Many Sunshine-Lovers Weeping
Published: October 21, 2010
New York will soon turn her icy shoulder to you. She'll tell you she never loved you, and she'll spit on you. Her spit will be cold too, and it will run down your neck and along your spine and make you wish you could find a way to appease her. But you can't. You can't because you ruined the one chance you had with her when you started talking about the weather. You jinxed it, and now she's losing any warmth she once had to offer you, and you'll soon be in a blinding blizzard of despair.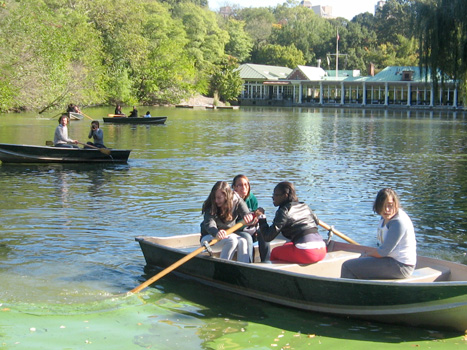 So, you should enjoy these things before winter goes crazy.
Go Horse Riding
Oct. 31 is the last day you can be guaranteed a ride on a sturdy steed in Central Park for only two dollars. Although they can only turn left, these horses have been a favorite since 1871. That might be because they don't poop everywhere. Whatever the reason, the Central Park Carousel draws over 250,000 riders a year, according to centralpark.com. The Carousel is open every day from 10 a.m. to 6 p.m. until November, at which point it is only open on weekends until 4:30 p.m., if the weather is nice. It's located in the middle of the park off the 65th St. transverse.
Mister Softee Goes Hard
Ice cream is always ballin', but it's a better idea when the weather is still warm enough for you to eat it without getting lint on it from your scarf. Some people argue that ice cream is better in the winter because it won't melt. Consider this: your lips could freeze onto the ice cream and you'll rip off the outer layer of skin known as the epidermis. No one wants to see your dermis. That's probably not true, but Mister Softee does go into hibernation, so you shouldn't take him for granted anyway.
Get on a Motherf****g Boat
Get on a boat. Vikings love boats. And I love Vikings. Also, T-Pain loves boats, and if you don't know what I'm referencing, then you should just stick to mechanical horses. I know a great place to find some boats. Central Park offers boat rides, on The Lake, but the offer only lasts until Oct. 30, and is only honored between 11 a.m. and 6 p.m.. The Loeb Boathouse is located at East Drive between 74th and 75th Streets. The first hour costs $12.
Open Your Doors
Winter brings dry air, and dry air brings tiny electrocutions every time you touch a doorknob. If you want to avoid getting shocked this winter, you should either a) pick a room and stay in it all winter; b) open all your doors and never close them; or c) get a humidifier. Also, if you're the kind of person who often waddles around on carpeted floors while wearing socks or breakdances in wool pajamas, you should get that out of your system. And that doesn't really have anything to do with winter.
Get on a Motherf****g Boat Again
Really though, this is a totally different boat experience. Buy a couple tickets for the NY Waterway Tour's Shades of Autumn cruise and seal the deal with a hot date. Or take your journal with you and write poignant haikus about the dying trees. The four-hour tour goes up through the Hudson River Valley and offers some serenely beautiful views of nature's colors. Tickets are $45 for adults, and the cruises end Nov. 7. Check out http://www.nywaterway.com for more info.