How I Learned to Stop Complaining and Love the Ram Van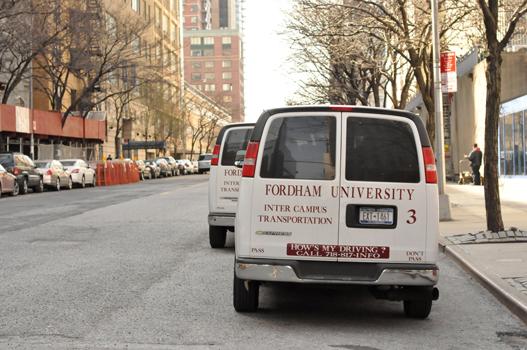 Published: April 13, 2011
"Which list do you have?" "Can you get off at 79th?" "Which seat can I take?" Aside from the last question, which also happens to be a lyric to a recent YouTube sensation, these musings are a regular part of the routine of taking the Ram Van.
Anyone who takes the van regularly for class can probably recite these rote characteristics of van travel: leave an hour before your class begins, always sign up first and NEVER sit in the back. This semester I've grown accustomed to this routine as I've become a van regular. I take three classes at Rose Hill, which draw me uptown to class four times a week.
At the beginning of the semester, I stressed and fretted about having to travel one-to-two hours roundtrip just for class: Is it worth it? Why should I leave Lincoln Center for class? Will I get tired of the Ram Van? Almost three quarters of the way through the semester, I can say that I am now an unabashed lover of the Ram Van. Can the ride be so bumpy you think you might get a concussion? Sometimes. Can traffic make you want to literally walk the rest of the way? Definitely. However, the Ram Van is almost my favorite part of the day now.
As someone who is very involved with clubs on campus, takes four classes and has an internship, I don't have a lot of time during my week to just sit and breathe. I spend most of my week running from class to a meeting to my internship, but then I get to take the Ram Van! It truly is my saving grace. In the time it takes to travel between the two campuses, I can eat a meal, finish my homework, catch up with a friend or take a much-needed nap. In fact, maybe I just want to spend 30 minutes playing Brickbreaker while I listen to my iPod and enjoy the view of the river.
No matter what I choose to do with that time, it is mine and literally no one can take it from me. Despite the best efforts of loud, obnoxious passengers, my time has never, and will never, be taken from me. Having that precious block of personal time for any activity I choose is an amazing luxury, and an unexpected one at that. Of course, the other gift the Ram Van has given me is the increased convenience of taking classes at Rose Hill.
I sincerely hope no one at Lincoln Center ever thinks, "Why should I go to Rose Hill," since I fear they might be closing themselves off from a rewarding experience. As strange as that may sound, yes, spending hours of your week in traffic actually does pay off. There are hundreds of classes at Rose Hill to choose from, so why say no to what could be one of the best classes of your life? The purpose of college is to expand your horizons, learn and have new experiences to broaden your worldview. Sometimes you might even need to venture outside Manhattan!
One of the great benefits of going to college in the middle of New York City is our ability to have those experiences in the most diverse city in the world. Taking classes at Rose Hill is another way to take advantage of New York and Fordham and try something new. One of my classes there challenged me more than I ever expected and altered my plans for my postgraduate life. Another one of my classes gave me the opportunity to learn about my heritage and the language of my ancestors, Irish (aka Gaelic).
Academically, traveling to Rose Hill has been an incredible experience that I plan on continuing through my senior year. On top of the intellectual benefits of this travel, if you happen to love nature as I do, going to Rose Hill gives you the opportunity to see more trees and even some stars (one of the very few, but best, benefits of night class)! Plus, Rose Hill is our university even though it may not be our home campus. We can access their larger library, cafeterias and gym because we are Fordham students.
There is only one thing I would change about the Ram Van; although I can get free passes for my classes, I do wish the tickets were equal to the subway. Is this even financially possible considering that our university is often unable to avoid budget cuts and can spend very little new money beyond the capital campaign? Maybe, maybe not. Regardless, the ticket is worth every penny. After all, even if your family frustrates you, you probably still enjoy visiting them. Likewise, it's still worth it to visit our "Ramily" at Rose Hill, even if people get frustrated by them sometimes. One thing is for sure: Even if you don't have free passes, the $3 ride is worth it. Just don't sit in the back. Unless you like concussions.