How to Cook for Comfort, Nonna Style
Southern Italian recipes to get you through finals week
It's December, and despite a school year full of uncertainty, there is one, definite thing most Fordham students can depend on to be true: From here on out, we are cruising a high-speed luge down a slippery slope to finals. 
Rounding the corner to the break is like approaching a wolf in sheep's clothing; that pecan pie is sweet until the bitter taste of final exams, essays, presentations and projects hits the tongue. 
Finals season can mean a lot of things to students across all the Fordham campuses. For some, finals might wreck their sleep schedule. For others, the unending mountain of work can force a loss in appetite or a compromised mental health state.
 "The worst part about finals season, especially right now, is the burnout," Erin Lostraglio, Fordham College at Lincoln Center (FCLC) '21, said. "Back-to-back Zoom classes/meetings, then spending hours writing papers. I've become extremely prone to migraines." 
Though perhaps there is a way to control the wonted panic of finals — in the Southern Italian household I grew up in, comfort in the presence of chaos was always found in a warm, steaming bowl of Nonna's cooking. 
In order for anyone to become a master of anything, they have to spend at least 10,000 hours practicing. At 83 years old, Nonna has far surpassed 10,000 hours cooking in the kitchen, so you can trust that she knows how to make good, Southern Italian food. After my 21 years in the kitchen with her, I've acquired her techniques and recipes and have compiled a few of them. 
Each recipe can be made for under $10 and with ordinary kitchen equipment: pots, spoons and forks. From Nonna's kitchen to wherever this article finds you, here are three recipes for the ultimate comfort foods to help you conquer the dreaded fall finals, on a full stomach.
So you've got 30 minutes between one study session and the next: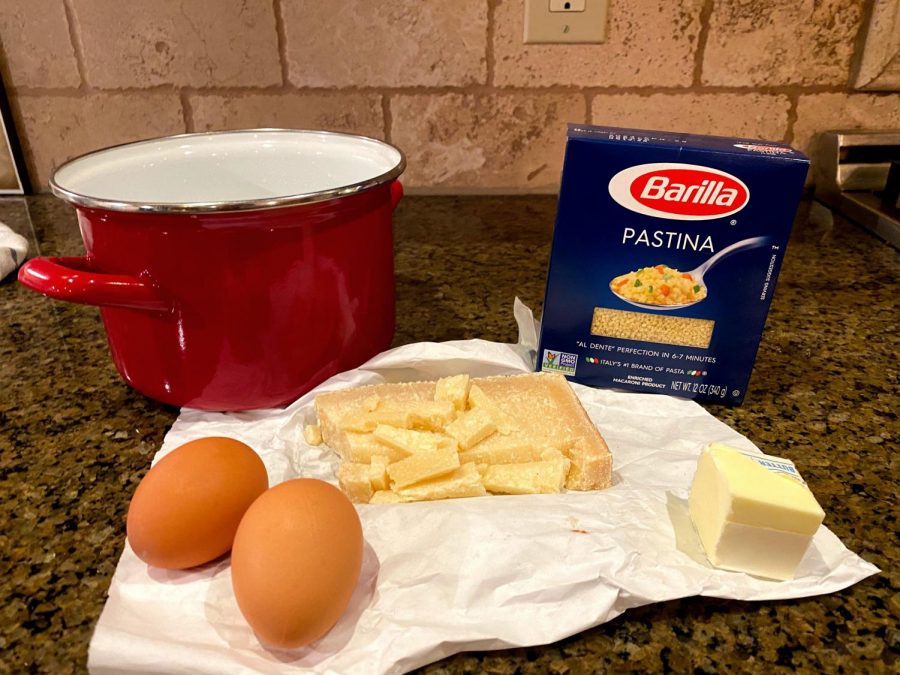 Pastina con le uova – pastina with egg (serves 2)
Ingredients: 
½ cup pastina
Salt, to taste (suggestion: ½ tsp for 2 servings of pastina)
1-2 eggs (if you like eggs, use a second egg)
2 tbsp butter
Grated pecorino or Parmigiano
Procedure:
Fill a small pot with 1 cup of lightly salted water, and bring to a boil.
Nonna Note:

Pastina acts like rice: It soaks up all the water while it cooks. So if you want your pastina to have a texture closer to a typical pasta, boil only 1 cup of water. If you want it to be more like a soup, use 1 ¼ cups of water. I like mine sticky.

Once boiling, drop in your ½ cup of pastina.
Nonna Note:

Nonna has plenty of kitchen gadgets, but she doesn't have measuring cups. Nonna will pour the dry pastina into a bowl, ask me how much I want and use my level of hunger as a measurement.

Cook pastina until soft, approximately 5-7 minutes, depending on your burner (those McMahon burners love to take their time).

Once the pastina is cooked, leave the pot on the stove, but turn the burner off.

Immediately, crack your egg(s) directly into the pot and mix with the pasta.
Nonna Note:

The key here is to mix quickly: You want the temperature of the pastina to cook the egg without the addition of heat. The quicker you mix, the quicker the egg cooks and the better it incorporates into the pasta.

Once the pasta and eggs are combined, stir in the 2 tablespoons of butter.

Then, sprinkle in grated Parmigiano or pecorino to your taste and combine.
Nonna Note:

Nonna prefers freshly grated cheese; biweekly, she'll buy herself two massive chunks of pecorino and Parmigiano and grate them herself using a food processor. She then transfers the cheese to these two jars whose only job for the past 60 years has been to hold the grated goodness. They sit and wait in her refrigerator door until she needs them (which is pretty much every day). If you're a cheese lover, do like Nonna and splurge for a chunk.

Spoon out your pastina and top with a little more cheese and black ground pepper, if desired.
Nonna Note:

Nonna tops her pasta with a healthy sprinkle of both cheeses, every time. No shame there.
So you can't stare at your computer screen any longer and you're in need of an hour-long escape:
Sugo rosso – homemade tomato sauce (serves 4)
Ingredients:
2 tbsp. olive oil
2 garlic cloves, peeled and smashed
¼ cup white onion, diced
1 14-oz can of whole peeled or crushed tomatoes
Salt, to taste (suggestion: 1 tbsp for 1 full box of pasta)
Fresh basil (if desired)
Pasta (of your preference)
Procedure:
In a medium saucepan, add 2 tablespoons of olive oil and warm over medium heat. Once hot, add your two smashed garlic cloves and chopped onions.
Nonna Note:

How do you peel and smash a garlic clove? According to Nonna, all it takes is 10 seconds and your hand. Take the whole garlic clove, set it on your kitchen counter and smash it with the heel of your hand. The skin should fall right off and the garlic should crack. Nonna's method offers an easy way to prepare a clove and a welcome release for that finals frustration.

Once the onions have become translucent and the garlic has turned a light brown (around 2 minutes), add in your canned tomatoes.

Lower your heat to a low simmer and let the tomatoes cook uncovered for 45 minutes.
Nonna Note:

It's more like a confession. Nonna doesn't use canned tomatoes; she uses the jarred tomatoes our family makes at the end of the summer. But she firmly believes canned tomatoes work just the same.

If you've used a can of whole peeled tomatoes: After 15 minutes of cooking, squish the cooked tomatoes with a fork or a wooden spoon until they're no longer whole.
Nonna Note:

If you've used crushed tomatoes, let them be.

Stir your sauce occasionally and add salt to taste. The sauce should cook no longer than one hour.
Nonna Note: Nonna physically cannot cook sauce without the inclusion of some fresh basil. She grows a field of it from June to August. Once summer ends, she harvests the leaves, cleans and pats them dry, lays them in a Tupperware, and sticks them in the freezer to use throughout the winter. If you're a lover of fresh herbs like she is, try her freezing method. It'll save you money at the grocery store once basil and parsley are no longer in season.
Note From Me:

This sauce can do anything. You can use it for pasta, gnocchi and Parmigiana. You can add a little heavy cream and make a tomato soup. You can pour it in a Tupperware, stick it in the freezer (sound familiar?), and pull it out to defrost and reheat just in time for fall semester finals.
So you've reached the end of unending hours of finals and you feel like spending your first two hours of freedom celebrating:
Gnocchi di patate – potato gnocchi (serves 4)
Ingredients:
1 lb. Russet potatoes (2-3 medium-sized)
1 ¾ cup flour (½ pound)
1 egg
Procedure: 
Peel your potatoes and discard skins (or compost them).

Boil potatoes in a medium pot of salted water (salt it like you would pasta) until they are tender, around 20 minutes.
Nonna Note:

Like measuring cups, Nonna also lacks a timer in her kitchen. To test if the potatoes are done, she suggests piercing them with a fork. If they slide off the fork with ease, they're ready.

Mash the potatoes with any kitchen utensil (masher, ricer, wooden spoon, fork). Let them cool.

On the kitchen counter or table, form a well with your flour.
Nonna Note:

When making pasta, Nonna never uses a mixing bowl. She only and always makes a well because a) it's fun and b) there's less clean up. To form a well, simply dump your measured flour onto a flat surface and dig a little hole in the center of your mound. It should look like a mini volcano: a sunken hole in the middle with raised sides around.

Into the center of the well, crack your egg. Then, to the egg, add your cooled mashed potatoes.

Slowly, using the flour from the outside edges of your well, incorporate all three ingredients with your hands.

Gently massage the flour, egg and potatoes together until they are just combined and it forms a ball.
Nonna Note:

This is the one time in the history of Italian cuisine that you do not and should not knead the dough. The more you mess with this pasta, the tougher the gnocchi get.

Working in small batches, tear off a medium-sized chunk from the dough ball.

Then, roll out the chunk of pasta on the table into a snakelike shape until it's approximately 1 inch thick.

Using a knife, cut the snake into 1-inch pieces. Promptly cover the cut gnocchi with a dusting of flour.

Using a fork, roll each gnocchi over the prongs to achieve the desired ridges.

Repeat steps eight through 11 until all the dough has been formed to gnocchi.

Bring a pot of lightly salted water to boil and cook the gnocchi for 3-5 minutes.
Nonna Note:

You know what's coming: Nonna doesn't believe in the concept of cooking time. She knows they're ready when they float to the top of the pot. Now you do, too. Throw out that kitchen timer. 
Strain gnocchi and serve with anything you'd like: a quick sage-butter sauce, some basil pesto, your own, delicious sugo rosso … you name it.