Fordham's Spooky Season Ended In Style
The Fordham Residence Hall Association partnered with the Fashion for Philanthropy Club to host a Halloween Runway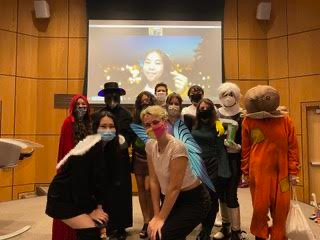 On Wednesday, Oct. 28, Fordham Lincoln Center's Residence Hall Association (RHA) and Fashion for Philanthropy Club (FFP) co-hosted a Halloween runway event with both in-person and virtual attendance options. Students competed for gift card prizes, with the first-place prize ultimately going to Macy So, Fordham College at Lincoln Center (FCLC) '24, in her Trick 'r Treat Sam costume. Joshua Screen and Laurel Mora, both FCLC '24, won second and third place, respectively.
According to Dennis Zhang, Gabelli School of Business '24 and one of RHA's first-year programming coordinators, the association wanted to set up a hybrid Halloween-themed event, and when they heard that FFP wanted to host a costume contest, the clubs decided to work together. Zhang addressed safety concerns, saying that RHA was able to meet requirements by monitoring in-person attendance and enforcing the use of masks, hand sanitizer and social distancing. RHA did not want the restrictions to get in the way of students getting involved.
Fordham is making continuous efforts to keep on-campus students safe. Students are making their way through an unprecedented semester, and many of the opportunities usually afforded them by living in New York City are not currently viable. Organizations like RHA help to normalize student life.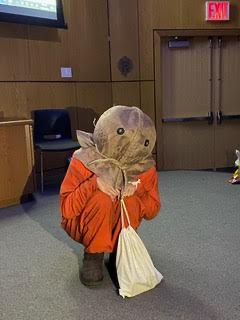 The Halloween Runway was hosted in the McNally Amphitheatre and was broadcasted over Zoom. By hosting hybrid events, they increased the number of students who could participate in university events and extended the opportunity to attend to students who were unable to return to campus this semester. Screen said that the Halloween Runway was a "fun and nice way to meet some people" and that "it doesn't hurt to get into the Halloween spirit." 
Runway participants walked across McNally's stage and posed for in-character photos just after 7 p.m. on Oct. 28. Once all the competitors had shown off their costumes, a poll was conducted to decide the winners and honorable mentions. Each student voted for their top three favorite costumes and RHA awarded a $25 gift card to the first-place winner, $20 for second place, $15 for third place and $5 to three honorable mentions. While the event had a limited turnout, students enjoyed modeling their costumes to music of their choice and collecting the free snacks the clubs provided. Zhang said the event was a "super fun and exciting night and everyone's costumes were awesome!"
Students can join RHA every Wednesday at 7 p.m. to give the board their input on student life and on-campus issues and to hear about upcoming events. More information on RHA meetings and events is available on their Instagram page @fordhamrhalc.