Central Park Presents Culture At No Cost
SummerStage Returns to Central Park for 26th Year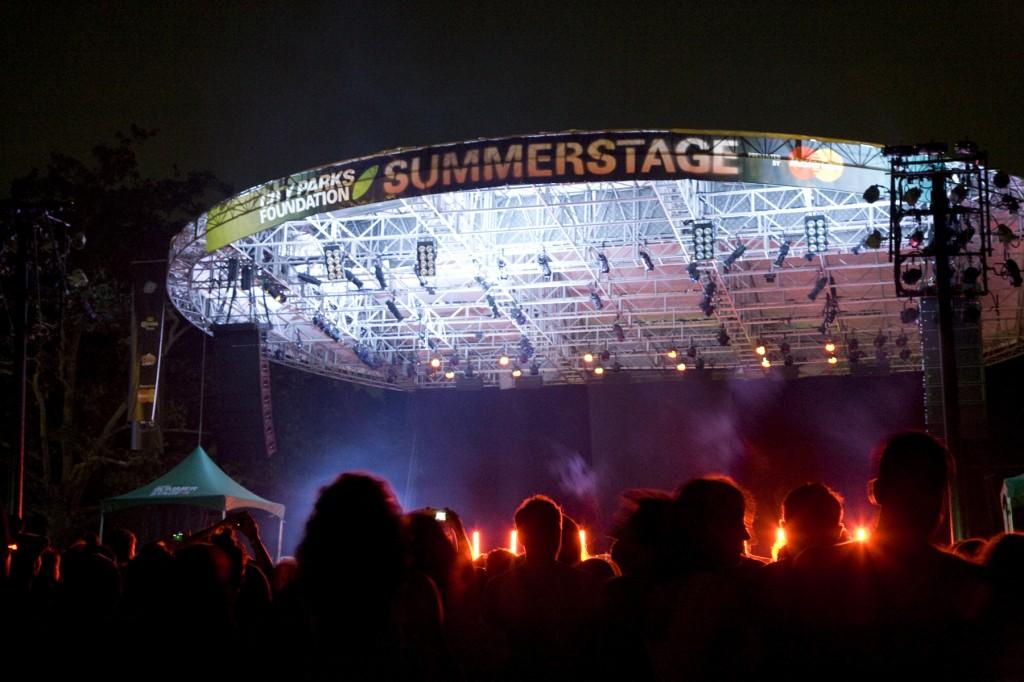 Published: May 5, 2011
Chances are if you're reading this you're a student, and the word "free" makes you salivate. In a city that demands so much from its student's pockets, stockpiling deals and scouting cheap events often feels like a necessity in order to break even. That's why SummerStage, put on each year by the City Parks Foundation in all five boroughs, is a resource for students hoping to experience some of the year's most relevant artists and performers without dropping a dime.
Aiming to expand Central Park's performance repertoire to incorporate genres outside of classical and opera, Summerstage was found in 1986 and began crafting its legacy with a premiere concert by jazz hall of fame legend Sun Ra Arkestra. Twenty-six years later, SummerStage now operates events in 18 different parks around New York City. Artists of every genre from Sonic Youth to Q-tip have performed on their mainstage, which Executive Director David Rivel believes has come to be a "career-defining moment" for many musicians.
The venue's history is littered with memorable performances. In 1993 Patti Smith returned to perform in New York for the first time in a decade, where she honored the late Robert Mapplethorpe at a SummerStage spoken word event. Rivel said that in 2004, The Strokes, at the height of their success, considered it "a dream" to play SummerStage, and shared hometown memories with the crowd in between songs.
However, Fordham students most likely credit the venue with a more recent achievement, one that many thought was impossible. In late September of last year, the Parks Foundation answered the prayers of two generations of indie rock enthusiasts, when Stephen Malkmus agreed to reunite for a single SummerStage show. "I would like to take more credit for that," Rivel said. "But they were the ones that decided to do it…. tickets went on sale a year early, and one show became four when the first sold out in eight minutes." Eventually the concerts success sparked a reunion tour.
This year, SummerStage is host to over 300 artists with internationally renowned cellist Yo-Yo Ma performing alongside NYU students for the opening concert on June 7. Throughout the SummerStage schedule are a number of programs that aim to explore in-depth aspects of artistic culture, including commissioned work by the Parks Foundation that includes a tribute to be-bop icon Roy Ayers. Ayers will be performing interpretations of his work with the Jazz Mafia Symphony on July 2.
"We're trying to make commissions a bigger presence of SummersStage," Rivel said. "The Parks Foundation has never done something like four commisions." Among this year's commissioned works are two theater pieces and a collaborative dance number that pairs acclaimed company Armitage Gone! Dance with Grammy -nominated jazz pianist Vijay Iyer.
"Five years ago we started incorporating dance and theater into Summerstage," Rivel said. "It's harder to put on those kinds of shows outside, because it requires a special floor, lighting and sets…I think that we've pioneered the outdoor presentation of dance and theater, especially dance," he added.
Not everything at SummerStage is free however. Each year the Parks Foundation puts on around six benefit shows, which bring in a small portion of the five million dollars required to annually fund SummerStage. This year's benefit concerts include Wiz Khalifa, Florence and the Machine, Lykke Li, Levon Helm with Emmylou Harris and Guster.
"Every year we set out to achieve a couple of things," Rivel said. "We want to present something for everyone in New York…and we want to be New York's Art festival." Rivel and the Parks Foundation have ambitious plans for the future of SummerStage, but when asked if at any point he plans to expand past the boundaries of the city, his answer is immediate: "We don't plan to. Summerstage is New York."