Third Eye Blind Plays to Enthusiastic Crowd Despite Mixed Reactions by Student Body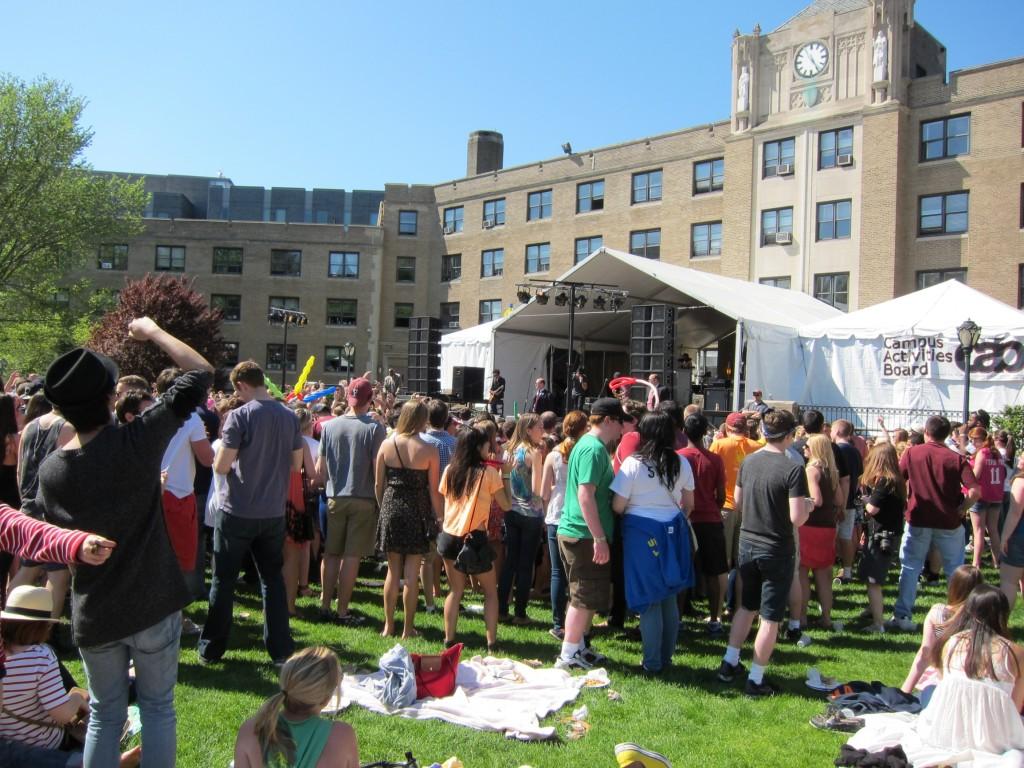 Published: May 5, 2011
The thunderclouds that had threatened the possibility of a rained out Spring Weekend gave way to sunshine as Third Eye Blind took the stage at Martyr's Lawn at Rose Hill on Saturday for Fordham's Spring Weekend.
"Isn't college about trying new things?" frontman Stephan Jenkins said to the crowd before playing a song off their newest album. While that may be the case, there was hardly anything new about a band that played Fordham once before in 2006.
Third Eye Blind has four albums to their name as well as multiple Top 10 Billboard Hot 100 singles, compared with The White Panda's minimal commercial success. Yet, the announcement that Third Eye Blind would be performing was met mostly with indifference or disappointment. It was a telling sign that the band's bell had been rung among many members of the college crowd. Eleni Reynera, Fordham College at Fordham College at Lincoln Center (FCLC) '13, commented, "I wish they had chosen a different band" a sentiment that was shared by many others.
Not everyone was upset with the choice however. A small group of students expressed genuine excitement at seeing a band from their childhood play live.
On Friday night, DJ duo The White Panda opened up the concert series by taking the stage to play their brand of mix and mashed arrangements. Saturday not only brought Third Eye Blind to students, but also two local Fordham bands. The first group, Penrose, was the winner of Fordham's annual battle of the bands for the second year in a row, and played a short but energetic set of rock songs to a small group of early arrivers. Following Penrose was Matt Corey, a saxophonist who played through covers of popular songs accompanied by his band. Early on in the set, he made it clear that no George Michael tunes would be heard.
As the opening bands played, students lined up for free lunch, Mister Softee cones, and photos.  A juggler in a purple vest and top hat rode on his unicycle among the students spread out on their towels. The overall mood was relaxing and carefree. A few games of catch sprung up throughout the day and several pairs of feet opted to go shoeless. By the time Corey finished playing his final song, the audience had grown to its full size. When Third Eye Blind began to play, no one seemed too upset by their presence to enjoy the show. Several times, chants of "Jumper," one of their hit songs, broke out.
The band's setlist consisted of songs from their commercially successful self-titled debut and its follow up effort "Blue." Both albums spawned several successful singles such as "Semi-Charmed Life" and "Never Let You Go."
Despite the negative response they received from the student body leading up to their performance, few complaints were heard once they began to play. Although most of the audience would have preferred to listen to a different artist, the majority were simply content to celebrate spring with whoever would agree to serenade them.