Fordham to Host Iona Gaels in Home Opener
The return of Fordham basketball, an old New York rivalry and a coaching icon
Fordham Athletics has officially scheduled the home opener for the Fordham men's basketball team, bringing Division I sports back to the Bronx. On Nov. 25, the Rams will face Rick Pitino's Iona College Gaels in the Rose Hill Gymnasium for the first time since 2006, reviving an old rivalry to celebrate a tepid step toward normalcy.
In the midst of a pandemic, the return of an Empire State showdown could not be better timed. With restricted travel and rigid testing protocols, a bus trip for the Gaels is much more convenient and safe than a plane ride from some other part of the country, especially for Fordham's first home game.
Beyond a long-awaited return to Division I Athletics, this game will also be important from a historical perspective. Before ending their working relationship 14 years ago, the Rams faced off against the Gaels on Dec. 3, 2006, for the 63rd and final time. With the help of a 20-point performance from Sebastian Greene, Fordham College at Rose Hill '08, Fordham won 70-54, making its all-time win-loss record against Iona 32-31.
For over a decade, Iona has been one victory short of evening the score with its old rivals, but their conference affiliations have kept them apart. This 2020 home opener will be the first of four home-and-home games scheduled over the next four years, giving both schools plenty of time to settle past disputes.
Much like St. John's University and Manhattan College, Fordham's old rivalry with Iona was local, which always made for a scintillating contest in non-conference play. The results weren't nearly as important as the Rams' games against Atlantic 10 opponents, but the narrative of New York supremacy often enticed fans to attend a game that would have otherwise had low stakes. Games like this one are a valuable addition to the schedule.
There is another story connected to this year's home opener, one that will likely attract national attention. However, Fordham will be incidental beneficiaries of this attention, as they have nothing to do with it. For the first time in over three years, new Iona coach Rick Pitino will be returning to college basketball.
When Pitino enters the Rose Hill Gymnasium on Nov. 25, he'll be a giant among children. He coached the New York Knicks and Boston Celtics in the NBA. He led the University of Kentucky and University of Louisville to national championships in 1996 and 2013, respectively. He's appeared in the NCAA Final Four seven times. One of those Final Four appearances came in 1987 when he transformed the University of Providence from perennial losers into a powerhouse underdog in three years' time.
For over a decade, Iona has been one victory short of evening the score with its old rivals, but their conference affiliations have kept them apart.
Comparisons simply don't exist between Pitino and Fordham Coach Jeff Neubauer. The accomplishments of the former are unfathomable and incomprehensible in relation to the meek gains of Fordham men's basketball in recent years. For those poorly read in sports news, his mere presence at this game should raise questions, but Pitino is at Iona for a reason. For any basketball legend to make an appearance at Rose Hill these days, they're either competing against the women, or they've suffered a calamitous fall from grace.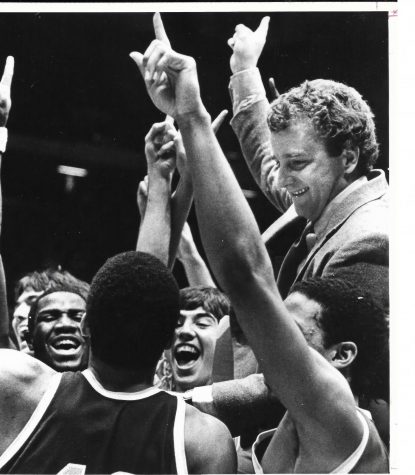 In 2017, federal prosecutors launched an investigation into Pitino and the University of Louisville after receiving reports that the coach paid players during the recruitment process, violating the NCAA's amateur athlete guidelines. A month later, he was fired with cause by the university and a lengthy court battle ensued. In that time, Pitino moved to Greece to coach in the EuroLeague.
In March of this year, Iona announced that it had hired Pitino as its new coach, giving him his first position in college basketball since the scandal. With one summer of efficient recruiting under his belt, he'll be making his coaching debut with the Gaels when they face off against the Rams next month. His presence alone would attract fans in droves, which makes the timing of the game poor for fans and ticket collectors alike.
For the home opener and foreseeable future, spectators will be barred from attending games at the Rose Hill Gymnasium, as Fordham is still following New York state's phased reopening guidelines. However, to recover lost revenue or, as Fordham Athletics put it, to "help the Fordham men's and women's basketball programs pack the venue," the university is introducing the Virtual Sellout program.
Essentially a fundraiser, fans can buy a virtual ticket starting at a $25 base donation and may donate up to $2,500 for additional gifts from the university. These include a basketball signed by the teams, a personal thank-you message from coaches Stephanie Gaitley and Jeff Neubauer, a Fordham water bottle and other perks. The $1,000 donation necessary to attain a drawstring bag will doubtlessly raise morale on the bench.
Those uninterested in virtually filling the Rose Hill Gymnasium will still be able to watch the game on ESPN+, where they'll see a mix of new and old faces courtside. Yame Butler, Julian Dozier and Albe Evans, three Fordham first-years, will be taking the floor for the first time in the Bronx. Meanwhile, as Pitino makes his coaching debut for Iona, Neubauer will be entering his final contracted season with the Rams. In his five years as head coach, Neubauer has one winning season and a 60-94 overall record. 
For this long-awaited season, spectators may not be able to attend and the conditions allowing competition are volatile. Fans can only take solace in the fact that basketball is finally returning. The first game next month will represent a small triumph over the pandemic, the continuation of a long-lost rivalry and the potential redemption of one of college basketball's most divisive figures. In a rare moment for such a sporting event, the final score will not be nearly as important as the tip-off.