A Stroll Through the Chelsea Galleries
Nearby Exhibitions Offer a Diverse Look at the New York City Art Scene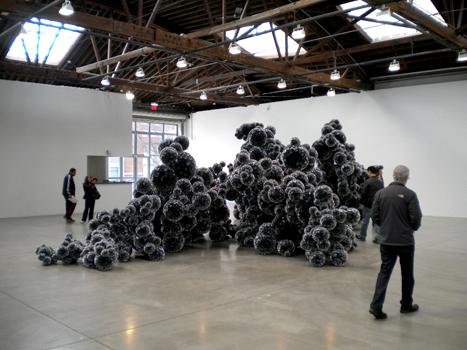 Published: March 30, 2011
While New York City is packed with great museums, even a student discount can't always comfort Fordham art enthusiasts on a shoestring budget. Luckily, in the nearby neighborhood of Chelsea, free galleries line the streets. Plus the sheer amount of talent, of both up-and-coming and established artists, on display in the Chelsea galleries is unmatched anywhere else in the city. So spend a day with some of the best exhibitions currently on display.
Tara Donovan at The Pace Gallery
Tara Donovan's mammoth installation, "Untitled (Mylar) 2011," currently occupies the spacious Pace Gallery and appears to bloom within its walls. The artist's first New York City solo-exhibition featuring her sculptural work since her warmly received 2007 show at the Metropolitan Museum of Art, "Untitled" is awe-inspiring.
With its bulbous sheets of Mylar, the sprawling installation shimmers under the light that cascades down from the gallery's paned ceiling, akin to a flower made of glass. While the author has risen to fame using unconventional materials like Styrofoam cups and sewing pins, which serve to inspire the oversized works they eventually shape, Donovan's work feels organic, not alien.
"Untitled" is simple in theory but astounding in execution, a study of earthly movement that causes many of the gallery's visitors to look curiously and joyously at a familiar form that would go unnoticed on a smaller scale. "Untitled" feels at once wholly original and simply, beautiful.
– Joseph Klarl, Arts and Culture Co-Editor
Lamar Peterson at Fredericks & Freiser
Lamar Peterson's new work is unnerving, a series of joyously rendered paintings with subject matter as dark as its colors are bright. The hypnotic smiles and garish palette, sometimes adorned with children's stickers, that pervade Peterson's work are reminiscent of youthful picture books, but increasingly demented images of a picaresque waterfront home and its irrational citizens counteract feelings of the blissful innocence immediately conjured here.
The odd cartoon subjects, who cut themselves open and talk on telephones with broken wires, are hypnotized by the promise of their seemingly bright world, just as gallery patrons may be hypnotized by Peterson's bright work, but racial and social tensions pervade the artist's world.
Some will undoubtedly be irritated by Peterson's blunt juxtaposition of farcical imagery and serious themes, but the artist's calculated hold on chaos should not be underestimated. This work may share a common ancestor with Pop Art and heavy-handed social commentary explored by fellow artists like Kara Walker, but the strangeness of its execution is something else entirely.
– Joseph Klarl, Arts and Culture Co-Editor
Tomory Dodge at CRG
The eight oil-on-canvas works that comprise Tomory Dodge's exhibition at CRG are heroic in scale and spastically weave their way through different modes of abstraction and visual language. Deliberate trails of thickly applied paint are repeatedly cast over thin gradients, creating graphical systems that investigate issues of color and spatial relation, and a pleasurable amount of optical resonance.
The two different types of paint handling also form a relationship between the organic and the inorganic, with the fleshy strokes of paint illustrating the inconsistencies of the artist's hand and the more geometrically formed backgrounds acting as silent television bars or the computer screen. In this way, Dodge seems to be trying to find a way to bring the painterly expressionism of the 1960s into modern times.
Occasionally canvases are paired next to one another as diptychs, with each canvas mirroring the other like a Rorschach blot, furthering the visual cooperation between the binary and the scattered. With all of these employed methods, Dodge's show is like a supermarket of styles figuring their way around and through each other, which is extremely generous to the viewer, regardless of personal taste.
– John Angles, Contributing Writer
David Altmejd at Andrea Rosen Gallery
David Altmejd has long been concerned with ideas of the body violently acted upon by internal and external forces. In his latest exhibition at Andrea Rosen Gallery, he continues the theme of inside and outside with two gigantic Plexiglas structures and plaster sculptural works.
The low-tech plaster objects, some free standing, others intervening into the gallery walls, are explicitly self-referential. Altmejd repeatedly casts his cupped hand in plaster and uses the unique form to mold his life-sized figures from the ground up. The casted hands are included in the final piece itself, making the structure entirely composed of the raw materials used in its creation, suggesting perpetual growth and change.
The two Plexiglas pieces are set up like giant vitrines containing futuristic ecosystems. Technicolor spools of thread weave their way through mazes of pock-marked sheets of plastic, like electric wires running through a city. Fiberglas ants crawl through the objects, some finding their way outside. The sprawling display within the vitrines is constantly threatening to break loose, the rigid architecture unable to contain the agenda within.
In this new work, Altmejd attests that growth and birth can only be achieved through decay and destruction. It is important to note that this exhibition is as much visceral as it is entrenched in theory, and as such must be viewed in person for full appreciation.
– John Angles, Contributing Writer