"The Book of Mormon" Gives Broadway Something To Preach About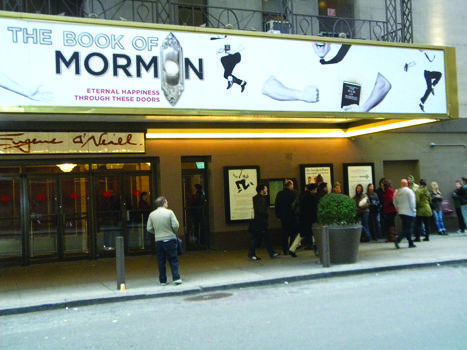 Published: March 30, 2011
After an abominable winter filled with reports about injured actors at the unstable "Spider-Man: Turn Off the Dark," a more uplifting type of menace has appeared on Broadway to signal a bright spring. That show is "The Book of Mormon," the musical comedy written by Trey Parker and Matt Stone, creators of "South Park." Based on the audience reaction at the preview I attended, we're bound to hear about people dying from laughter at this fresh, riotous and spirited new musical.
I was very surprised by how professional and affable "The Book of Mormon" is, especially considering my own dislike for Parker and Stone's satirical television series. This musical combines the upbeat and buoyant attitude of shows like "The Sound of Music" with Parker and Stone's typical disregard for cultural or political inhibitions. The story is about two young missionaries sent to Uganda, where the misinterpreted words of Joseph Smith give the villagers the confidence to oppose a local despot. Even with the exaggeratedly bleak setting, the show is fundamentally based on the conventional musical story of an outsider changing a community. (If there had been just one missionary, this show could have been called "The Mormon Man.")
Parker and Stone collaborated on the book and songs with Robert Lopez, the co-creator of "Avenue Q." It's not my place to assume who did what, but I expect working with an experienced theatrical writer helped Parker and Stone adapt to a two-act musical structure. There are still a few beginner's flubs (the song "Man Up" becomes the Act I finale almost out of nowhere), but it collectively feels like a cohesive experience. The score is extremely catchy, even if some songs carry their crude jokes out too long for my taste. "The Book" maintains the subversively traditional approach to musicals through and through. When one missionary revises "The Book's" stories to make them applicable to the Ugandans' troubles, you expect those fallacies will blow up in his face. The end result and the characters who deliver the final message, which is more pro-faith than pro-Mormonism, are some of the numerous surprises in this boisterous but good-hearted comedy.
A major cause for the show's success is its supply of likable characters played by endearing actors. It's a complete reversal from "South Park," whose characters I ceased liking many seasons ago. The self-satisfied Elder Price has traces of that selfish flavor, but as played by the delightful Andrew Rannells, his egotism is more a case of misplaced ambition than outright conceit. Josh Gad is also appealing as Elder Cunningham, though it takes time and effort to get used to his shtick, which suggests a mix between Stephen Furst's meekness and Adam Sandler's volume. Filling the rest of the cast of Mormons and Ugandans is a uniformly witty ensemble led by the sincere Nikki A. James and the scene-stealing Rory O'Malley.
Directors Parker and Casey Nicolaw ("The Drowsy Chaperone") keep this cast busy with one inspired musical number after another. Every song and dance carries the story and the message with verve and originality. (But that's to be expected of the gentlemen who had Satan singing a Disney-style yearning song in "South Park: Bigger, Longer & Uncut.") I must give special mention to "Turn It Off," the song where O'Malley and the other missionaries explain the Mormon way to stay chipper against hardship. Nicolaw choreographs an already comical song into a number so funny it's flabbergasting. It is an unforgettable highlight among many uproarious moments.
"The Book of Mormon" is surely not for everybody, but I am not going to make any assumptions about who would like it. All I can say is see it yourself and judge whether it suits your sensibility. For me, it is bold, coarse without being derogatory, tremendously tuneful, infectiously giddy and by far the best original musical comedy I have seen on Broadway.in ages.