Skip Trader Joe's and Visit Your Local Fruit Stand Instead
It's 11 a.m. on a Wednesday morning. 
I begin my outing to Trader Joe's in the hopes of securing fruit and my vice of choice, dark chocolate peanut butter cups. First order of business, if you haven't tried the peanut butter cups, I implore you to pause whatever you're doing, go grab some and then come back. You will not regret it. I thought my early-hour, midweek trip was timed just right to avoid the chaotic evening rush at the Trader Joe's marketplace on 72nd Street. Wrong!
The line at Trader Joe's has always been egregiously long, but now with social distancing practices in place, the line quite literally wraps around the outside of the store and onto the next block. As I approach the entrance, a feeling of horror descends upon me as I realize that this is Trader Joe's purgatory. It's a line going nowhere fast, and I must quickly think of alternatives or else be condemned to wait for my fruit for an eternity. I spot the fruit stand across the street and before I know it, I'm already halfway there. 
This leads me to the heart of my story and the heart of this city: Our neighborhood produce stands and the lovely people who run them. We walk by the stands every day. Rain or shine, they are always fully stocked with delicious, ripe fruit and vegetables at affordable prices. These stands are so ingrained in our neighborhoods that we sometimes don't even notice them as we rush by. But we should.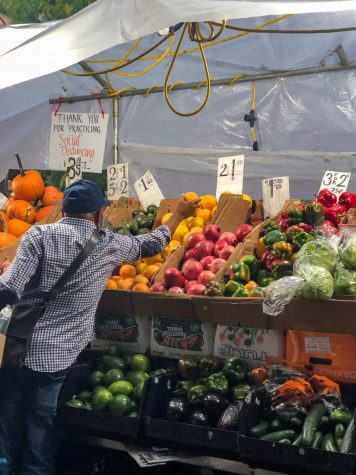 During the midst of the pandemic, these dedicated vendors continue to show up for their communities and persevere through the dramatic loss of sales and risk of the coronavirus. Street vendors are a part of one of the most vulnerable populations in NYC, as they cannot work remotely and they often do not meet the stringent requirements needed to obtain government aid. Advocacy organizations like the Street Vendor Project have called for more comprehensive and supportive policies for street vendors. However, more still needs to be done to include vendors within relief programs for small businesses and to offer them the protection they deserve. 
Much of the discussion surrounding reopening in NYC was centered around the restaurant and bar scene, leaving little room for street vendors to receive the same type of support. While the restaurant and bar scene is vital to New York's economy and offers livelihoods to many, street vendors should not be overlooked. In particular, produce stands play a vital role in bringing fresh produce to neighborhoods that have poor access to fresh fruit and vegetables. They stand by their communities in the bleakest of times, and the least we can do now is show up for them in the same way. 
Supporting your local produce stand can be as simple as picking up a peach during your daily walk or as elaborate as shopping for a romantic, exclusively fruit-themed picnic. Personally, I would choose the latter, as fruit is all the rage, now and forever, and you can never go wrong by wooing your crush with a perfectly designed fruit platter. If you're feeling especially inspired, you could even make a fruit sculpture. Now that is a power move.
You know what else is a power move? Supporting small, local businesses. If you typically shop at the Trader Joe's on 72nd Street, then I would highly recommend stopping by the fruit stand across the street on 73rd. The man who runs this stand has an eye for selecting the perfect mango and one bite into this luscious, juicy fruit will transport you to a tropical paradise far removed from the streets of Manhattan. Forgo the long, arduous lines that have taken over Trader Joe's and instead feast upon sunshine in fruit form from your local fruit man. I dare you.