Fordham Grad Turned Ailey Choreographer Revels in "The Glory"
A Conversation with Preston Miller, FCLC '10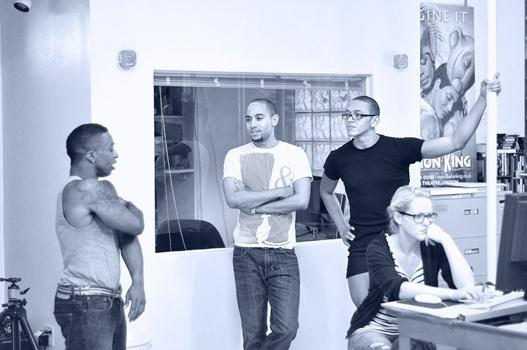 Published: March 2, 2011
Preston Miller always takes Sundays off. It's more than a ritual. "Sundays," he says with a grin, "it's Bears all day, baby." It's not hard to understand why Miller needs a day devoted to the normalcy of watching football at home. He is, at 23 years old, one of New York's youngest professional choreographers.
Only a year after graduating from Fordham, Preston's choreographed piece, "The Glory," will begin an upcoming run at Alvin Ailey Citigroup Theater, performed by students and friends Miller selected himself. Already at the helm of his own company, the Preston Miller Project, he's now collaborating with some of the leading names in the industry to put together a portfolio of work that he expects will raise the bar for professional dance.
Sound ambitious? When Preston talks about his goals, it becomes clear why he has won the hearts of everyone from jazz legend Wynton Marsalis to Ailey director Judith Jameson. The kind of artist who settles for nothing short of innovative, Miller doesn't miss a beat.
On the fluke that gave him his start…"Junior year of high school I realized I had no thing for ballet. I was ready to transfer into the theatre department. It was the only way I could stay at the Chicago Academy for the Arts if I wasn't dancing. But then this kid comes up to me and he says, 'Man, I saw this real cool photo of you,' [a] picture of this guy who looked a lot like me but his back's turned. It was dance in motion. It was amazing. I looked him up and it was Clifton Brown who was with Alvin Ailey. I had never seen anybody dance like Clifton; he was moving like what I thought dance should be. It wasn't so stiff and up-and-down the way ballet is. He moved in the way you might hear a song."
On meeting his idol…"Clifton was a freshman at Fordham when he was asked to join Ailey's first company. They toured nine months of the year. It was remarkable. That never happened. I [saw] him when Ailey came to Chicago. I was blown away. Everybody calls the pieces they did back then dated, but I was just a kid, and I saw that people were really responding. Clifton walked onto the stage and he looked like a god. When I met him in an alley after the show, he's got glasses [and] braces. He's the biggest nerd I've ever met, but I looked at him and I said, 'You're the reason I do what I do.'"
On the foundation of the Preston Miller Project… "Sophomore year, I saw that a lot of choreographers were starting their own companies. Every one of them said my company is different, and the content was different, but it was the same way of speaking to people. I remember being in a room on Clifton's birthday, and I look around, and there are legends. I thought, if all these people came together and did something nobody had ever seen we could turn New Y ork City out. That's when the wheels started turning."
On his first project… "I took this dancer from Ailey, and this kid who had like 500,000 views of him dancing on the street, a hustler with no formal training. The photo shoot was terrible because we had no vision. But what happened was this incredible exchange of ideas. The moment they shared was amazing. After that I wanted to get the biggest dancers and the biggest companies to create a collaborative experience."
On his transition to choreography… "I went to the offices at Ailey and asked them if I could be the first choreography major. They weren't excited about losing a male dancer, but I auditioned with the piece they're performing on March 3 and they loved it. Junior year was one of the hardest years of my life; I took all my classes but performed in nothing. On top of that, the chatter at Ailey was that I was lazy, that I didn't want to put in the work to be a dancer. I knew that my senior showcase had to be unlike anything they had seen."
On his biggest night… "I brought in my own lighting designer and stage manager. I did what I knew was going to be controversial, and I used dancers from Ailey's first company. It was ballsy, asking adults to be in a student show, but these were adults I knew, like Clifton. I asked Wynton Marsalis and he wasn't able to come out, but his drummer Ali Jackson made it from Jazz at Lincoln Center. Then I took it a step further and got Josh Johnson, one of the most amazing dancers I had ever seen. Every world I had networked in converged that night.  Judith Jameson, the artistic director at Alvin Ailey, came up to me before the show even started and she said, 'Congratulations.' I said, 'For what?' She said, 'Whatever happens tonight is going to be worth it.' That opened an amazing door for me. It was kind of a coming out for the Preston Miller Project."
On having his piece "The Glory" performed at Alvin Ailey… "It's always nice to be invited back home. It was incredibly humbling because I remember looking up to a lot of [the performers] as dancers. I knew at any moment they could tell me what I was doing was wrong and they would be right, so it kept me on top of things."
On the future of the Preston Miller Project… "I want to create films similar to those [that] Gene Kelly or Fred Astaire used to make: eight-minute-long shorts that tell a story using the most recognized dancers in the world. We're trying to create an intelligent product, as opposed to the watered down commercialized one you see on television. We're shooting four dancers [for] our first film. I can't reveal who they are yet, but they're high profile. I'm really excited about it.