Molimo Celebrates Black History Month
African-American Culture Explored Through Club Discussion and Dialogue
Published: February 2, 2011
February is a special month of the year, not only because it hosts Valentine's Day, but because it is dedicated to the celebration of black history. Fordham College at Lincoln Center (FCLC)'s Molimo, a student organization dedicated to the study and appreciation of African, African-American and Caribbean culture, celebrates Black History Month to the fullest, with cultural events scheduled nearly every week.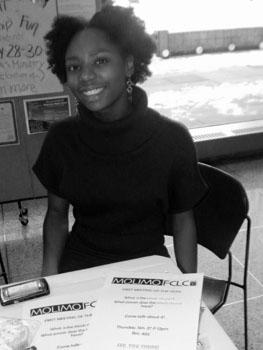 The February programming sponsored by Molimo ranges from an open-mic night on Feb. 3, featuring Rose Hill's Hip Hop Coalition, a group for hip hop and slam poetry, a visit to the Malcolm Shabazz Mosque on Feb. 9 and a screening of Spike Lee's "Bamboozled" on Feb. 28. The events are open to the Fordham community, as are Molimo's weekly meetings held on Thursdays at 12 p.m. in room 402, where cultural discussions are held on a variety of topics relevant to the African-American community.
For Molimo's president Monique John, FCLC '13, the events are created not only in celebration of Black History Month, but as a way to reach out and generate awareness of the richness of African-American culture. The discussions held during the weekly meetings are especially important, oftentimes covering controversial subjects, according to John.
"Historically, African-American culture has been denied," John said. "This month we're going to debate whether there should even be a single month dedicated to black history, or whether it should be celebrated all year round."
John, an African-American Studies minor, has been actively involved in Molimo since her freshman year. Her entire family is from Guyana, but her interest in the study of African-American culture was sparked during high school when she began taking ballet classes at the Dance Theater of Harlem.
"The institution had such a strong history, and I thought to myself, 'If I'm going to be a part of this, I have to be educated about it.' Then, when I joined Molimo my freshman year, it worked out very well for me because I made many close friends who shared the same passion and interest."
John also explained that the club is not exclusive to African-Americans, but consists of a well-balanced and diverse membership that equally participates in cultural discussions. For member Kalon Hayward, FCLC '12, a theater major and transfer student from Pace University, Molimo's diversity is crucial to the club and their discussions, providing a unique quality that previous clubs he participated in lacked.
"It's important to hear from an outside perspective," Hayward said. "It's also great that it's not called 'The Black Student Organization.' The fact that the club welcomes all ethnicities is exciting."
Forrest Van Dyke, FCLC '12 and another dedicated member of Molimo, speaks from the "outside perspective," Hayward mentions. Van Dyke comes from an English, Dutch and German background.
"Even though I don't participate in discussion from a deeply personal level, the issues addressed still pertain to some aspects of my life," Van Dyke said, who helps teach reading and writing in the Knowledge Is Power Program (KIPP) at the Star Middle School in Harlem. "I think everyone could learn something from Molimo, regardless of your ethnicity."
In the future, John and other members of Molimo hope to continue the club's legacy at Fordham by expanding this community of people who share a passion for creating awareness about black culture. But most importantly, they hope to ensure that the club lives up to its name, which in Swahili means "family." For them, the family they have created is celebrated every month of the year, not just February.