The Ultimate Christmas Wish List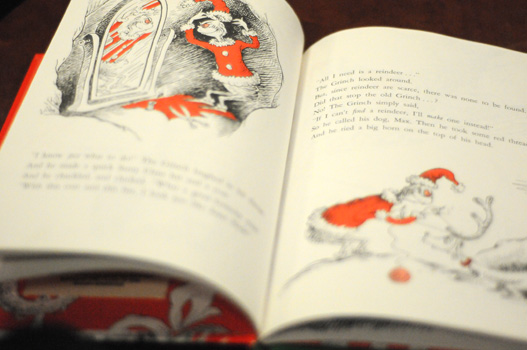 Published: December 09, 2010
SONGS
Mariah Carey "All I Want For Christmas Is You"
After 16 years of radio play, it really wouldn't be Christmas without belting along to Carey's holiday pop jam with your friends and family. After all this time, we still try to reach those high notes.
Blink 182 "Happy Holidays, You Bastard"
Because some people deserve the middle finger, no matter what season it is.
Jack's Mannequin "The Lights and Buzz"
There aren't white Christmases in sunny California, but as singer Andrew McMahon celebrates his West Coast Christmas over chimes and swirling piano riffs, you can't help but imagine the snow falling.
John Lennon "Happy Xmas (War is Over)"
This holiday song about love and peace is one that can be celebrated by everyone. A true classic.
MOVIES
"Snow Day"
With an elementary school army by Natalie Brandston (Zena Grey), this film about kids teaming up to fight for their snow day against the creepy "Snowplowman" (Chris Elliott) satisfies the badass kid in all of us. Plus, the fact that it stars a young Josh Peck, of "Drake and Josh," when he was still chubby officially makes it the best Nickelodeon holiday film of the early 2000s. Hands down.
"Elf"
Buddy the Elf would certainly consider you a "cotton-headed ninnymuggins" if you haven't seen this holiday favorite. With a script in which nearly every line is quotable, this original comedy about one elf's adventures with his real family in New York City has already become a cult classic. Will Ferrell is hilarious in the role of Buddy and will go down in history as the best, and tallest, elf to ever hit the silver screen. If you're someone who's already seen it a million times and is looking to spice things up, you can now see the musical version of "Elf" on Broadway. "Look at you!"
"The Nightmare Before Christmas"
In this Tim Burton classic, even the most joyous of holidays can't escape his twisted, haunting stylistic flare. What's better than a film that combines both Christmas and Halloween? Let's face it: a skeleton dressed up as Santa Claus delivering shrunken heads as Christmas gifts is a little messed up. But once you throw in a few lighthearted musical tunes, bam: instant children's movie.
"A Christmas Story"
Some holiday films are played a lot during the Christmas season, but with a 24-hour slot on TBS every year, this one takes the cake. Based on short stories by the author Jean Shepherd, "A Christmas Story" is a comedy about nine-year-old Ralphie Parker (Peter Billingsley), his crazy, all American family, and his one and only Christmas wish: to get "an official Red Ryder carbine-action 200-shot range model air rifle with a compass in the stock and this thing which tells time." But before he can get his BB gun, he's given Santa's boot… to the face.
BOOKS
"How the Grinch Stole Christmas!" by Dr. Seuss
Yeah, the movie adaptation with Jim Carrey was pretty sweet, but reading Dr. Seuss's clever rhymes about the bitter Grinch with a heart "two sizes too small" never gets old.
"A Christmas Carol" by Charles Dickens
You really can't get more classic than Charles Dickens' tale of the greedy Ebenezer Scrooge, whose visits from the ghosts of Christmas past, present and future give him a sudden change of heart. For me, the film adaptation that tells this story best is "Mickey's Christmas Carol." But then again, I'm a big Disney softie.
TELEVISION
"Winnie the Pooh and Christmas Too"
No Starbucks drink can warm up your insides as much as a Winnie the Pooh Christmas. It is one of the many classics aired on ABC Family's "25 Days of Christmas" and is a humble reminder that friendship is the sweetest gift you can get, even more so than a jar full of honey.
"A Charlie Brown Christmas"
This Peanuts holiday special is the most special of them all because it was the first to be aired on prime-time television. Making their TV debut on Dec. 9, 1965, Charlie Brown and the gang find that Christmas is about peace and kindness towards one another, not the size of your tree.