Fordham Grad Student Offers Free Tango Lessons
It Takes Two to Tango, But Only One Dedicated M.B.A. Candidate to Teach the Dance
Published: December 9, 2010
Among all the dance classes open to the public at the Alvin Ailey School, tango is not one of them. So Wei Wang, a first year M.B.A. student at Fordham Graduate School of Business, started holding free tango lessons on Friday nights at Fordham's Lincoln Center campus.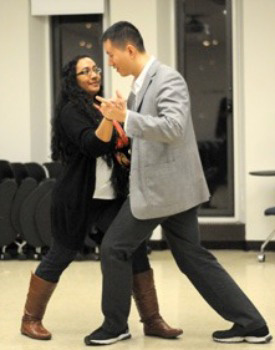 For Wang, tango is more than just a dance. He believes it helps people connect with others and learn to communicate both verbally and non-verbally.
"As a management student I want to spread the idea that you can learn a lot through dance," Wang said. Tango can help you in personal and professional life, according to Wang. "Whether you're on a date or in a board meeting you have to know how to connect with that person."
Wang started dancing tango for fun about a year and a half ago during his undergraduate studies at Hunter College. When he arrived at Fordham he decided to start his own tango group, which he has been teaching since April.
Wang started dancing ballet about 14 years ago and has also participated in numerous jazz and tap classes.
Many students at Fordham College at Lincoln Center (FCLC) have a dance background, but you don't need any formal dance training to participate in the tango class. Wang offers beginner and intermediate lessons on Fridays beginning at 5 p.m.
"My philosophy is to throw everything at you, then go back and fix it. It's more entertaining that way," Wang said.
There are still many first-time tango students attending the class to learn a new type of dance, and Wang insists all are welcome.
"This is my first time here," Jennifer Carleen Delac, FCLC '13, said. "I do other styles of dance like ballet and tap but I've been interested in tango."
The first ever tango class taught by Wang at FCLC had about 14 students, but on average there are between three and seven participants each week. Last semester the class contained mostly undergraduate students, and this semester a few graduate students have joined, according to Wang. No faculty members or staff have participated as of yet.
Although there are a few regular participants the fate of the Fordham tango group is undecided. Wang is a full-time M.B.A. student and does not charge students for lessons. "I have been putting up more fliers but I don't know whether it will develop," Wang said. "As of yet there are no plans to make it into a club because the school council considers it too social."
Wang's tango class is taught in a relaxed atmosphere. He focuses, on a more alternative style of tango, teaching the basic traditional steps but allowing his students to experiment by adding elements of other styles of dance, like hip-hop.
"We dance to everything: traditional Tango music, Latin pop, rock, Tango Nuevo. I try to let them dance to whatever to experience the different music," Wang said. "There is a YouTube video dancing to tango with Eminem, I'd like to try that."