CMJ Catches Robbers on High Street
Singer-Guitarist Ben Trokan Discusses New Album, NY Music Festival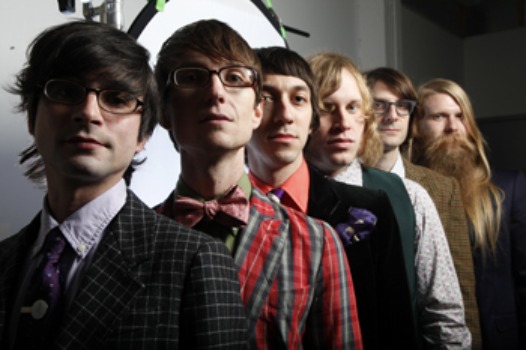 Published: November 3, 2010
It's about 10 p.m. when Ben Trokan, frontman of Brooklyn-based quintet Robbers on High Street, skims Cameo Gallery's dinner menu. He orders "The Goddess Sandwich," or what he thinks is called "The Goddess Sandwich." The menu is illegible in the dim lighting of the Williamsburg vintage hotspot.
After nearly 8 years as lead vocalist for the '60s and '70s AM radio-influenced rock force, he's careful about even his choice of grub before a performance. And tonight, it's not just any show—it's Robbers' official appearance at the CMJ festival, an annual New York music festival sponsored by weekly music magazine the College Music Journal.
With two albums released by New Line Records and a few soundtrack appearances under its belt ("Wedding Crashers," "Just Friends"), Robbers is a big band with a big sound, ready to break back into the scene with their explosive new album, "Hey There Golden Hair." The Observer spoke briefly with Trokan about the album, touring and his frustration with the Brooklyn music scene.
Observer: So you guys have a new album coming out, "Hey There Golden Hair…"
Ben Trokan: Well, I'm not sure when it's coming out, but we do have a new album.
Observer: You don't have a release date?
BT: No, not yet. We're not on [New Line Records] anymore, so we've been trying to see if anyone is interested in picking it up.
Observer: Without label support, you were able to take your time while making this album. Has your sound grown as a result?
BT: Oh yeah, it's like a different band entirely. I mean, the instrumentation is pretty much the same on all the records, but there's definitely more going on in this one. I think it's more like the first record—it's really live, really up-tempo. It's the most upbeat album we've released. It's really rockin.'
Observer: Have you been touring?
BT: We put out a single in June and we toured in the Northeast but we didn't think it caused a big enough splash to go out on a full tour.
Observer: What's it like playing CMJ?
BT: We've basically played it every year. It's convenient for us, being from New York and all. It's cool because it's always different. We're always in some weird venue playing for a different crowd than we'd get at our regular shows.
Observer: Brooklyn's always been known for it's music scene. How would you describe that scene now? Are you influenced by it?
BT: I can't even tell you. It makes me feel kind of old to think about it. There's a lot of noisy, very '90s-inspired music, which I'm not digging. Ha! I feel like such a jaded asshole. I can't even describe it. But that's the trend I see happening and we don't have very much in common with it at all other than the fact that we live here.
Observer: What were the major changes in the band since your last album, "Grand Animals?"
BT: We kind of became a real band. We went from being a three-piece to a four-piece and now we have five people. It just worked out like that. When you're working on songs, you can't just be like, "Hey man, just hang out." You can't tell people not to play. So we were like, "There are five of us and everyone can play and four of us can sing, so lets just go for it." Our last album was very mellow—mostly ballads. We were purposely holding ourselves back for that sound. With this album, we just completely let go.
Check out Robbers' upcoming show at The Rock Shop on Nov. 13.